Slow Cooker Party Meatballs, also known as Grape Jelly Meatballs, make a great appetizer for parties or as a main dish. They're easy to prepare in a crockpot. They are perfect for a crowd!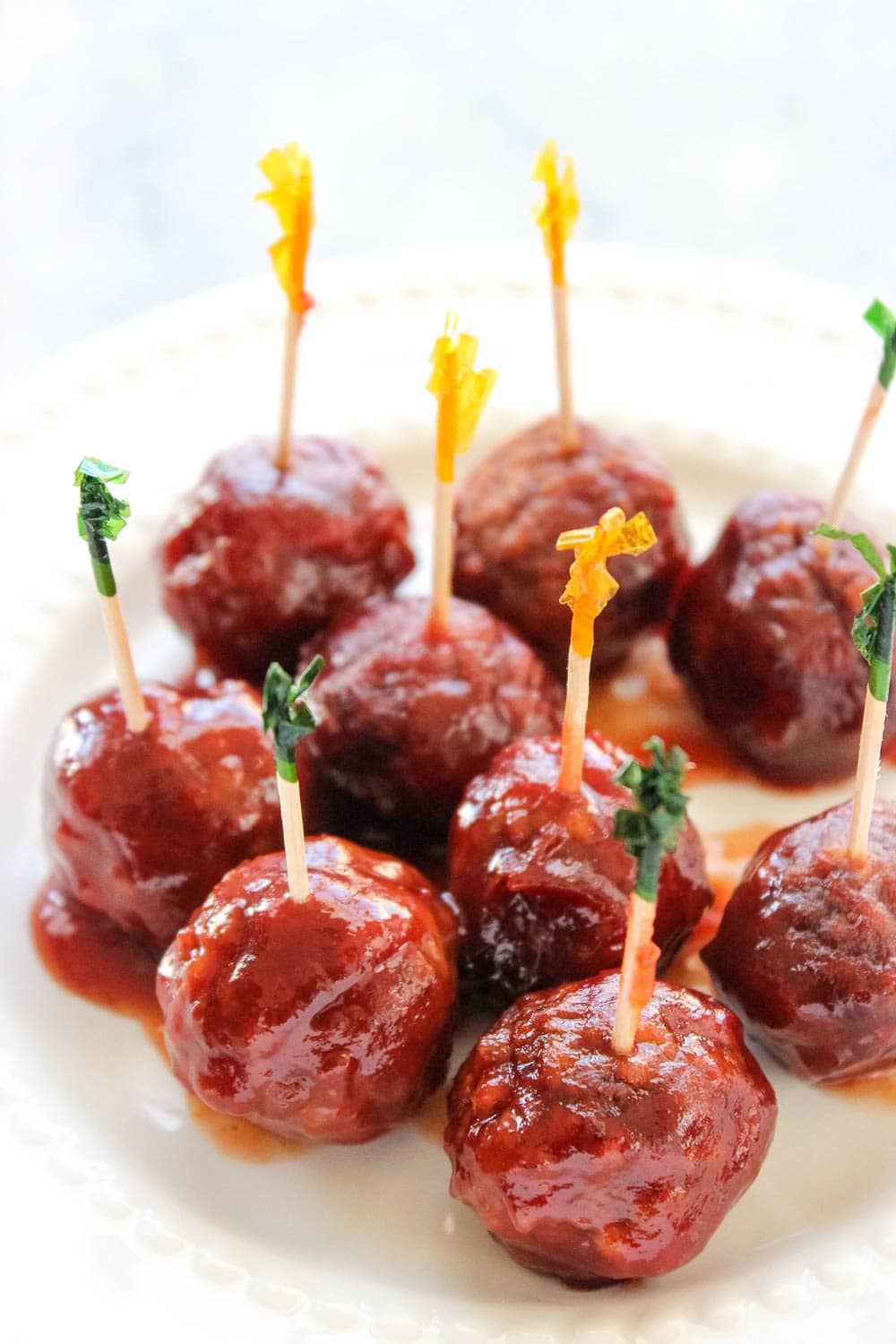 PARTY MEATBALLS! For what feels like forever, I have seen a recipe floating around the internet for Slow Cooker Grape Jelly Meatballs made with chili sauce and grape jelly. I thought it was a very odd combination, and resisted because I didn't want to make a recipe and it end up beinh a flop...until curiosity got the best of me this past week! I only regret not trying it sooner!
Grape Jelly Meatballs
We have quite a few game day parties planned, and I'm always looking for new and easy to prepare recipes to feed a crowd. I figured since these party meatballs cooked in the Crock-Pot with only three ingredients, it would be an inexpensive and fun recipe to test out.
And guess what!? These grape jelly meatballs were amazing! The sauce is almost a barbecue-like consistency, with the perfect amount of sweet and spicy flavor. My family could not get enough of them!
Luckily, this party meatballs recipe is now in my index, and I will be making them for our next tailgating party and future potlucks. Whatever you do, don't hesitate to give these slow cooker grape jelly meatballs a try— I shouldn't have waited so long!
Ingredients for Slow Cooker Party Meatballs:
3 lb frozen Meatballs
24 oz Chili Sauce
1 1/2 cup Grape Jelly
2 tbsp Worcestershire Sauce, optional

How to make Grape Jelly Meatballs in the Slow Cooker:
1. Add all of your ingredients except the meatballs to your slow cooker and stir until completely combined.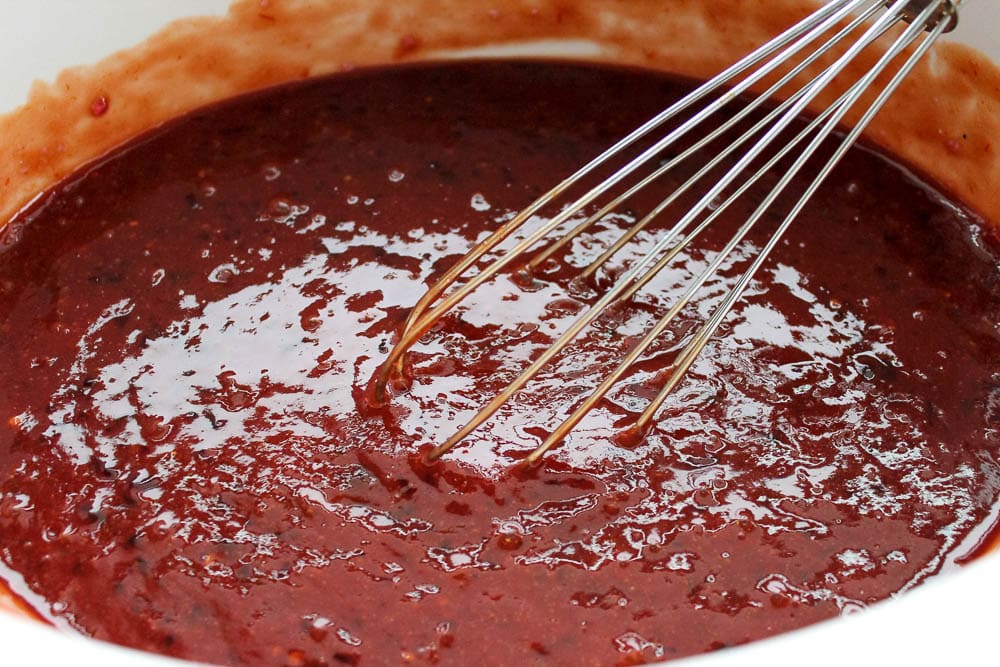 2. Add the meatballs and stir until they're completely covered.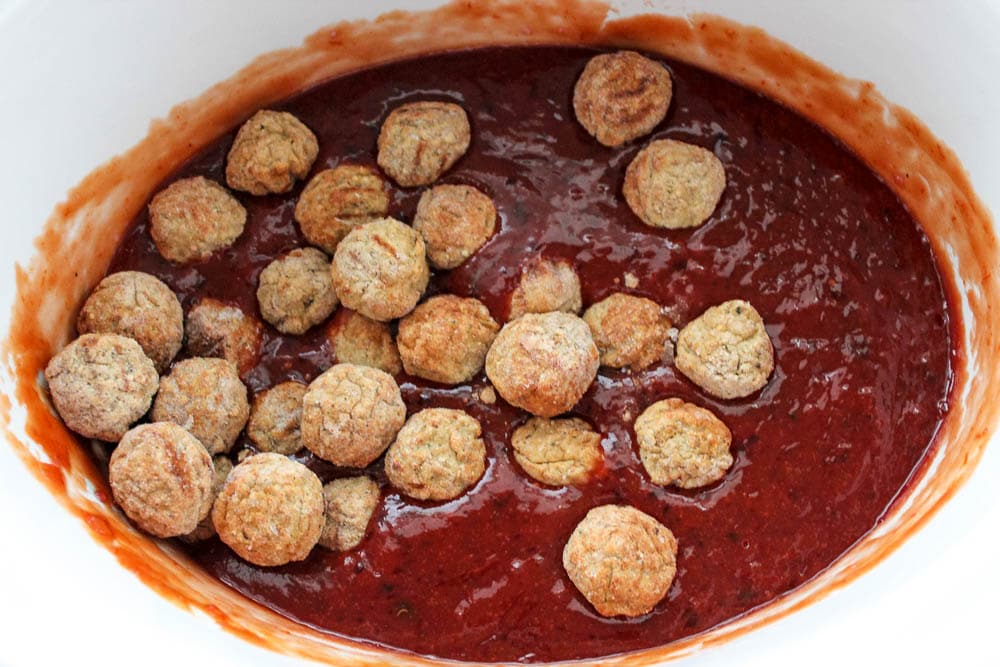 3. Cook on low for 8 hours or on high for 4 hours.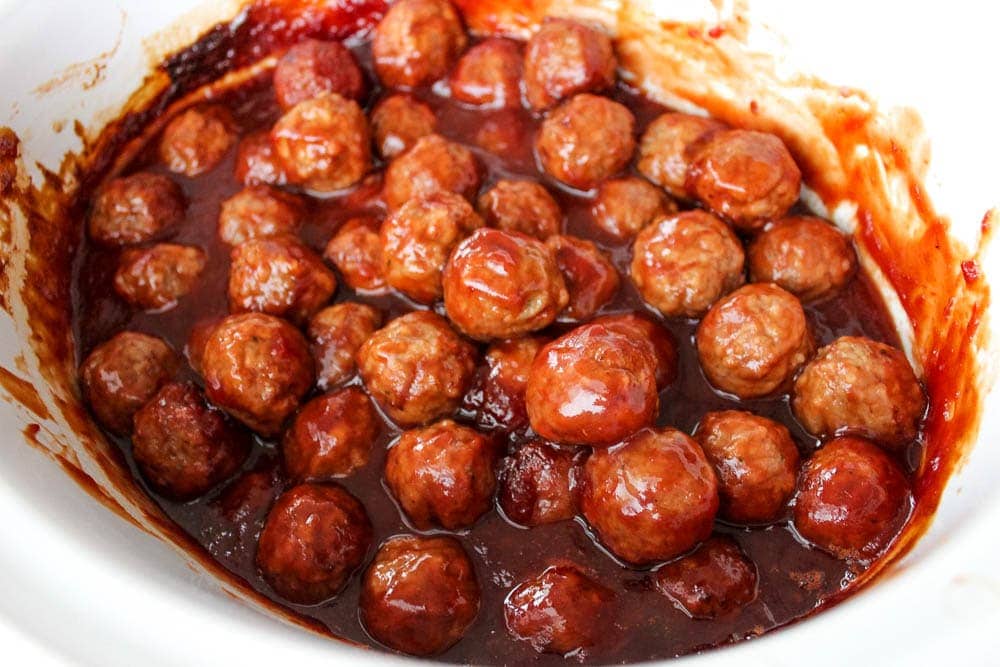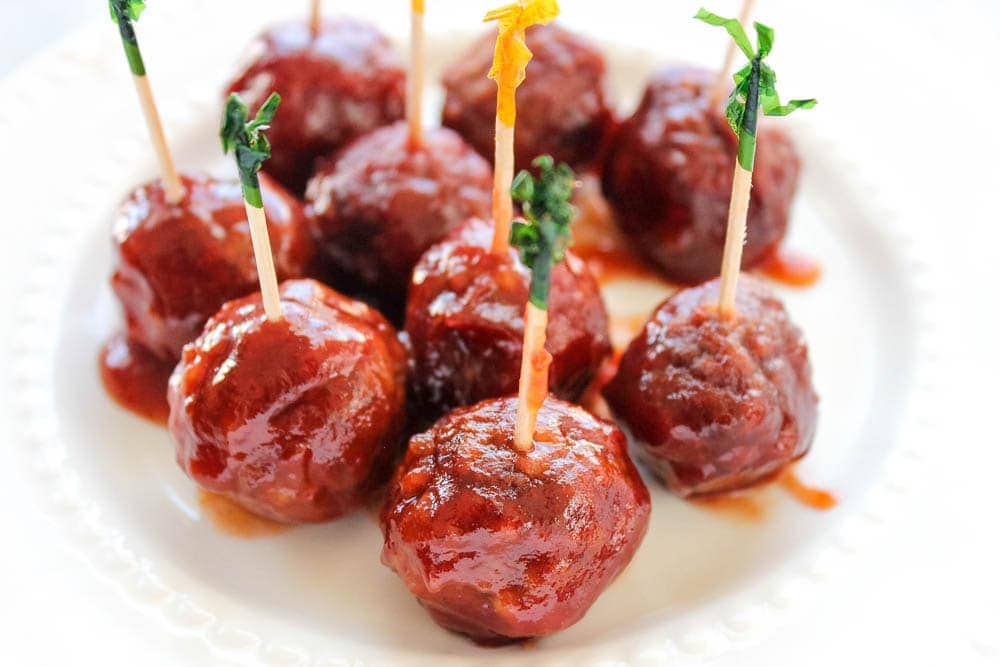 What are the different sauces for Party Meatballs?
Grape jelly meatballs are probably the most popular type of party meatballs, but that's not the only way to prepare this delicious appetizer. I also enjoy cranberry meatballs, another delicious option is the cocktail meatball recipe. Other sauces for cocktail meatballs include grape jelly and mustard sauce, ketchup and brown sugar sauce, sweet and sour soy sauce with pineapples, and creamy Swedish meatball sauce. Whichever meatball recipe you choose, I'm sure it will be loved by your guests!
How to serve Grape Jelly Meatballs?
These meatballs are very easy to serve. My favorite way to serve them is to add toothpicks so they can be easily picked up and enjoyed as an appetizer. They would also be great on a bun as a slider. Serve with cole slaw and potato salad for a easy meal. If you don't want a slider you can serve them over steaming rice.
How to store Grape Jelly Meatballs?
Grape Jelly Meatballs can be stored easily as well. They can be kept in the fridge for 3 to 4 days and in the freezer for up to 2 or 3 months. They should be in an air tight container and will need room for the sauce to expand if you are freezing them.
After storing them you can reheat them by defrosting them overnight and putting them in the crock pot for 2 or 3 hours. They can also be warmed up on the stove, you may need to add some more sauces such as ketchup or chili sauce. Once they're to your desired temperature enjoy them just as much as you did the first time you had them!
Print your Grape Jelly Meatball recipe below:
Yield: 16
Slow Cooker Party Meatballs Recipe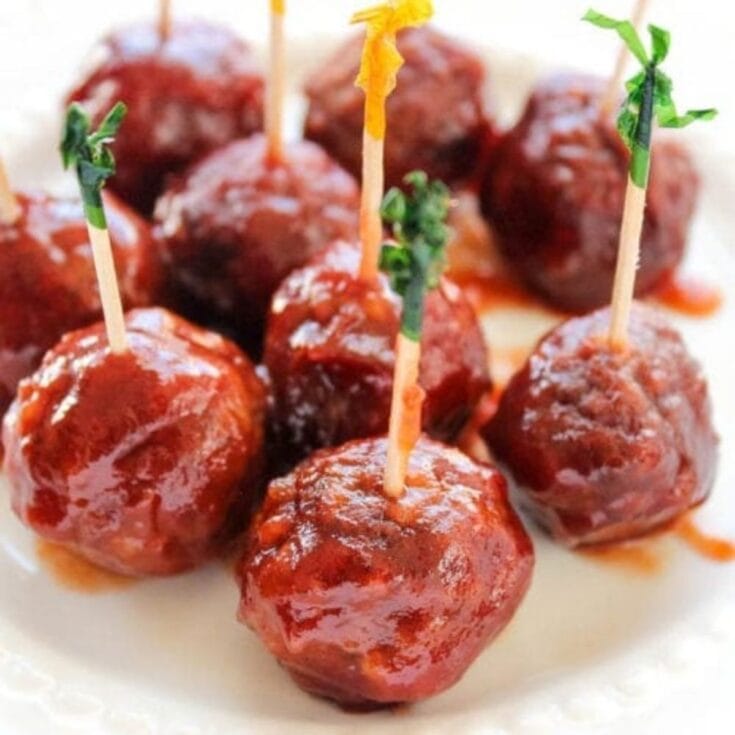 Also known as Grape Jelly Meatballs, these party meatballs are a crowd favorite!
Total Time
4 hours
5 minutes
Ingredients
3 lb frozen Meatballs
24 oz Chili Sauce
1 1/2 cup Grape Jelly
2 tbsp Worcestershire Sauce, optional
Instructions
Add all ingredients except meatballs to slow cooker and stir until mixed.
Add meatballs and stir to coat.
Cook on low for 8 hours or high for 4 hours.
Nutrition Information:
Yield:
16
Serving Size:
1 grams
Amount Per Serving:
Calories:

341
Total Fat:

19g
Saturated Fat:

7g
Trans Fat:

0g
Unsaturated Fat:

11g
Cholesterol:

56mg
Sodium:

1163mg
Carbohydrates:

31g
Fiber:

3g
Sugar:

20g
Protein:

13g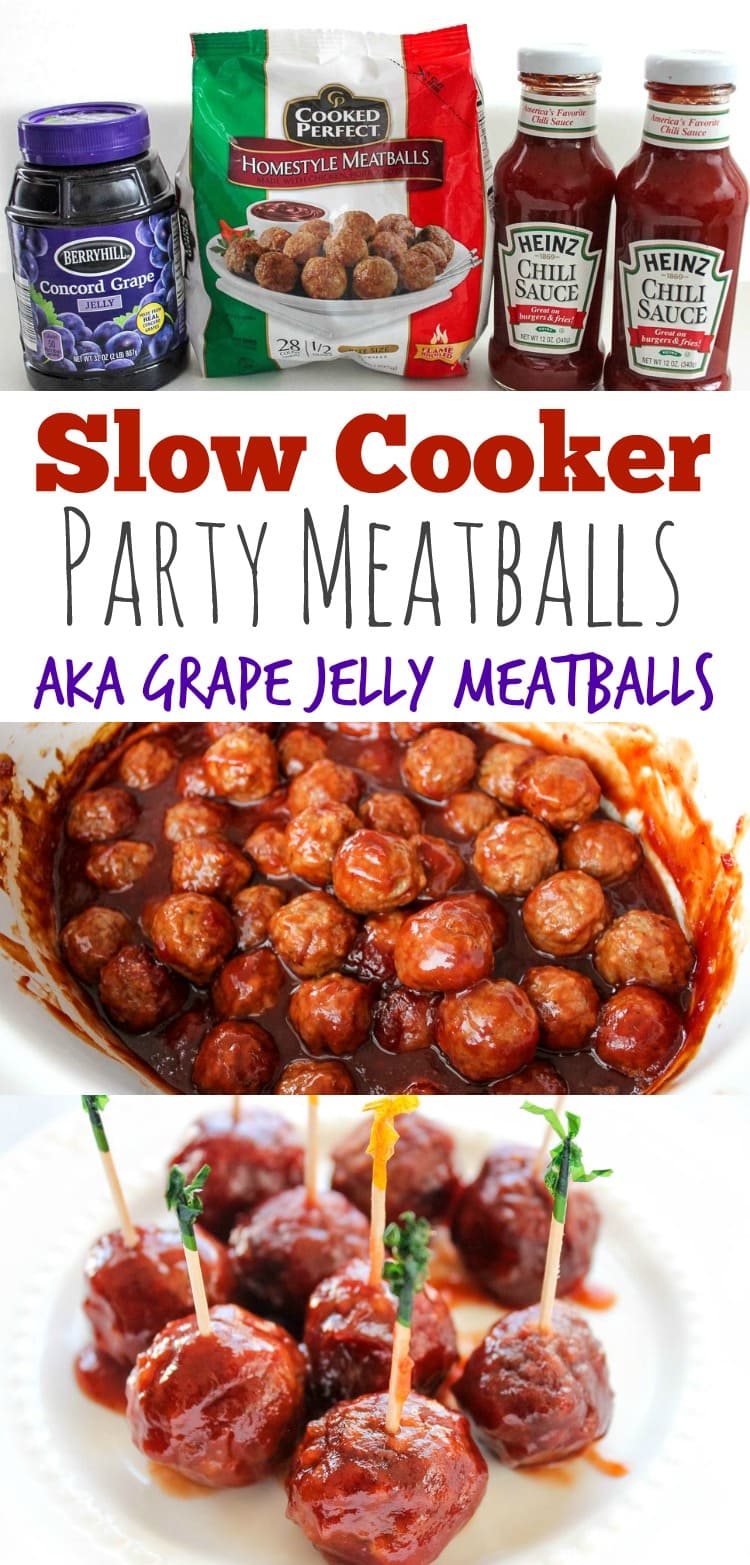 Other Appetizer Recipes You Might Like: