This is a sponsored post written by me on behalf of Friendship Dairies for IZEA. All opinions are 100% mine.
I have a house divided on cottage cheese. I personally love it, and enjoy eating it anytime. I enjoy it plain, with fruit for breakfast or even as a late-night snack. My husband, on the other hand, is not a fan … or at least he wasn't until recently, when I changed his mind with my Greek Cottage Cheese Dip.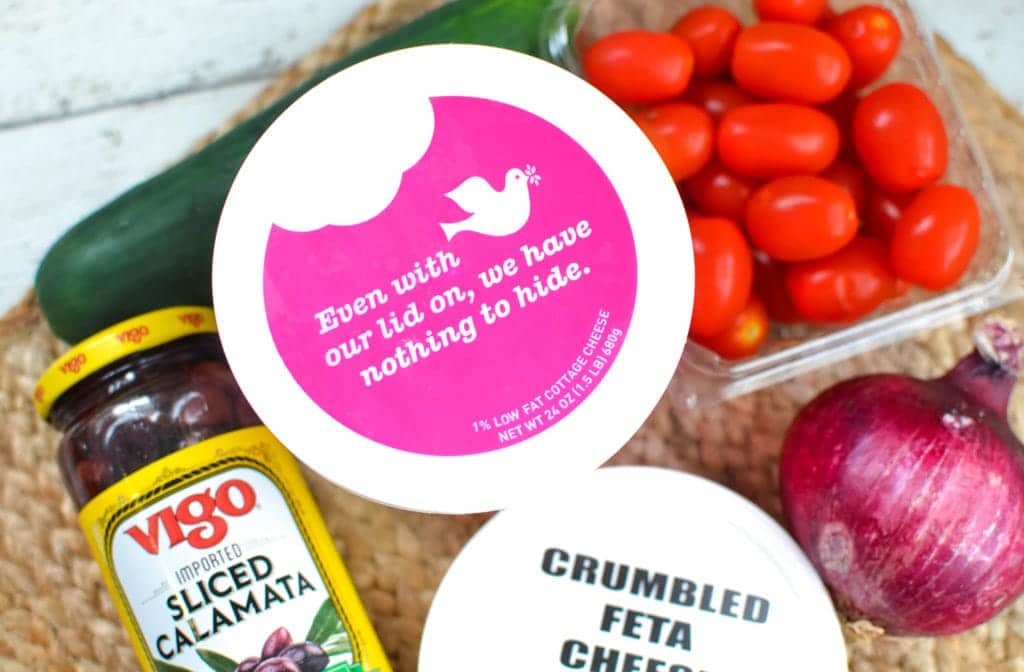 I think part of his aversion was due to memories as a kid, when his mother would serve it after dinner. For whatever reason, those thoughts still linger with him, and a bowl of plain cottage cheese is simply unappealing. And I get that. But as a fan, I know cottage cheese can be serve in dozens of tasty ways— including in smoothies, dips and desserts!
To change my husband's perception, I partnered with Friendship Dairies    (purchased at my local Publix) to create a delicious recipe using their cottage cheese. Since we just returned from Greece, I decided to make Greek Cottage Cheese Dip, which turned out amazing. Here's the recipe.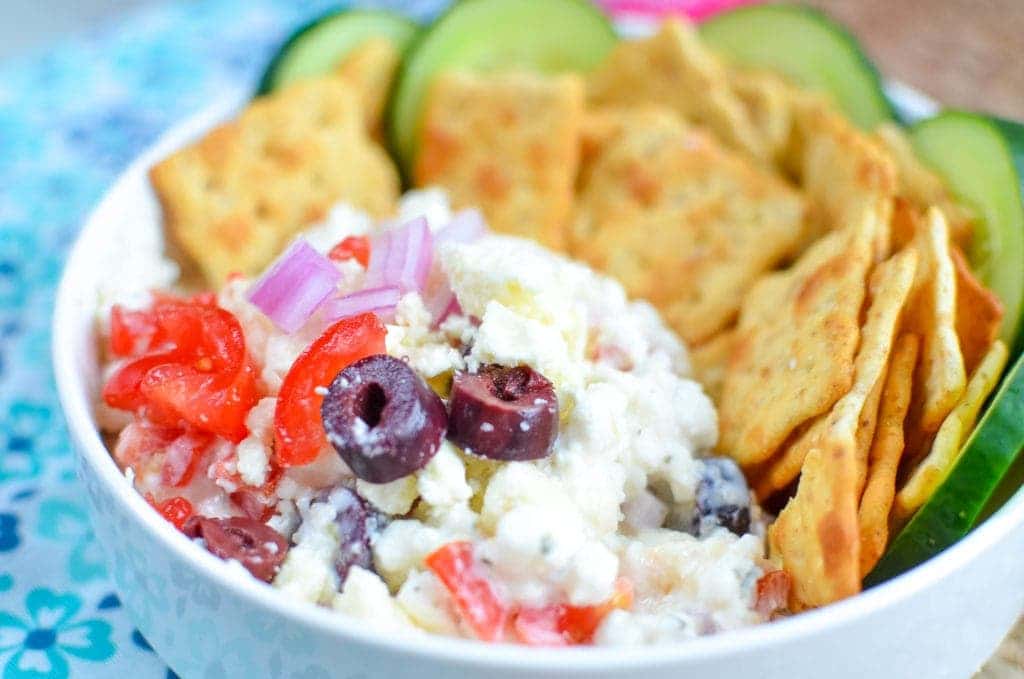 Greek Cottage Cheese Dip Recipe
Greek Cottage Cheese Dip Recipe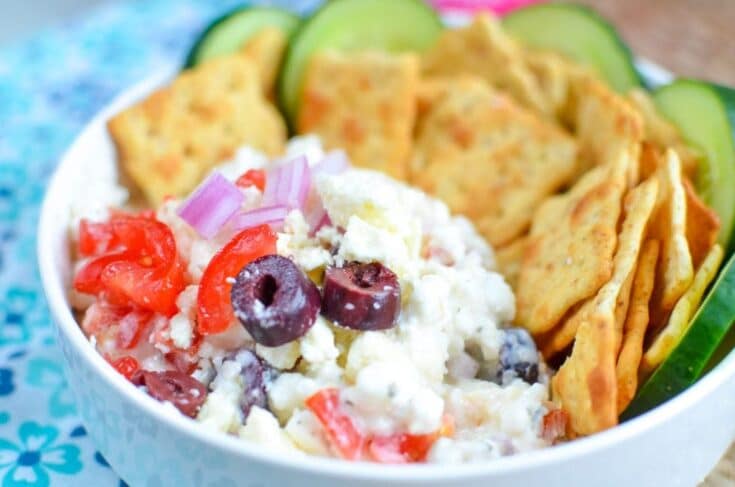 Prep Time 5 minutes

Total Time 5 minutes
Ingredients
8 oz Friendship Dairies Cottage Cheese
4 oz crumbled feta cheese
1 tablespoon Greek seasoning, oregano, thyme, basil, marjoram, onion, salt and garlic
⅛ cup tomatoes, chopped
1 tablespoon red onion, diced
1 tablespoon Kalamata olives, chopped
⅛ cup cucumber, chopped
Crackers or veggies for dipping
Instructions
Mix all ingredients in a large bowl. If you prefer a thinner dip consistency, pulse in blender or food processor for a few seconds — serve chilled with crackers and/or veggies.
Nutrition Information:
Yield:
2
Serving Size:
1 grams
Amount Per Serving: Calories: 317Total Fat: 19gSaturated Fat: 11gTrans Fat: 0gUnsaturated Fat: 5gCholesterol: 70mgSodium: 3498mgCarbohydrates: 16gFiber: 3gSugar: 8gProtein: 23g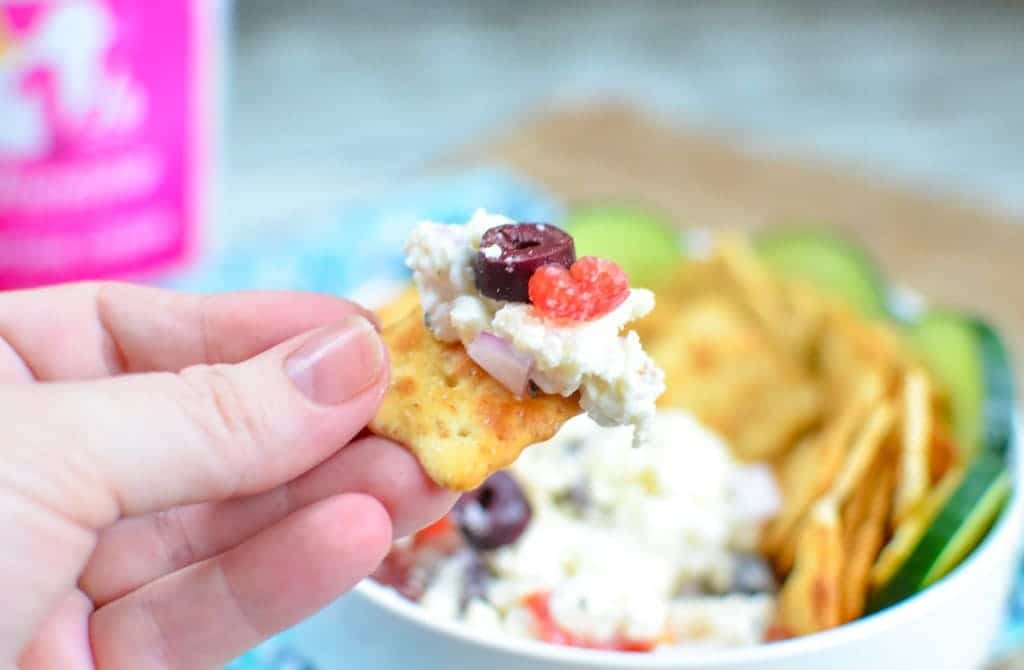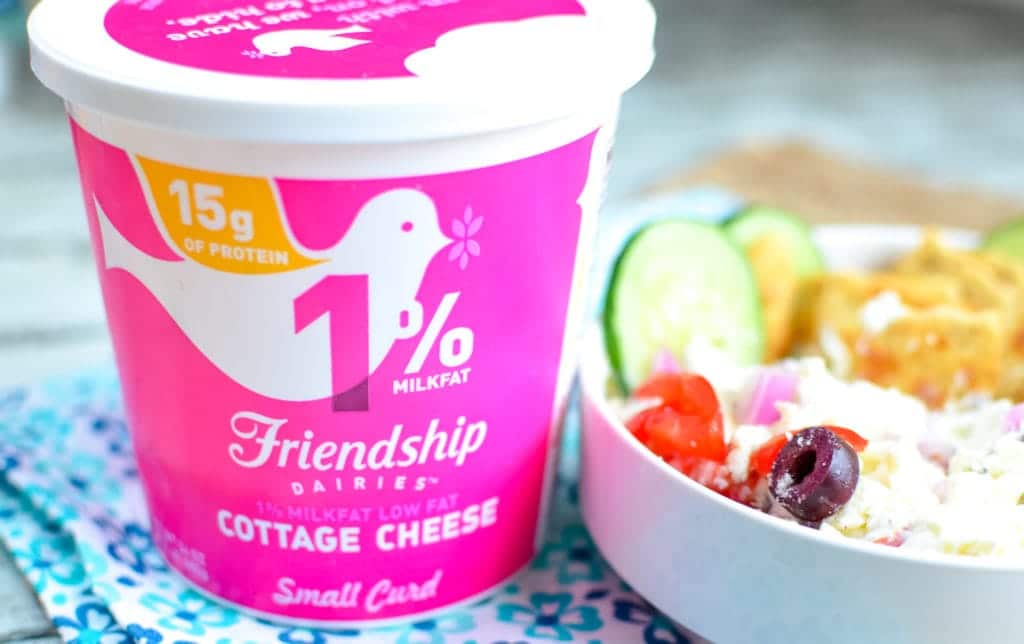 I didn't tell my husband that cottage cheese was the base for this dip until after he tried it. He was pleasantly surprised and ended up eating most of it himself! I may have a convert on my hands.
Fuel Your Fancy with Friendship Dairies Cottage Cheese
Friendship Dairies cottage cheese is The Original Superfood   — it's super high in protein with 15g per ½ cup serving! It's a great source of energy for whatever you're fueling up for, and can be enjoyed with mix-ins, in smoothies and shakes, dips, and as a tasty addition to your favorite recipes. All you need to do is get creative in the kitchen!
For a little recipe inspiration, visit friendshipdairies.com — There's also a Superfood Generator to help you discover the endless deliciousness of cottage cheese with mix-in ingredients, and their nutritional benefits. Fuel Your Fancy with Friendship Dairies!
Also, be sure to share your own unique Friendship Dairies cottage cheese recipe on your social channels with hashtag #FuelYourFancy and #TheOriginalSuperfood.
What are you fueling up for?