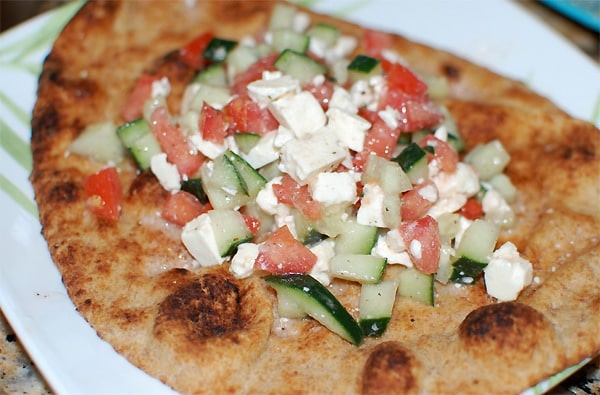 Sometimes, meals with the most basic, fresh ingredients are the most delicious. Take my absolute favorite, any-day-of-the-week, lunch: Greek Pita Pizza.
This meal --and believe me, it's a meal-- is comprised of only a few ingredients, but the flavor is out of this world! Technically not a pizza, except for the shape of the crust, this dish is more salad-- but, the mixture of the veggies, feta, oil/vinegar and pita is just to perfect not to love every single bite!
Ingredients (serves 1):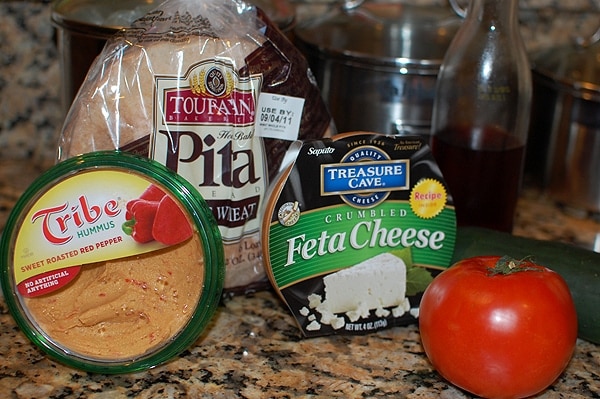 1 piece Pita or Naan Bread
1/2 tomato
1/2 small cucumber
2 oz feta cheese
1 1/2 TBSP red wine vinegar
1 TBSP olive oil
1 tsp. Italian seasoning (or to taste)
Sea salt & pepper (to taste)
hummus (optional)
Directions:
1. Take slice of pita bread and warm in the oven. I like it to be a little crisp-- this will allow the bread to hold the wet ingredients.

2. Dice tomato and cucumber into small pieces. Add to bowl and sprinkle with sea salt & pepper (to taste). Mix in feta cheese.

3. Using a magic bullet, blender or food processor, blend red wine vinegar, oil and Italian seasoning together until combined. At the last minute add in small amount feta cheese and blend a few more seconds-- this is your dressing.

4. Add dressing to tomato/cucumber mixture and let marinate for a few minutes.

5. Remove pita from oven and spread on a thin layer of hummus (optional). Add tomato/cucumber/feta/dressing mixture on top and serve.
To kick it up another notch, add kalamata olives! Yum!