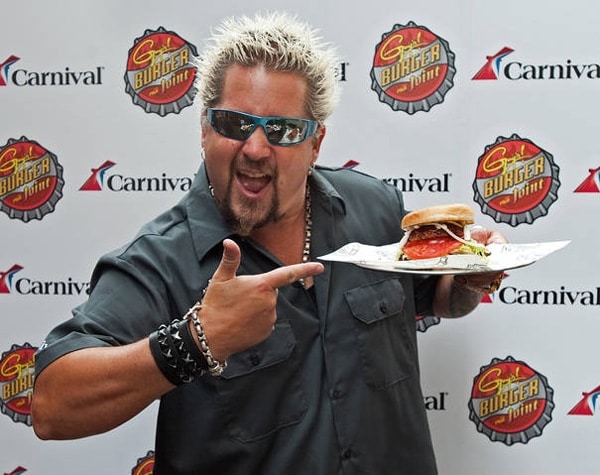 I knew the news was going to be big at Carnival Cruise Lines' NYC press conference this afternoon. The save the date read: Big Names, Big Brands, and Much More. But who and what could it be?
It wasn't until I saw a tweet that Guy Fieri -- Food Network star and host of Diner's, Drives -In's & Dives -- was in attendance that I got really excited.
And then then the announcements began to roll out...
Carnival Cruise Lines has partnered with celebrity chef Guy Fieri to offer a free shipboard dining venue called Guy's Burger Joint, featuring the Food Network star's amazing hand-crafted burgers and fresh-cut fries and special recipes created exclusively for Carnival.

In addition to hand-crafted hamburgers and cheeseburgers, a variety of innovative condiments will be available, including: chipotle mayonnaise, a special barbecue sauce, garlic aioli and three hot sauces.

Guy's Burger Joint will debut aboard the Carnival Liberty following the completion of a refurbishment later this month and will be rolled out to several other Carnival "Fun Ships" over the next few years as part of the line's Fun Ship 2.0 fleetwide enhancement program.

I'm a Food Network addict, and fan of Guy's, so the partnership with Carnival is a welcome one! Yay! for free gourmet burgers!
But then the news got even better...
It was announced that renowned comedian and TV personality George Lopez who will become the cruise line's creative director for comedy as Carnival introduces the Punchliner Comedy Clubs Presented by George Lopez.

George Lopez will become the cruise line's "curator of comedy," acting as a consultant on the vetting and hiring of comedic talent for the line's existing fleetwide comedy clubs. Lopez will play an active role in the securing of top up-and-coming comedic talent, utilizing his vast resources within the North American comedy scene.

Through the partnership, Carnival ships will feature a Lopez comedy routine shown on in-cabin televisions fleetwide and pre-recorded introductions by Lopez at comedy club shows, as well as a new Punchliner Comedy Brunch that will be offered on sea days.
Plus -- are you ready for this!? FIVE NEW BARS!
-- Carnival has partnered with EA SPORTS, the leading sports videogame brand in the world, on an exciting new EA SPORTS Bar concept. Designed to be the ultimate hangout for sports fanatics, guests can play their favorite EA SPORTS videogames, watch live sports on a massive video wall comprised of 16 different 46-inch big-screen displays, and keep up with real-time sports scores 24/7 live on the ticker.

-- RedFrog Rum Bar offers guests the quintessential Caribbean vacation vibe with a pool-side version of the popular Caribbean themed RedFrog Pub, which debuted on the Carnival Magic. It will specialize in refreshing Caribbean rum-based frozen drinks and beers, including Carnival's private label draft brew, ThirstyFrog Red.

-- BlueIguana Tequila Bar will provide a laid-back Mexican-themed atmosphere, specializing in delicious tequila-based frozen drinks and Mexican beers. Live music will fill the area as performers will entertain patrons at both bars, along with those enjoying fun in the sun by the pool.

-- The Alchemy Bar is Carnival's vintage-themed cocktail "pharmacy," the go-to spot for guests who are seeking a unique experience with interesting drink flavors and ingredients. Carnival's expert mixologists will "prescribe" concoctions from different fun categories or guests can also try their hand at creating their own custom cocktails.

-- The Library Bar is a new intimate cocktail lounge featuring bar service and automatic wine dispensers, ideal for guests seeking a more relaxed and quiet venue.
Yes, you read that right-- automatic. wine. dispensers. SQUEE.
Yet, there's still  more...
-- Carnival is expanding on its wide array of dining options with exciting new venues that focus on free favorite foods that are highly popular among guests including fresh Mexican cuisine at the new BlueIguana Cantina. This complimentary poolside dining destination offers guests freshly made burritos and tacos on homemade tortillas they can make their own with a variety of salsas and toppings. Hungry vacationers can also watch the tortilla maker create fresh wheat and jalapeño tortillas, then enjoy three types of tacos with a variety of toppings, and three kinds of burritos with fantastic fillings, plus chips and salsa.

-- Under license from Hasbro, Inc., Carnival will create Hasbro, The Game Show, a new series of larger-than-life productions and entertainment activities based on the popular Family Game Night television show from The Hub. Hasbro, The Game Show will put guests right in the middle of their favorite Hasbro games. Six main games are to be featured: Sorry Sliders, which involves a giant shuffleboard court; Simon Flash, where two teams of four guests wear giant light-up color boxes and must shuffle themselves quickly to repeat a color sequence; Yahtzee Bowling, with a giant ball and larger-than-life-sized bowling pins; Operation, which is set up like a skee-ball board where contestants try to get the balls into different slots on the "patient's" body, and Connect 4 Basketball, which uses a basketball setup rather than the traditional checkers to play.

-- Playlist Performances will have guests singing along and dancing in their seats during the hit-packed, 30-minute shows created by leading producers, directors and choreographers who have worked on critically acclaimed productions for Broadway, London's West End and some of the world's most popular musical acts.

-- Known for keeping Miami and Las Vegas crowds pumped and on their feet, award-winning DJ IRIE was also named the Official DJ of Carnival Cruise Lines. In this new role, he will create and lead "DJ IRIE's Spin'iversity" to train and develop the musical skills and personalities of on-board DJ talent to boost the overall music experience for guests of all ages.
All of today's announcements fall under Carnival Cruise Line's new $500 million Fun Ship 2.0 Initiative that will dramatically transform the Carnival vacation experience over the next few years. Fourteen ships are scheduled to receive many of the Fun Ship 2.0 enhancements through 2015.
I know that I'm looking forward to the new dining choices, bars, lounges and entertainment options-- What new feature on Carnival are you most excited about?