A Tibet tour offers one of the best once in a lifetime experience on the planet. With its incredible alpine environment, majestic mountains, beautiful lakes, unique and very interesting culture and the mystic atmosphere of Tibetan Buddhism, it will be a very satisfying experience. But the harsh environment, as well as the document requirements by the Chinese government, makes it important for you to prepare well and also work with people experienced in budget Tibet tour.

Booking a Tour Group
The Chinese government strictly controls tourism in Tibet. International tourists cannot travel alone in the autonomous region. Except for the Chinese visa application, all your Tibet paperwork must be prepared through a reliable travel agency. One of such agency is Tibet Vista, which is the first and largest Tibetan local tour operator running join-in small group tour, private tour and Tibet train tour itineraries.  Tibet Vista is experienced in Tibet travel permit application and promises hassle-free Tibet Permit Application Service.
How to Get Tibet Travel Permit via your Travel Agency
Tibet Visa or Tibet Travel permits are needed for international tourists visiting Tibet. Foreigners usually require four different documents for their Tibet visit (actually you may need more than four if you visit some military or culturally sensitive areas).
A foreigner first needs to have a Chinese Visa to enter the country. Like any other visa, you can apply for a Chinese Visa at a Chinese Embassy overseas. You can also apply for a Chinese Visa in Hong Kong.
In addition to a Chinese Visa, you need to apply for a Tibet Permit, a.k.a Tibet Visa, issued by the Tibet Tourism Bureau (TTB). You will need this document to enter Lhasa or any other part of Tibetan Autonomous Region. Like most tourists, you will obtain this document from your Tibet tour operator. All the necessary documents will be requested by your tour operator and it usually takes 3 business days to get this permit.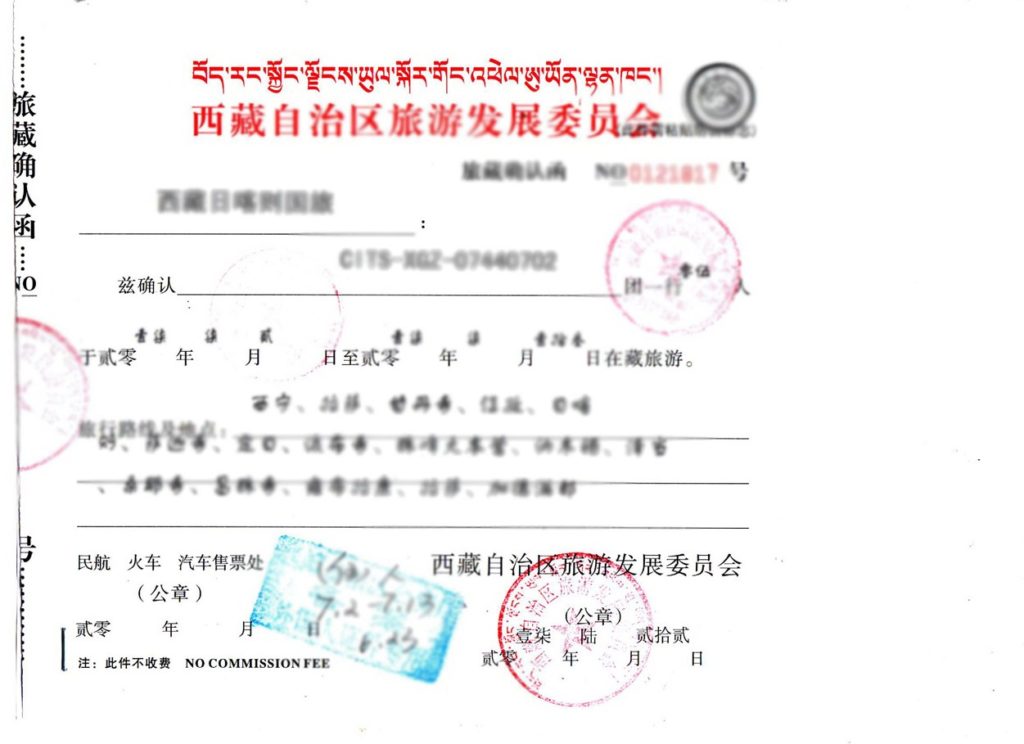 You need this document before buying your Tibet air ticket. In Tibet, flight check-in or Tibet train check-in, you will need to produce your Tibet Permit. If you are going to Tibet as a group, your Tibet tour operator will arrange this document. After you get your Chinese Visa, you should send a photo copy of your passport and Chinese Visa to your tour operator at least 20 days before your Tibet tour starts. Your Tibet Travel Permit usually takes 2-5 business days to be approved after your documents are submitted to the Tibet Tourism Bureau.
The Alien's Travel Permit is issued by police, Public Security Bureau. If you are planning to go out of Lhasa City and visit places in "unopened areas" like Shigatse, Samye Monastery or Everest Base Camp, you need this document.
If you are traveling alone, you cannot go to unopened areas, and you will need to join a tour group. For tour groups, the travel agency guide will apply for it, usually when you are in Lhasa. You will need to give your passport and Tibet Permit to the guide, and he will submit it to the Foreign Affairs Division of the PSB for the Aliens' Permit. The process costs 50 Chinese Yuan and takes only a few hours.
Below are the places you need to apply for The Alien's Travel Permit:
Tsedang: Samye Monastery, Tomb of Tibetan King, Trundruk Monastery, Yumbulakhang
Shigatse: Sakya Monastery, Mt. Everest, Rongbuk Monastery
Gyangtse: Pelkor Chode Monastery & Kubum Stupa
Ngari Region: Mt. Kailash, Lake Manasarovar, Tsaparang, Years, etc.
Nyingchi Region: Basum-tso, Pomi, Rawo-tso, etc.
Chamdo Region: Chamdo, Riwoche, Tengchen, etc.
The last permit type is Military Area Entry Permit. Mount Kailash in Ali and Rowok Lake in Chamdo are areas where you need this permit. In fact, sensitive borders like Mt. Kailash and eastern Tibet require both a Military Area Entry Permit and a Foreign Affairs Permit.
The Best Time to Travel in Tibet
Although you can visit Tibet anytime of the year if you are planning only to visit Lhasa, the period between May to October is the most suitable time for a visit, with August being the top of the Tibet high tourism season. During this period, summer sunshine melts the snow, and the roads and high passes are free to traverse.
For activities like trekking and biking, generally, between April and May in spring and August to October in autumn are the best times. These are the mostly rain free times and are not too hot to walk around or ride a bike. July and August are great months as well, but it rains a lot. For mountaineering, April to May and September to October are the best times to visit.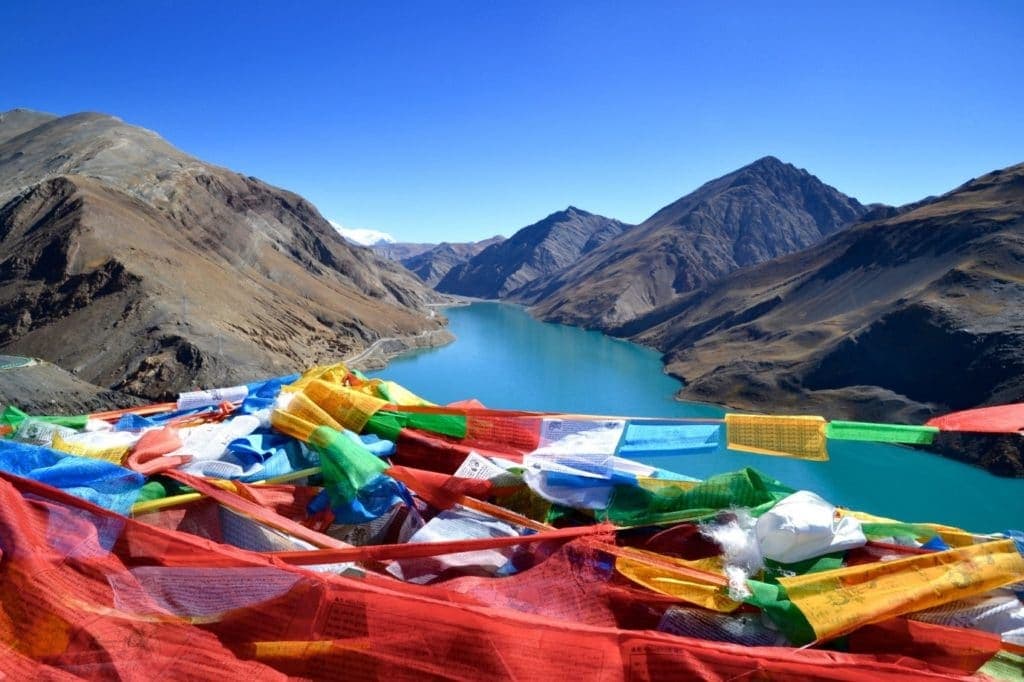 The best season for photography in Tibet is in July and August. Although these months are rainy, the clouds and the colors of the lakes and mountains are ideal.
It is also worthwhile to coincide your visit with a colorful Tibetian festival. July and August are months when a lot of grand festivals are celebrated, including Shoton Festival, Choerchor Dhuchen Festival, and Nagchu Horse Racing Festival.
Although it is cold, you can still visit Lhasa in winter. There are some advantages of visiting Lhasa in winter. Himalayan snows create magical scenes, and the off-season prices are low.
Tibet Packing List
The environment in Tibet Plateau can be harsh, even in summer. For this reason, you need to include some essential items in your Tibet packing list.
You will be restricted with the maximum 20 kg baggage allowance on flights to/from Lhasa.
You should, at the minimum, pack the below items for a Tibetan tour:
If you are planning to hike or bike; well-fitting, durable hiking boots or sturdy sneakers to safely and comfortably complete the route (we are talking about 4 to 8 days walk here)
If you are joining a rural tour, there will probably be camping involved. You will need a good quality sleeping bag (the temperature can fall below freezing degrees in the night even in the summer, and you will probably sleep in a tent most of the nights)
Waterproof pants and hooded rain jacket plus 2 to 3 pairs of hiking pants (especially if you are visiting Tibet outside April – May or August – October season)
Cotton socks (number of them depends on the number of days)
4 to 6 pairs of underwear
T-Shirts (long and short sleeved)
Sunscreen with high SPF; 30 and above is recommended
Sun hat (large enough to shade your face)
Sun glasses with UV protection
Warm gloves
Food (although you will probably pass through villages, you cannot guarantee that you will be able to buy food in these small settlements)
If you are planning a winter trekking between October and April, in addition to the above, bring a good heavy-weight winter coat.
You will also have an easier camping experience if you bring:
a small flashlight or headlamp
a small bag for dirty clothes
feminine products
soap, shampoo, tooth brush, etc.
Tour operators, like Tibet Vista, offers most necessities like a tent, stove and cooking utensils. Depending on the tour, you will sleep in a village or a monastery with basic guesthouse facilities. Though, a lot of routes do not have these settlements on every night of the hike, so be prepared.
Other Tips for Traveling to Tibet
Flying to Lhasa is not the only way to arrive in Tibet. Tibet train is an equally popular alternative with many advantages over a flight. A Tibet train ticket is usually cheaper, and it offers magnificent Tibet scenery. You will also have a better opportunity to acclimatize to avoid altitude sickness.
On the other hand, Tibet train can take anywhere from 24 hours (if you are taking it just from the edge of Tibet Plateau, Xining) to 50+ hours. There are also different classes in the Tibet train, and hard sleeper and hard seater classes can be less comfortable.
While in Tibet, pay attention to altitude sickness and take acclimatization seriously. Try not to exert excessive power (like climbing stairs of Potala Palace fast or even standing up quickly from a crouch for a photo shoot).
Taking your Tibet travel is rewarding but it requires preparation for documentation and packing list. It would be the best experience if you work with a trusted tour agent like Tibet Vista.