This post is brought to you by Pompeian as part of the #PantryInsiders program. All opinions are my own.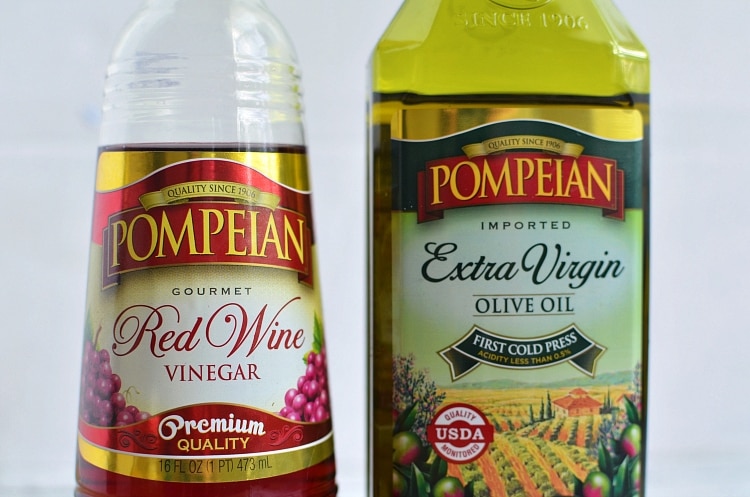 Did you know that May is National Salad & Vinegar Month!? While the month is winding down, salad and vinegar are both summer staples in my home because they bring the light and fresh flavors I crave when the temperature rises.
One of the most basic dressings I use on all of my salads is homemade Red Wine Vinaigrette, made simply with Pompeian Red Wine Vinegar, Pompeian Extra Virgin Olive Oil and a dash of salt and pepper. Here's the recipe:
Red Wine Vinaigrette Recipe
Ingredients
⅓ cup Pompeian Red Wine Vinegar
1 cup Pompeian Extra Virgin Olive Oil
Dash each of salt and pepper
Directions
Add red wine vinegar, extra virgin olive oil and salt and pepper in a mason jar.
Screw on lid and shake vigorously until blended.
Use immediately or store in refrigerator until use. Vinaigrette keeps for about a week.
I love having this dressing on hand because the flavors lend perfectly with so many salads and vegetables. It's even great for a marinade with some extra herbs and spices added in.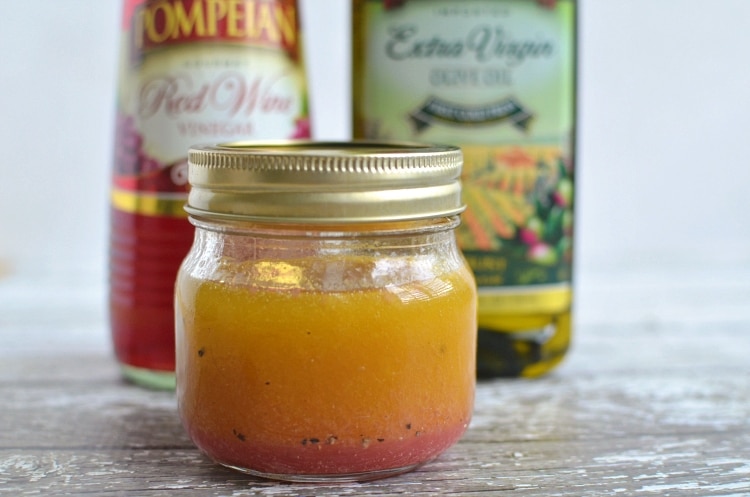 The other day I was making flatbread pizzas for lunch when I remembered I had a fresh batch of Red Wine Vinaigrette that was waiting to be used. When you're cooking with artichokes, sun-dried tomatoes, black olives, mozzarella and sauteed garlic ... red wine vinegar and olive oil become a perfect compliment to the Italian flavors — but the catch was I wasn't, initially, making a salad.
And then it hit me: Flatbread Pizza Salad - the best of both worlds!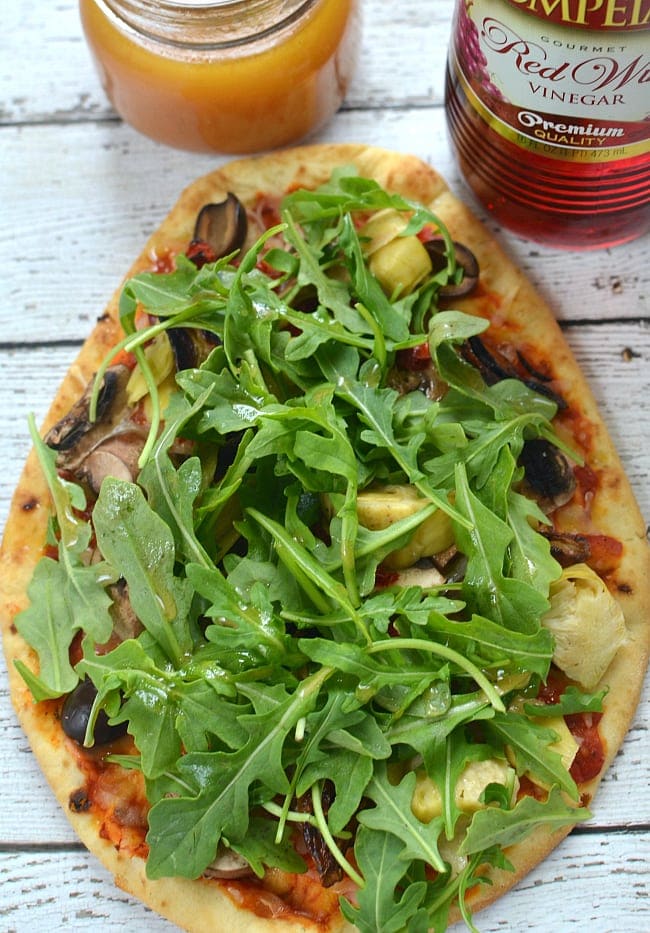 Italian Flatbread Pizza Salad Recipe
Ingredients
1 piece of pita, naan or flatbread
1 tablespoon pizza sauce
shredded mozzarella cheese (desired amount)
sliced black olives (desired amount)
quartered artichokes (desired amount)
sun-dried tomatoes (desired amount)
sliced baby bella mushrooms (desired amount)
3-4 sauteed garlic cloves
handful of fresh arugula
1 tablespoon Pompeian red wine vinaigrette
Directions
Pre-heat oven to 350 degrees.
Assemble flatbread pizza by adding pizza sauce and mozzarella cheese and then adding desired amount of artichokes, black olives, sun-dried tomatoes, mushrooms and garlic. For garlic, simply saute whole garlic cloves in olive oil for 3-4 minutes.
Bake pizza in oven for 10 minutes, or until edges are lightly browned.
Add handful of fresh arugula to cooked pizza and drizzle with Pompeian red wine vinaigrette.
Slice and serve! Nom!
 
How do you use red wine vinegar?