I just got back from an awesome 8-day Caribbean cruise, and if there's one item that I'm happy I packed, it's the Penelope dress (in Blaze!) from Karina Dresses.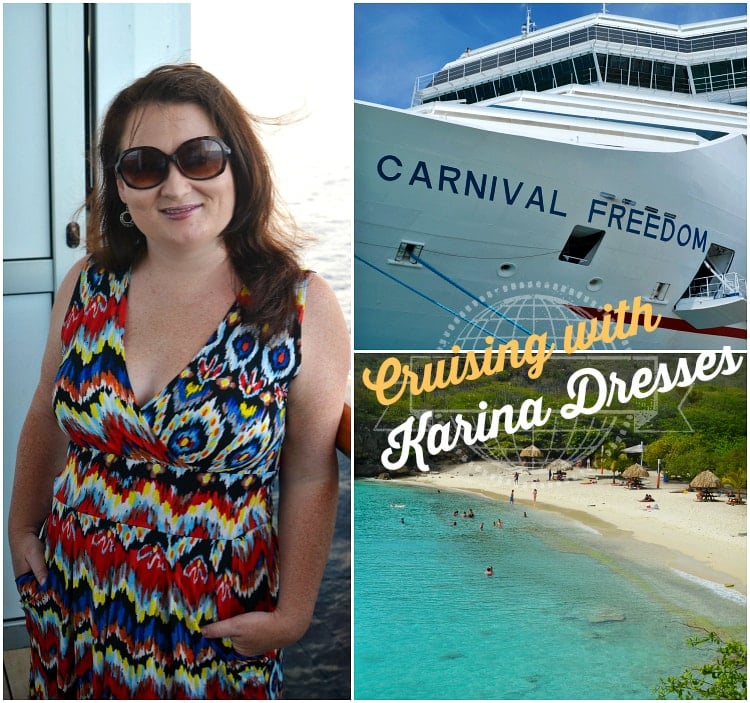 This was my first dress from Karina Dresses, and I can promise you that it won't be my last! In fact, I've already ordered another dress because I'm completely head over heels in love with the fit, comfort and style.
First of all, the fit of the Penelope ROCKS. It covers everything that needs to be covered and hugs my body in a way that no other dress does. The fabric is soft and WRINKLE-FREE — meaning I could wad this, or any Karina dress, into a ball, throw it in my suitcase, and pull it out and wear like it was new. This is an incredible feature for a traveler like myself, but it's also great for busy moms, or any woman who hates ironing or dry cleaning.
I had only planned on wearing my Karina dress once during the cruise, but it was so comfortable that I slipped it on a few times before the week was over. The POCKETS are my favorite feature. They give the dress a more casual look and feel, which is perfect for my lifestyle. And really, who doesn't love pockets!?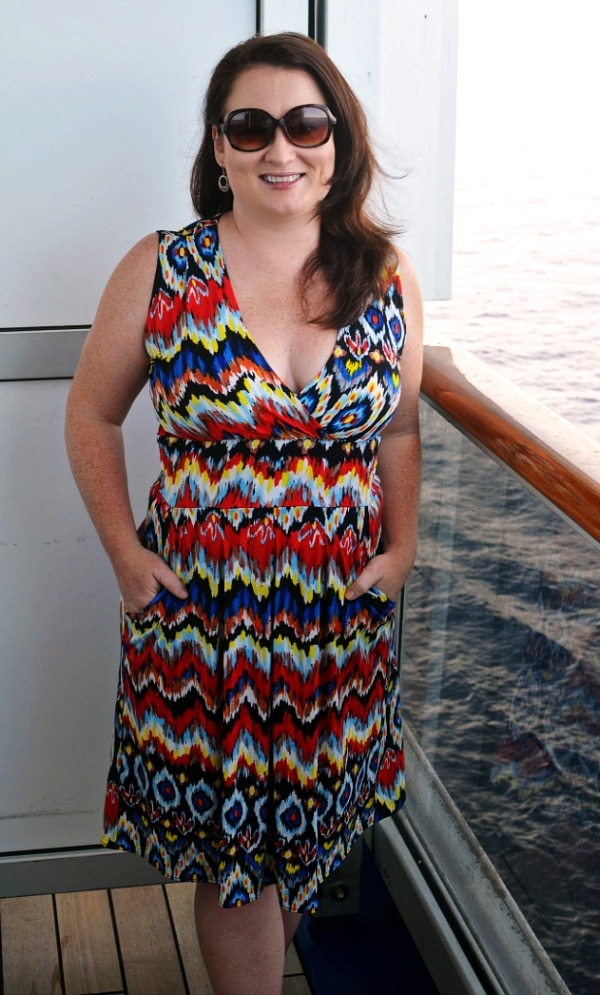 The Penelope dress is great because it can go from day to night. In the daytime, I wore the dress with a pair of flip-flops and a hat while we shopped the markets in port. In the evening, I put on a fancier pair of flip-flops (hey— I was on a cruise!) and some nicer jewelry. I actually received a ton of compliments, which made me super confident ... it just makes me wish that I had a whole wardrobe of Karina Dresses!
I think what makes Karina Dresses so great is that they are handmade in New York from limited edition fabrics. The Karina philosophy is dresses for "every body", with different styles for each body type. There's a handy Best Fit Guide that recommends which dresses looks best on each body frame. I'm an hourglass with "curvaceous, full hips and bust", so GALA, MEGAN, AUDREY, RUBY, PENELOPE, MARISA, JENNY, LAUREN and NORA dresses would look best on me.
I have another cruise planned for the end of the summer, and while the temperatures are a bit cooler than the Caribbean, I will still be packing both of my Karina dresses. They're really the perfect cruising companion! 
A product was received for review. All opinions are my own.