When we moved into our current home, I was both excited and concerned about having gas as our primary source for heating and cooking. As the mother of a young child, the thought of carbon monoxide poisoning (CO) had crossed my mind, so naturally, I installed a Carbon monoxide detector. These inexpensive devices are great for peace of mind; but like most smoke & fire alarms, the batteries need to be replaced periodically and the units tested.
I admit, life got in the way of keeping up-to-date with our CO alarm, and the batteries eventually died-- making the unit useless. I eventually realized my mistake and replaced the whole thing with a Kidde CO alarm, but the "what ifs" still plagued me.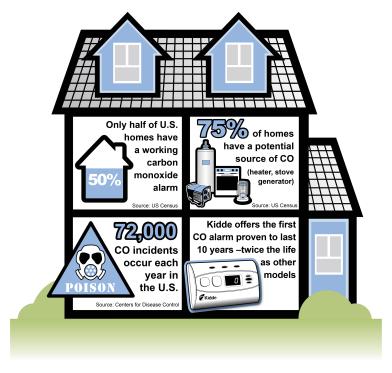 In your home, it's often the things that you can't see that are the most dangerous. Carbon Monoxide is a colorless, odorless and tasteless gas that can be deadly within minutes. CO is the leading cause of unintentional poisoning deaths in the United States. The only safe way to detect it gas is with a working carbon monoxide alarm.
According to the U.S. Census, 75% of all homes have a potential source of carbon monoxide (CO), but only half of U.S. homes have a working carbon monoxide alarm. Potential CO risks in the home include:
Furnaces
Ovens & Stoves
Water Heaters
Dryers
Room/Space Heaters
Fireplaces
Charcoal Grill
Automobiles
Kidde Worry-Free Carbon Monoxide Alarm
Kidde recently released their new Worry-Free Carbon Monoxide Alarm -- the first and only UL-listed CO alarm proven to provide up to 10 years of protection! That's up to twice the lifespan of other available alarms.
Kidde's Worry-Free CO alarms contain a sealed-in lithium battery that powers the alarm for a decade -- so there are no batteries to (forget to) replace, keeping your family safe for 10 full years!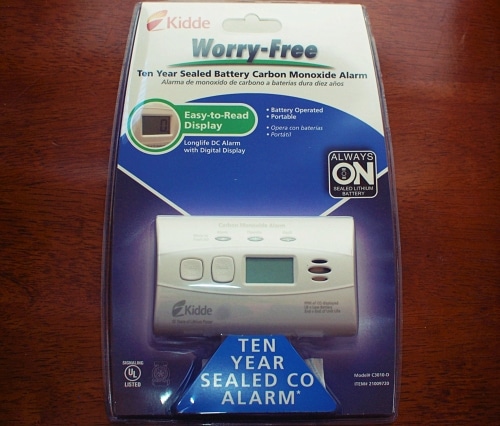 Benefits of Worry-Free Carbon Monoxide Alarm
Goodbye late night low battery chirps: The sealed lithium battery is tamper proof and provides 10 years of continuous power, meaning no low battery chirps or battery replacement
Longest Sensor Life Available: Carbon monoxide sensor is proven effective for 10 years – nearly twice as long as some models
Money Savings: no batteries to buy and replace every six months, save up to $40 over the life of the alarm Quick and
Easy Installation: simply slide the alarm onto the mounting bracket and it activates automatically. Place on a desk, shelf, table or the wall. It's Always On: 24 hr/day, 7 day/week protection from CO
End of Life Hush Button: After 10 years of power, the alarm will sound a warning to indicate it needs replacing. The hush button will temporarily silence the warning for up to three days.
This post and giveaway is brought to you by Kidde. All opinions are my own.