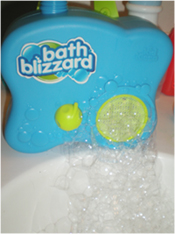 There is nothing more fun to a child than a bathtub full of bubbles! Spin Master has a new line of kids' bath activity toys called Kid Kleen, that are both unique and fun.
The highlight of the line, in my opinion, is the Bath Blizzard.
The Bath Blizzard is essentially a bubble maker for the bathtub. Recently we got to try one out for ourselves and when it came, my daughter could not wait to get into the bathtub. That was a nice change of pace, needless to say, it was a huge hit with my daughter!
The Bath Blizzard hangs on the handle or spout of your tub and blows out bubbles. A little bottle of bubble bath is included. The machine does run on 4 C batteries, however, that are not included. This postponed our bubble fun for just a little bit because I was not prepared.
I will say a downside is that it did not fit on both of our bathtubs. My bathtub in the master bath is more of a garden style tub with a curved spout and I couldn't get the bubble maker positioned correctly. My box did not include suction cups, and that might of worked well in addition to the hanger.
This product is really unique and I am surprised we haven't seen something like this sooner. The Bath Blizzard is sure to be a big hit this coming Christmas.
The Kid Kleen Bath Blizzard is suggested for use for children ages 3 and up. Suggested price is $19.99 and is available at all leading toy retailers.