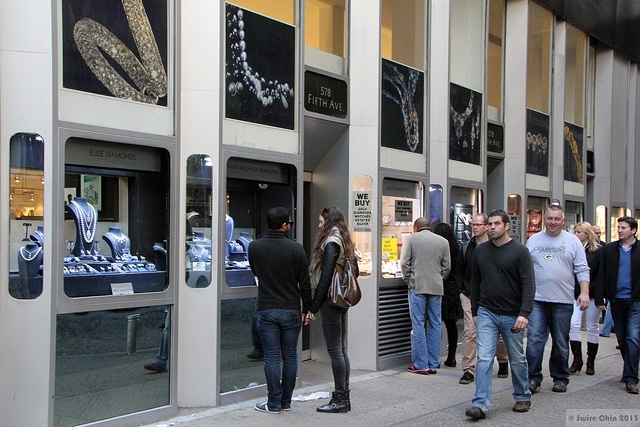 Beautiful. Luxurious. Bright. While they may seem like they're in abundance as you walk past jewellery stores, diamonds are in fact an expensive and rare commodity. And they're very much sought after. All of this involves a somewhat flourishing international trade business, says Brisbane diamond buyers.
Despite what the naysayers report, the diamond industry is a rather lucrative one that involves a huge number of professions including diamond dealers; diamond manufacturers; diamond retailers; diamond jewellery designers; diamond wholesalers and a great deal more. But one of the most crucial aspects of the diamond industry and, indeed, its essential backbone, is the diamond trader.
If you've ever considered becoming a diamond trader, here's a brief insight into diamond trading.
The Backbone of the Diamond Industry
As a profession, diamond trading demands a great amount of knowledge, expertise and experience. Most diamond trading is only actually done in just a few areas of the world and today, about 90% of the entire industry is handled in Surat, and Indian city which now serves as the hub of diamond manufacturing and trading.
Other popular locations around the world for diamond cutting and trading include Amsterdam, Antwerp, Tel Aviv, London and New York. There is a ruling company in the diamond market by the name of De Beers Diamond Company. Their major offices are in Johannesburg, South Africa and London, England.
What Every Diamond Trader Needs To Know
Brisbane diamond traders agree that diamond trading is an extremely attractive, lucrative business. But it is not without its challenges and anyone thinking about getting into diamond trading needs to know a few facts that will help you survive the industry.
To begin with: what exactly does a diamond trader do?
Diamond traders hold a central position in this industry. The trader is the one who travels to all the regions where diamonds are mined and produced. The trader chooses which diamonds to buy from the buyers and then sells those diamonds.
Usually the diamond buyers gain their financial support from the traders. Diamond traders require a formal license to trade in diamonds since the industry is rife with scams that once can easily become caught up in. What's more there are numerous other dangers that can occur in the mining areas that pose a threat to the more inexperienced cash buyers. By running a reputable and licenses diamond trading business, the job becomes a whole lot more organised, stable and safer.
Typically, the general public doesn't buy diamonds directly from a diamond trader. So diamond traders are just one of the links in an entire chain that makes up the exciting diamond industry, explains Brisbane diamond buyers.
So Where Can You Buy Diamonds Safely?
Where exactly can you buy diamonds without getting caught up in scams and being quoted exorbitant, exaggerated prices? Well, the best method to purchase certified diamonds is really via online trading floors or reputable jewellery stores. It's in these places that you will find certified high quality diamonds from some of the most professional and experienced diamond traders on the globe.
Look out for highly acclaimed Brisbane diamond buyers that offer unique buyer experiences and who have connections with well-known industry experts including diamond manufacturers, diamond traders, diamond buyers and other industry related professionals. That way you're guaranteed a choice of magnificent ranges of high-end stones.
The diamond industry is by no means on a downward slide and becoming a certified diamond trader offers a multitude of exciting opportunities and experiences according to Brisbane diamond buyers.