My husband and I have been in the market for a new mattress for about a year-and-a-half. Six years ago we bought what we thought was going to be the perfect mattress. It was a Sleep Number Bed, and by all accounts it should have lasted us at least 10 years. We tested it out in the store, ordered online and then put it together at home. I don't remember the exact amount, but it was a couple thousand dollars. I chalked the price up to being an investment —we spend thousands of hours per year in bed and it's a purchase that's worth the splurge.
Fast forward to 2014. I was at my breaking point with the mattress and it didn't matter what sleep number I was on, I woke up with sore muscles and an achy back. My husband had similar problems, and even resorted to sleeping on the couch for a good night's rest. We bought a featherbed, added extra pillows, and did everything we could to mask the most uncomfortable bed in the world (a slight exaggeration!).
Then I had a stroke of luck. A new mattress company invited me to try out their new mattress. Of course I jumped at the chance, and within no time I had a brand new, American-made Leesa mattress on my doorstep.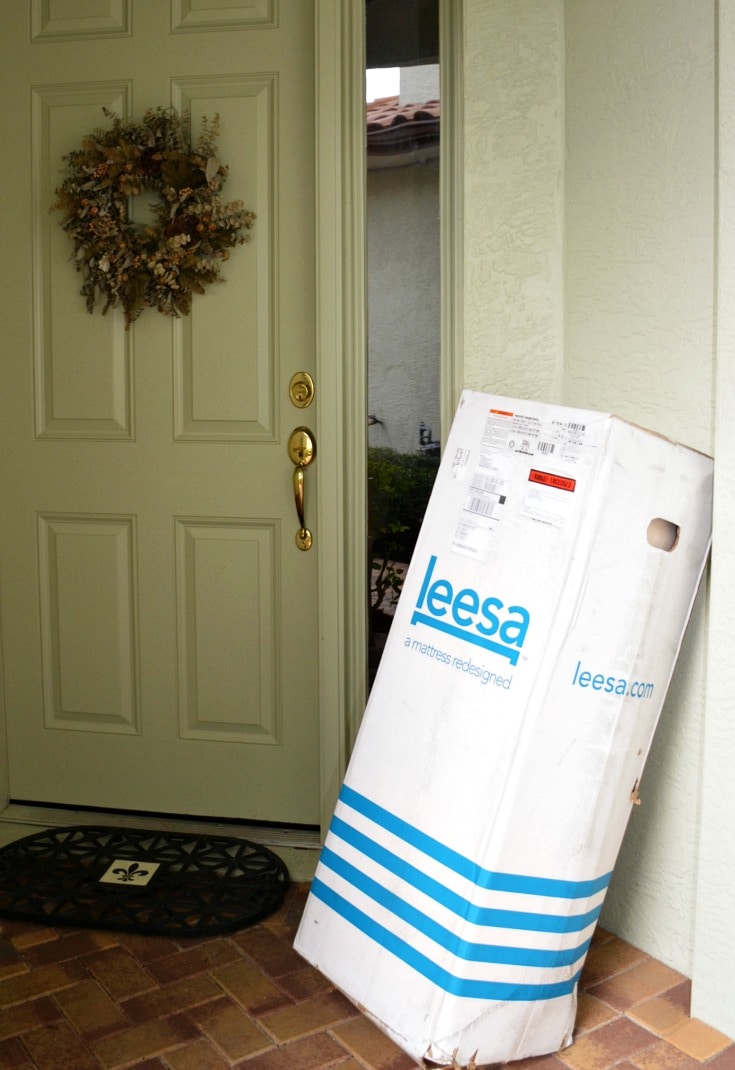 The size of that box is quite deceiving because, believe it or not, there's a queen sized mattress inside. The box weighed a good 60lbs, so I commissioned my husband to set it up for me.
Here's a quick 1-minute video of my husband unboxing the Leesa mattress.
The 10-inch Leesa mattress (comes in all standard sizes) features three layers of high quality foam: a two-inch perforated Avena foam top layer that offers better airflow and a cooler night's sleep, a two-inch memory foam middle layer that provides body contouring and pressure relief, and a six-inch core foam that provides stability, durability and core support.
The four-stripe cover is made of polyester-blend fabric and adds a sophisticated look to the mattress. I almost didn't want to put sheets on top because I love the design of the cover so much. Of course, I did— but it was nice to see the detail that went into the design of the Leesa mattress.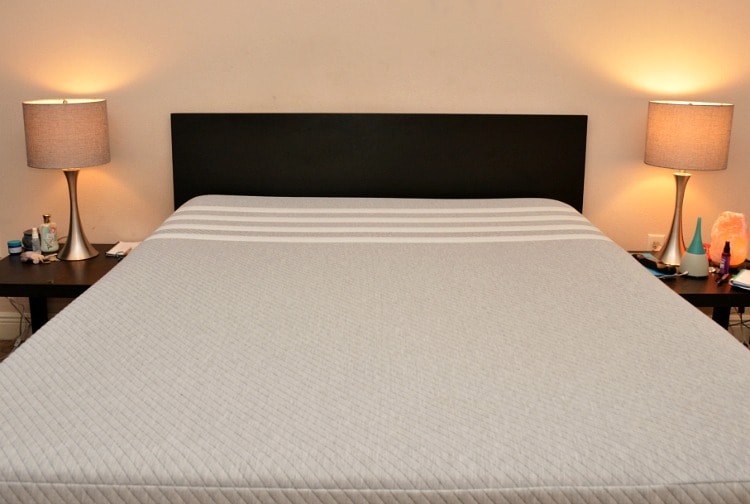 I know what you're thinking, all this is great, but how does the mattress feel? The biggest surprise to me was just how firm the Leesa mattress was. It was incredible to me that a mattress that was delivered in a box could expand so much and still be firm. The Leesa is not some cheap memory foam mattress. It's the real deal, and from the very first sleep I noticed the difference between my old mattress and the new one.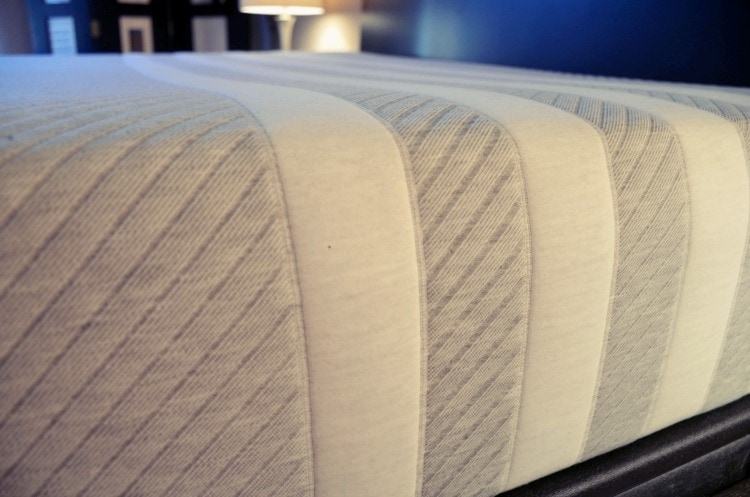 The new mattress is firmer than my sleep number on the highest setting, but it doesn't feel like a rock (Leesa is actually classified as medium-firm). My back feels supported and I'm sleeping better than I have in ages. My husband is completely hooked and has been sleeping through the night. Before the Leesa mattress I would have said that we are not "firm" mattress people. I always like plush fabrics and feathers, but after feeling the difference on my back I have converted. The Leesa is very comfortable — I don't even feel the need to put our mattress topper back on.
The Leesa mattress has a 100 night refund policy, meaning that you can try it out for 100 sleeps and then decide if it's right for you. We're still in our first hundred days (actually about 3 weeks in), and though I'm giving it 2 thumbs up right now, I want to give an update again in 3 months.
Every size Leesa mattress costs less than $1,000, an amazing value for the quality, in my opinion. If you've been looking for a new mattress, Leesa should definitely be considered— the price is right, plus you have 100 nights to decide (free shipping, too!). PLUS, you can save an additional $75 by using the coupon code in my referral link: http://refer.leesa.com/cT73t.
When was the last time you replaced your mattress?
A Leesa mattress was provided for review. All opinions are my own.