This is a sponsored post written by me on behalf of Capital One. All opinions are 100% mine.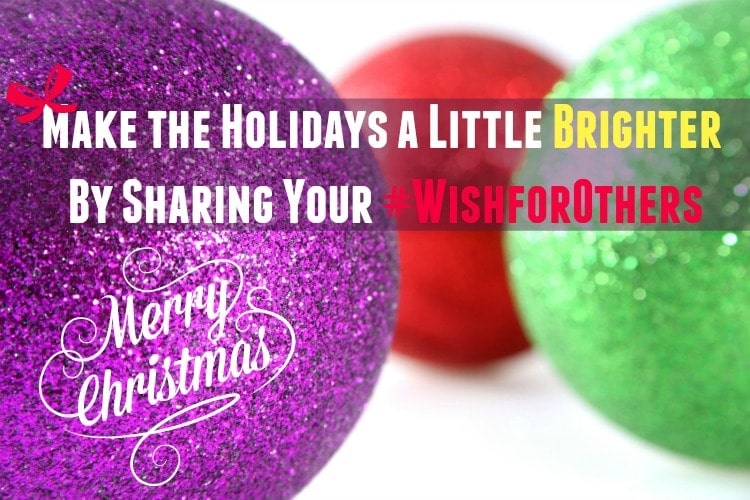 Every year it seems that Christmas gets more and more commercialized. While I'm not complaining (I'm no Scrooge after all!), I want to make sure the spirit of the season doesn't get lost on my daughter. I've encouraged her through the years to be aware of others who may be less fortunate and to give back when possible … especially during the holidays! It's important to teach our children to give with an open heart when they're young so that they can carry on the tradition into adulthood.
Together we have donated gently used clothes and shoes, purchased food for a local food bank, and bought new toys for children who wouldn't normally get anything for Christmas. It is my ultimate #WishforOthers that every child feels special during the holiday season and experience a little bit of the magic that it brings. While that's a lofty wish, it's not impossible when you have a community that comes together.
Capital One is hoping to help make the holidays a little brighter this year by helping to share and grant people's Wish For Others through a campaign appropriately called "#WishforOthers".
Capital One wants you to share your wish for someone else – a family member, a friend, a neighbor, or a community — with #WishForOthers on Twitter, Instagram, or the Capital One Facebook page from November 24 through Dec. 23 for a chance to make it come true. In total, 275 wishes will be granted, from large to small. Need a little wish inspiration? Check out this quick video:
As you can see, wishes range from helping a loved one get a new pair of shoes to wishing for a house for a family in need. No wish is too silly or outrageous, but Capital One does want you to know that they don't have a magic wand— so stick with wishes that could feasibly be granted.
Besides wishing joy to children around the world this Christmas, I have a smaller wish that I'd like to see granted to my mom. I'm hoping that she'll be able to spend the holidays with us. She's been without a car for more than a year and we've seen very little of her since then— she doesn't live around the corner. Not only has she not seen us, but she's had to walk to and from work everyday — to that I say Bah Humbug!
So what's your #WishforOthers? Let Capital One know by uploading a video or photograph and/or message which identifies your wish for another individual, family, group or organization (valued between $750 and $500,000) with hashtag #WishforOthers to Capital One's Facebook, Twitter or Instagram. For official rules and info visit www.wishforothers.com.