This post  is brought to you by McCormick. All opinions are my own.
When I think of root beer, I think of summertime. Frosty root beer floats piled high with vanilla ice cream — it's the quintessential summer treat! Did you know that in 1889, Willoughby M. McCormick  went door to door selling one of McCormick & Company's first products, root beer extract? From there on, the product quickly rose in popularity and led to a trending sensation of root beer floats in the early 1900s.
This year, McCormick is celebrating their 125th anniversary and all of the products that have brought them where they are today, including root beer extract.
I was recently invited by McCormick to create a recipe using their famous Root Beer Concentrate as part of McCormick's Flavor of Together program— a year-long initiative to share 1.25 million stories about how flavor both unites and defines people across the globe. I thought I would stick to the root beer float theme — with a twist — and created some whimsical Root Beer Float Cupcakes ... aren't they adorable?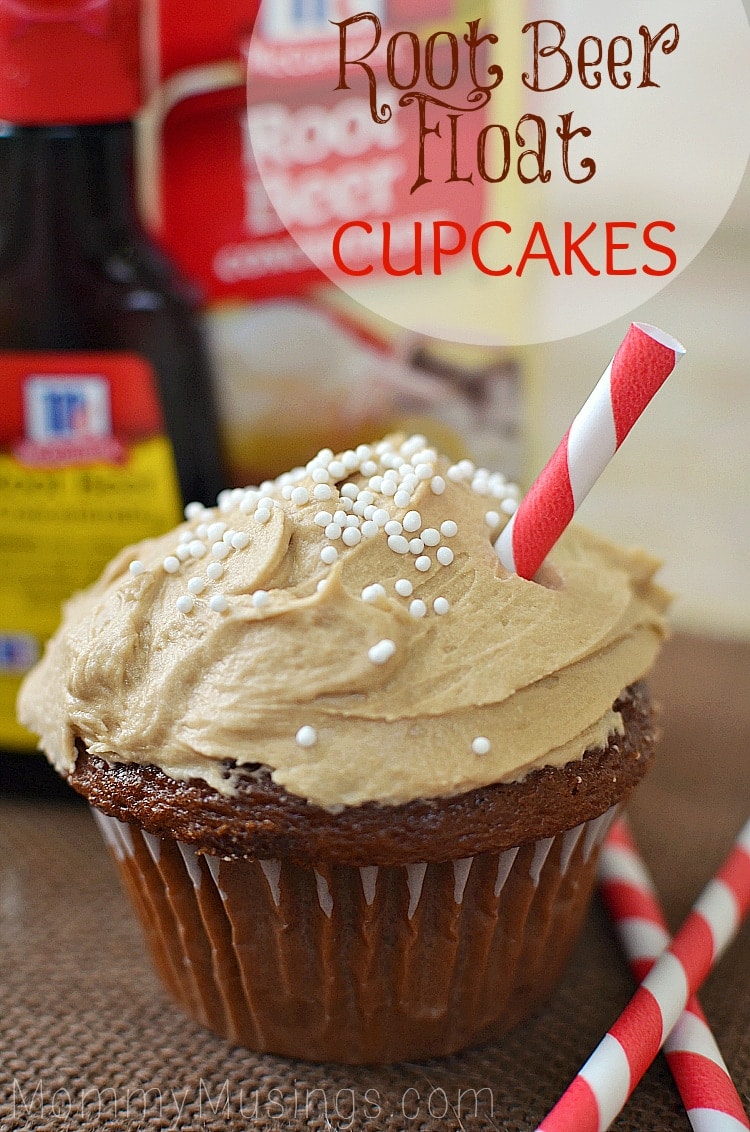 My root beer float cupcake consists of a chocolate-root beer flavored cake base with homemade root beer-vanilla buttercream, which I slightly modified from the Old Fashioned Root Beer Frosting Recipe on McCormick.com.
You can use any homemade or boxed chocolate cake mix for the cupcake, but to make it easy, I'm featuring the boxed directions. This cupcakes would be perfect for an end-of-the-year class party or a summer birthday!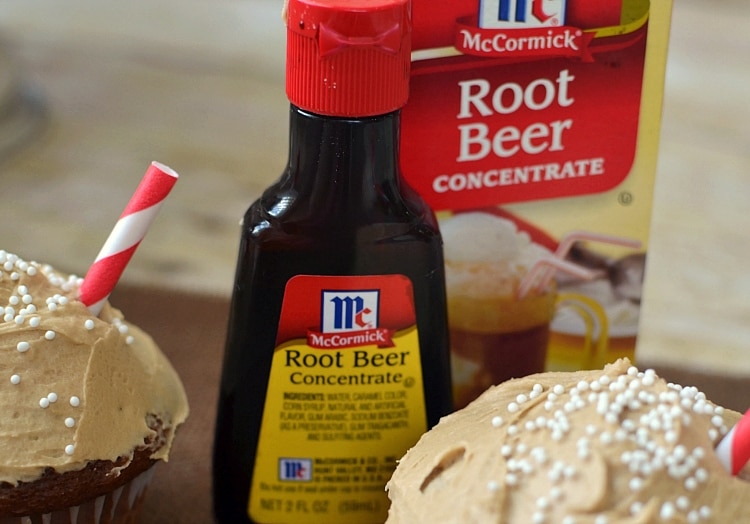 Root Beer Float Cupcakes Recipe
Ingredients
Cupcakes:
1 box chocolate cake mix
3 eggs (or amount called for on box)
⅓ cup vegetable oil (or amount called for on box)
1 ½ cups water (or amount called for on box)
1 tablespoon McCormick Root Beer Concentrate
6 paper straws, cut into thirds
White nonpareils
Root beer-Vanilla Buttercream:
1 stick butter; softened
1 teaspoon McCormick Root Beer Concentrate 
½ teaspoon McCormick vanilla extract
16 oz confectioners' sugar
¼ cup milk
Directions
Prepare boxed cake mix according to instructions. Add 1 tablespoon McCormick Root Beer Extract to batter. Bake cupcakes as directed. Let cool completely.
In a large bowl, beat butter with an electric mixer on medium until light and fluffy. Add McCormick Root Beer Concentrate and vanilla extract.
Gradually add confectioners' sugar, scraping the sides of the bowl as you blend.
Add milk. Beat frosting until light and fluffy.
Spread each cupcake with desired amount of frosting. Sprinkle with white nonpareils and top with paper straw.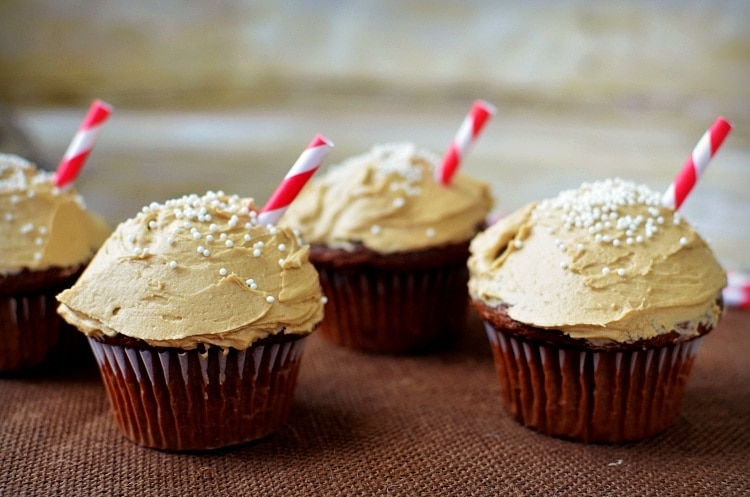 As part of McCormick's 125th anniversary celebration, McCormick is giving back to communities around the world. For every story shared on any of McCormick's brand websites or social channels, McCormick will donate $1, up to $1.25 million, to United Way to help feed those in need. You're invited to join the conversation at FlavorofTogether.com where you can share your flavor story and discover globally inspired dishes, videos and more. Stories shared on social media channels should use #flavorstory — remember for every story posted you're helping McCormick feed someone in need!
Win a McCormick Anniversary Pack!
Share your own flavor story by commenting on this post using the hashtag #flavorstory. Once lucky reader will win a McCormick anniversary pack, including exclusive products not sold in stores (black pepper & vanilla extract), a McCormick recipe book and a branded canvas tote — all valued at $50.
Fill out the rafflecopter form below to enter. Giveaway ends March 31 at 11:59pm.