I participated in the Microsoft Office 365 campaign on behalf of One2One Network. All opinions are my own.  
The 9 to 5 has blurred and today people need modern technology to find balance. From the home to the office, and especially on the go, people all around the world are working differently than the past. According to a recent study conducted online by Harris Interactive on behalf of Microsoft, more than half of office workers (53%) would be willing to work more hours—and one in five would be willing to take a pay cut—to have more flexibility in where and when they got work done.
Would you work more hours or taking a pay cut to have more flexibility? 

Now, I admit, my job is a lot more flexible today than it was 8 years ago. Before I quit my job and became a full time blogger, I yearned for something different. I would have absolutely taken a pay cut or worked more hours to be able to do my job more remotely. As it was, I was driving 2+ hours a day to get to and from my workplace, in addition to time at job sites.
Today, I may work more hours but I can do so wherever I please and it still yields more time with my family. That's the beauty of using Microsoft Office 365— I can work at home, in a park, at the coffee shop, while waiting in the pickup line at my daughter's school ... in a plane, on a train ... at a hotel, in the county, out of the country ...  really, the possibilities are endless.
And Microsoft Office 365 is for more than just my blogging work. I use it keep track of my other priories, like making to-do lists, keeping schedules and managing reservations by accessing them from the OneNote mobile app (This works great because I have a Windows 8 on my laptop and a Windows Phone!).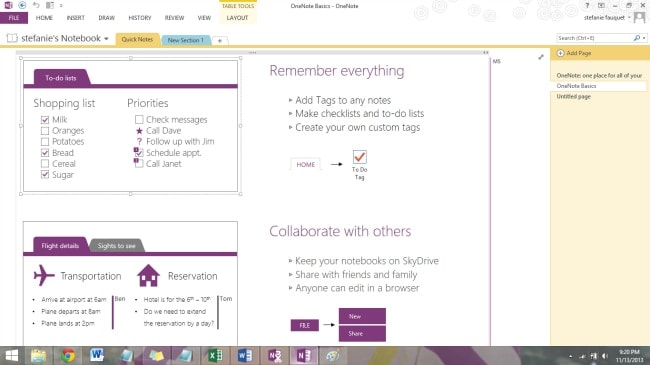 Here are five ways I use Office 365 to #GetItDone
1. Save documents in the cloud. From home, school, work and everywhere in between, it's important to have tools that work the way you do. Office 365 lets you save your documents in the cloud on SkyDrive so no matter where you are, your information and ideas are available on your terms.
2. Take digital notes. OneNote is a digital note-taking app designed to keep you organized. Use it at home, school or work for recipe collecting, class notes, projects and more. Not only is OneNote part of Office 365, but it also comes as a free app for Windows Phone, iPhone, iPad and Android. Capture thoughts, ideas and to-dos in one place with OneNote, then access them across your devices via SkyDrive.
3. Use Office on your phone. Get stuff done on the go with Office on your Windows Phone, iPhone or Android phone. Access, view, edit, and share Word, Excel and PowerPoint documents by simply downloading Office Mobile on your phone and logging in with your Office 365 account.
4. Collaborate with anyone. Office Web Apps are free, touch-friendly web versions of Excel, Word, PowerPoint and OneNote. Share and simultaneously work on documents with classmates, friends, and co-workers from any browser. All you have to do is sign up for a SkyDrive account to start creating documents.
5. Have Office on five devices. You and your family work on more than one device and so does Office 365 Home Premium. With one subscription you can put Office on up to five PCs or Macs and five phones (iPhone or Android).
I love how Microsoft Office 365 works so seamlessly between devices. The only downside, perhaps, is now there's no excuse to not #GetItDone!