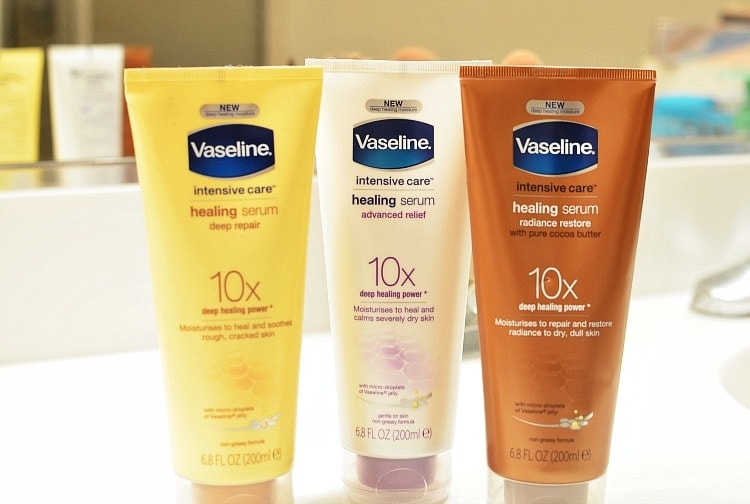 I was almost ready to pull out my spring wardrobe this week, when all of the sudden winter decided to show back up in a big way. Yes, my idea of winter is probably different than the rest of the U.S. (the perks of living in Florida), but my skin was not ready for the cold front. In less than a day I could feel my hands and feet get dry, and if I would have left them, my skin would even have started to crack. If this is what happens to a Floridian's skin in a cold front, I can imagine what it must be like for those living in the northeast!
As luck would have it, Vaseline sent me a care package this week with their new range of skincare that brings the power of highly concentrated, healing ingredients to the first ever moisturizing body care serum.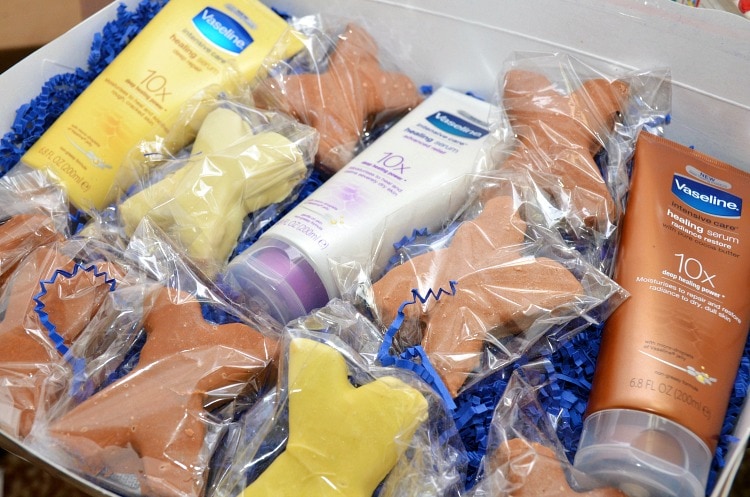 New Vaseline® Intensive Care™ Healing Serum is a available in three new variants.
Advanced Relief – It moisturizes to heal and calm your severely dry skin.
Radiance Restore – It moisturizes to heal and restore the radiance to your dry, dull skin.
Deep Repair – It deeply moisturizes to heal and relieve your worst rough, cracked skin.
I dove right into new Vaseline® Intensive Care™ Healing Serum in Deep Repair because I wanted fast action on my dry skin. Right out of the tube I knew this was the lotion (… err serum) for me because it was thick and creamy, plus it smelled fantastic. One of my biggest pet peeves with body lotion is that it's often too light or runny. I want a thin coat for my face, but not for a skincare product that's applied to my hands and body!
I tested out the other two healing serums, Advanced Relief and Radiance Restore, and was equally pleased with their texture and scent. I will rotate between each of the variants as needed this winter (and beyond!) for ultimately soft skin.
New Vaseline® Intensive Care™ Healing Serum provides dry skin with 10X the healing power* to reverse dry skin damage (*Moisturizes to visibly heal dry skin by 10X over time). The formula contains three superior quality ingredients – PPAR Activators, Elastomers and Vaseline® Jelly – that work together to moisturize and heal dry skin.
PPAR Activators begin healing by penetrating the surface skin to replenish lipids and moisturizes to boost skin's natural renewal cycle.
Micro-droplets of Vaseline Jelly form a protective layer on the surface of skin to prevent moisture loss.
Elastomers are then added to deliver the luxurious silky, smooth product feel.
Together these three ingredients moisturize to provide an effective dry skin healing regimen perfect for everyday skin care. All Vaseline® Intensive Care™ Healing Serums can be used daily all over body and are available at food drug and mass retailers nationwide for $7.99.
For more information, visit www.Vaseline.us or the Vaseline Facebook page.
Have you tried new Vaseline® Intensive Care Healing Serum?
Vaseline sponsored this blog post. The opinions and text are all mine.