Amanda Tinney from WheresAmanda.com covered the inaugural sailing of Norwegian Escape from Miami on behalf of Mommy Musings™.
I distinctly remember that scene in the Wizard of Oz when Dorothy and Toto first glimpsed the Emerald City. She certainly never forgot that! Ditto! But my vision was something even more spectacular... the Norwegian Escape! The Escape is GRAND!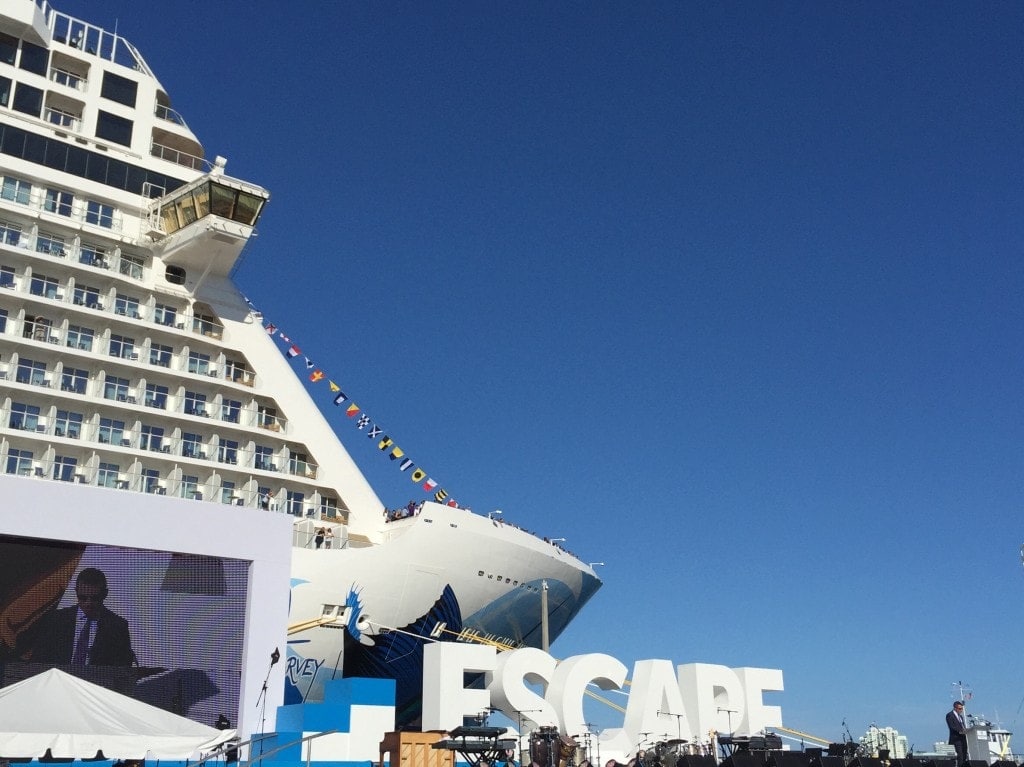 My husband and I were fortunate enough to take a two-day "break-in" cruise on the ship as she established herself in the Port of Miami. "Ship" might not be exactly the right word. The Escape is something else again, of such elegance and complete design that you might even forget where you are. Was I at sea? Well, yes I was. Did it matter? Not really.
The Norwegian Escape is a complete environment where you want for nothing. As an aside, you do, in fact, visit foreign ports. Typically, the point of a cruise is to move about from one destination to another, but you might just fall in love with the Escape herself and ignore the itinerary all together.
Accommodations aboard include single studios, suites, and everything in between. We had a mini-suite to ourselves, very well appointed and roomy, which included a full shower, TV, couch, a double bed and a balcony overlooking the sea.
Norwegian has yet another tier of rooms they call the Haven Rooms, something they refer to as a "ship within a ship". This is the top-drawer accommodation where you are provided with a butler and a concierge with all the individual amenities, which are not shared with the rest of the passengers.
Dining choices are many, and I could not possibly take advantage of all of them in my two days aboard Escape. But I tried!
Bayamo by Jose Garces: Seafood with a Cuban twist...
Food Republic: an amalgam of international dishes managed by Pubbelly of South Beach fame...
Freestyle: all good...
The Supper Club: dining with great 80's entertainment...
Libations of course! What do you drink? You name it, you can have it on the Escape. I was definitely drawn to The Cellars, a wine tasting experience run by the Mondavi vintners.
Craft beer is one of my favorite refreshments and I must give The District Brew House two thumbs-up. More than twenty beers on tap, and fifty in the bottle. Thirsty? Go there and I guarantee you will leave quenched.
My aesthetic impressions of the Escape border on dream-like perfection. Everywhere you look there is style and deliberate, original design. No detail was overlooked. The hull is decorated by the famous marine artist, Guy Harvey, who was on hand for this trip.
Throughout the ship you can find panoramic views of the sea as you dine, drink, or enjoy the many outdoor features on board, including a basketball court, two large swimming pools, several smaller pools, an aqua park, several outdoor lounges and a 9-hole mini golf course. Soothing to the eye and soothing to the spirit. That's the Norwegian Escape experience.
Visit www.ncl.com/cruise-ship/escape for more info on this fantastic ship sailing from the Port of Miami.
Special thanks to Norwegian for hosting Mommy Musings™ on the inaugural sailing of Norwegian Escape.