Undoubtedly one of the most unique entertainment and dining venues at sea is The Illusionarium on Norwegian Getaway. My husband and I were treated to an evening of magic and mystery during the inaugural sailing of the Norwegian Getaway from Miami earlier this month.
The show starts as soon as you check in for your reservation and queue in a corridor filled with posters and artifacts from the era of the most famous magician who ever lived, Harry Houdini.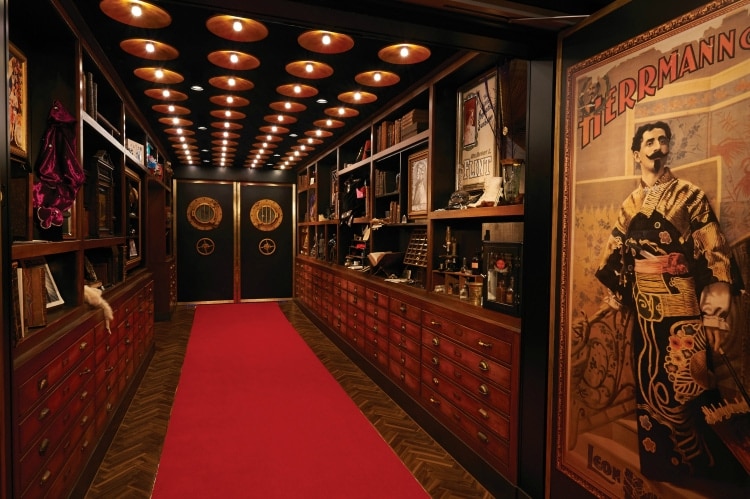 The theming continues as you are seated at shared tables in a steam-punk inspired room centered beneath a large video dome. Waiters, also dressed in steam-punk attire, come around to take drink orders and serve your first course: a salad with sliced tomatoes, mozzarella and prosciutto with a balsamic vinaigrette. The menu is set, so unless you're a vegetarian or have allergies, which is asked in advance, everyone receives the same appetizer, entree and dessert during the show.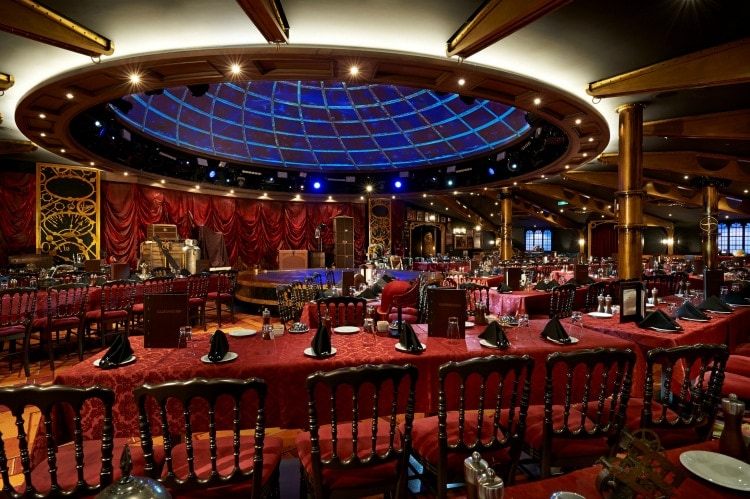 The first course was delightful. I thoroughly enjoyed my salad, and if I could of had seconds I would have (I can never have enough prosciutto!). It's during the salad course that the show begins and we learn that we're actually here to attend an auction for magician's props. Each table is outfitted with a relic that you're able to pick up and inspect. Don't mind my husband's face ... you get the idea!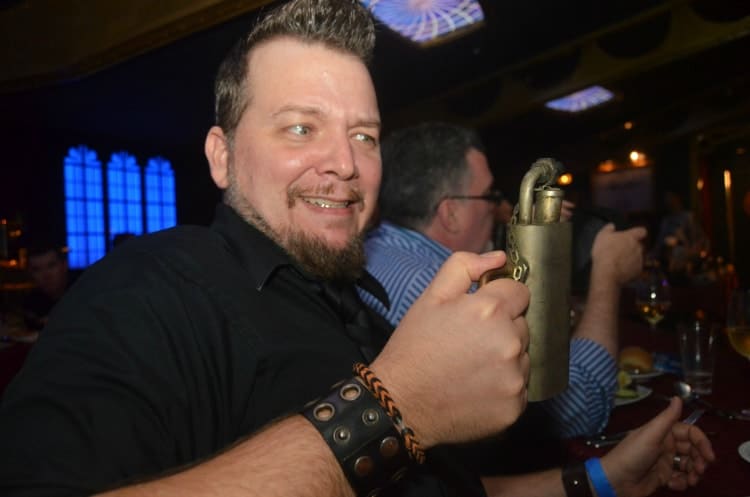 It's about this time that the auction takes a turn for the supernatural. No detail was spared to make you feel as if you've been transported to a sci-fi fantasy world out of the mind of Jules Verne. Without giving away any spoilers, the dome in the ceiling is a portal, reminiscent of something you would find at an attraction at Disney World. Throughout the two-hour long performance, a host of four different "Grand Magicians" with different sets of illusions take the stage. Many are tricks that you may have seen before, but are always entertaining— a girl in a box with knives, disappearing acts, a levitating table, a mentalist with audience participation. Some of the magicians were more engaging than others, but all were fun. If our daughter would have been with us, she would have been in awe the entire time.
The dinner entree was the only part of the evening that left something to be desired. We were each served a filet with two jumbo fried shrimp, a broccoli floret and a whipped potato. I generally eat my steak medium-rare and this was cooked well done. There was no choice in the matter while ordering and it was a bit too bland for my liking. The shrimp were good.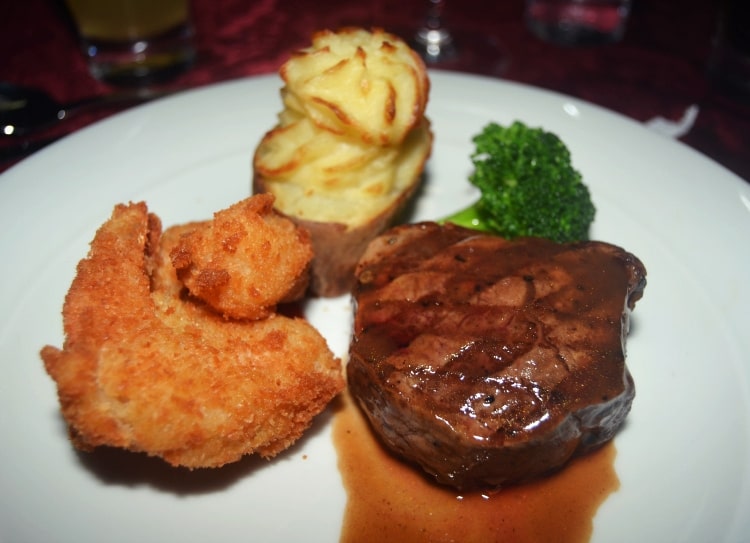 The show continued throughout the second course and into dessert, which was a trio of tiny treats. I think one was red velvet cake, another a flan and then a bit of chocolate. I ate everything on my plate.
The best part of the show was the finale. The lead magician really shined during his performance, combining a great deal of personality and fun with his magic tricks. He had the entire room laughing out loud. I had to look up his name after the show because I thought he did such a fantastic job of bringing the story together. Turns out, it was the lead magician, Jeff Hobson, who presented the concept of The Illusionarium to Norwegian, and along with Broadway director/choreographer Patricia Wilcox and Tony Award winning scenic designer David Gallo, the show was brought to life exclusively on Norwegian Getaway.
My husband and I both agreed that it was one of the best magic shows that we had seen on a cruise ship, or anywhere else outside of Vegas. The Illusionarium is family-friendly with two shows per night, totaling 12 per sailing. There is an additional fee for the 2-hour immersive experience with premium seating available.
Special thanks to Norwegian Cruise Line for inviting me to attend the christening and preview cruise onNorwegian Getaway. All opinions are my own.