Miami has a brand new cruise ship ... and my husband and I were invited to see it! Last weekend we ventured down to South Florida for the christening of Norwegian Getaway, followed by a 1-night inaugural media cruise. This was our first experience with Norwegian Cruise Line and I hope and pray it won't be our last— we loved everything about Miami's newest ship!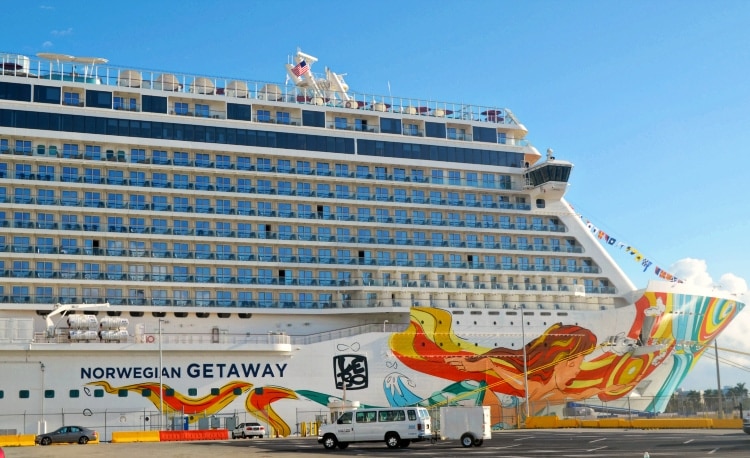 When we first arrived at PortMiami and saw the ship for the first time, I was completely taken aback with how large it was. The Norwegian Getaway was by far the biggest ship that I have sailed on, accommodating up to 4000 passengers and 1640 crew. The ship is currently the largest to homeport in Miami with year-round seven-day Eastern Caribbean cruises.
If the size doesn't draw you in, the hull art certainly will— created by Miami-based artist David "LEBO" Le Batard, the ship's hull features a whimsical tropical ocean theme complete with a mermaid holding the sun ... it's just stunning in person, bringing life and personality to Norwegian Getaway.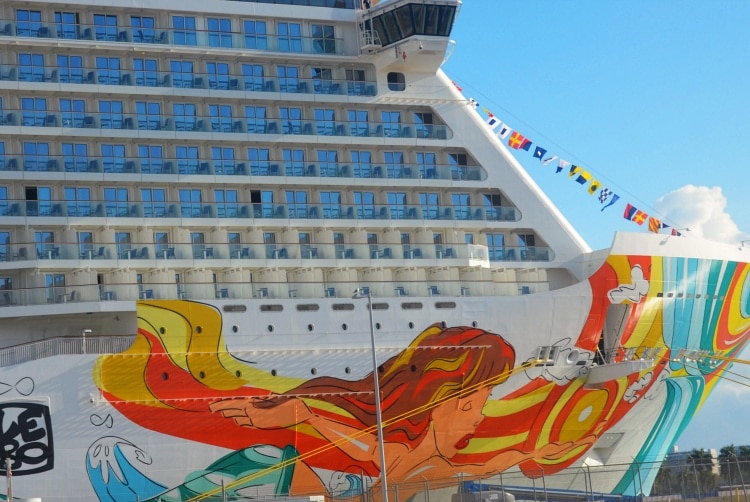 On board, Norwegian Getaway is a mix of fun and luxury, all while maintaining a cool Miami vibe. Our first stop was our stateroom, 9192, which was a mini suite located on the 9th deck mid-ship. The Mini Suites are a roomier version of the balcony stateroom with a larger, more luxurious bathroom.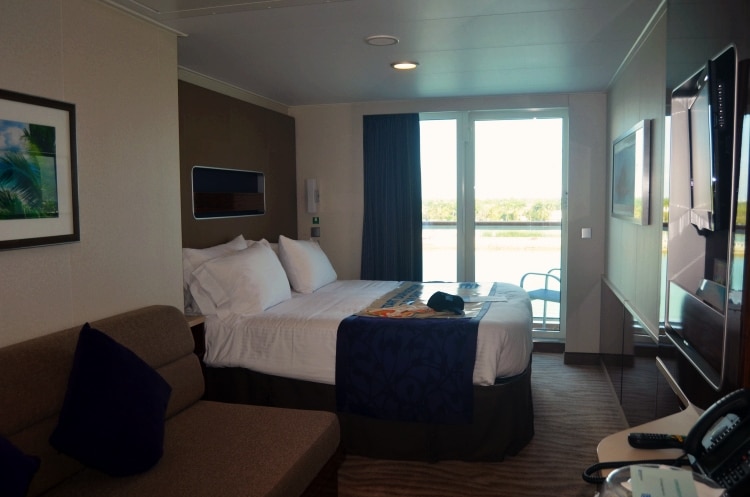 The bathroom was practically palatial compared to the standard size I have experience on other ships — I mean, double sinks and a rain shower with multiple body jets ... incredible!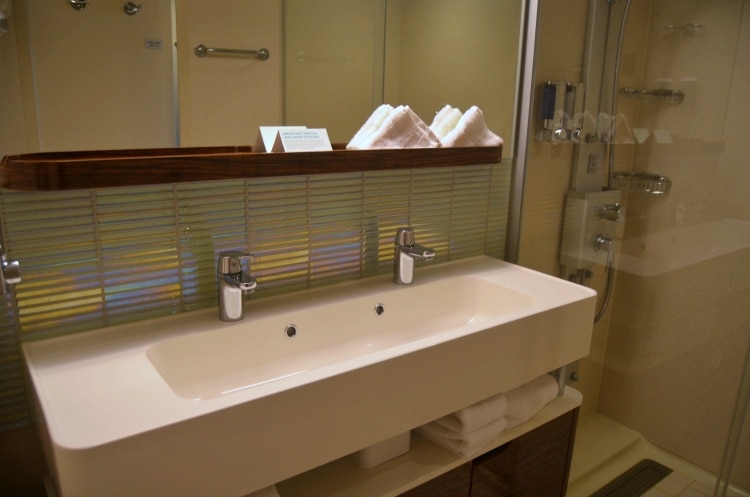 Other amenities in the room include a king-size bed with a pillow top mattress (that can be separated), a sofa bed with additional storage, a wall mounted 26-inch flat screen TV, built-in vanity area and a full-size closet with sliding doors. The space would have been more than enough if our 9-year-old daughter had joined us for the cruise (she stayed home with Grandma, for once!).
I didn't have enough time to check out any of the other staterooms, but there are 15 categories, including inside, studio (for solo cruisers), oceanview, balcony, mini suite and spa suite. 42 suites on Decks 15 and 16 make up The Haven —a private and luxurious area with personalized service and a host of super deluxe amenities. If you want the Ultimate Getaway experience, these are the staterooms you want to stay in!
Once we dropped off our bags and freshened up, we set out to do a little wandering. Let me tell you, there is nothing like a brand new cruise ship— each nook and cranny is an adventure ... you never know what's going to be around the corner! Time and time again my husband and I would say, "this is so cool" and "look at that!". The Norwegian Getaway is just incredible.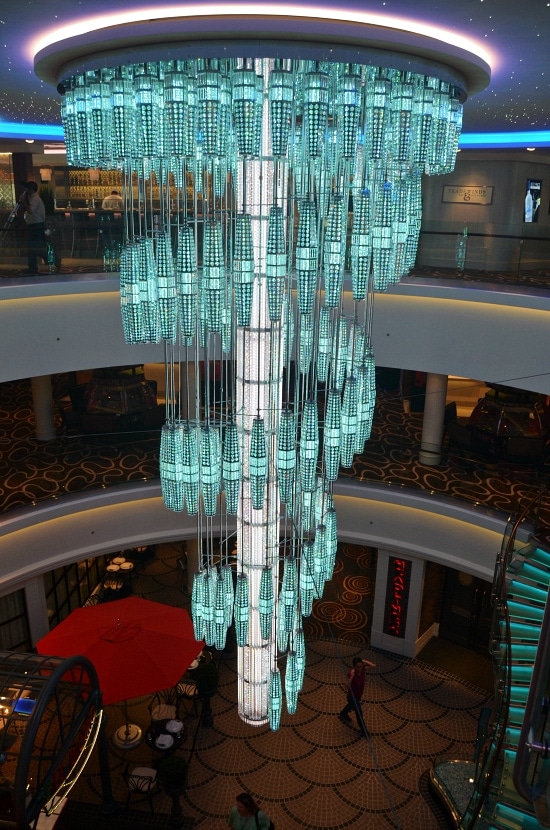 To get a concept of her size, there are 28 dining options. You read that right, 28!! For lunch we stopped at O'Sheehan's Neighborhood Bar & Grill for a little pub grub. This is one of the complementary dining options serving American favorites and comfort food. I had the Fish and Chips (more of a British favorite than American, but still good!) and my husband enjoyed a Bacon Cheeseburger with a pint of beer.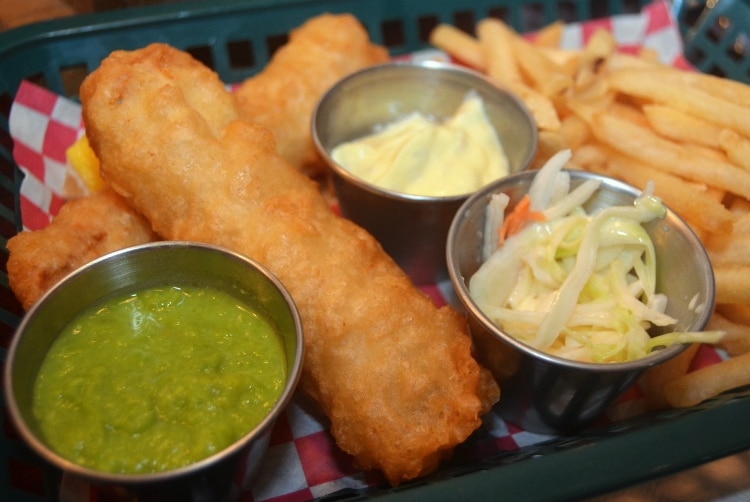 After we checked out a few of outdoor spaces, including the Aqua Park and the INCREDIBLE pirate-themed Nickelodeon Kids' Aqua Park. The combined area has 5 multi-story water slides, including two of the fastest water slides at sea, two swimming pools and four hot tubs along with a kid-sized pool, slide, and multiple water features. My daughter would just go nuts with all of the fun water elements.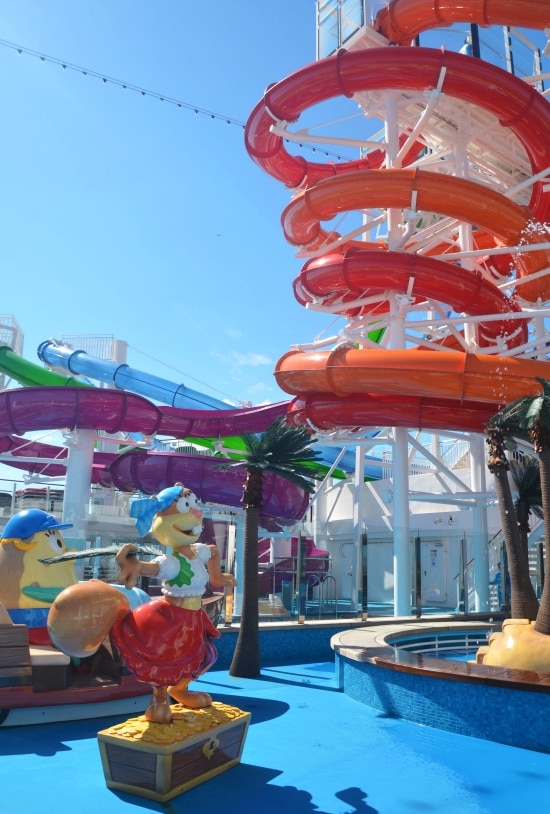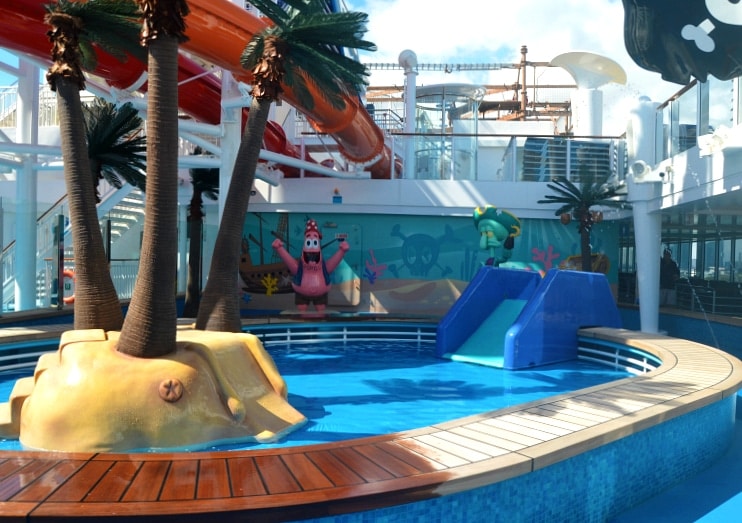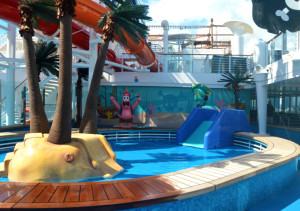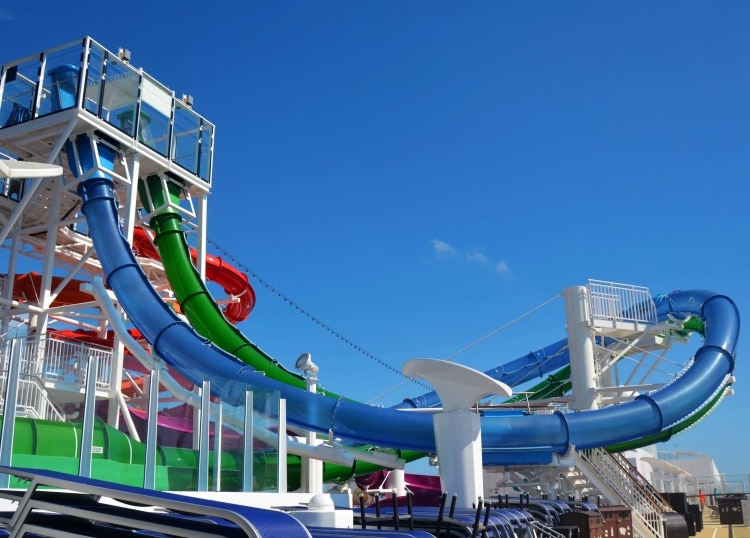 The three-story Sports Complex features a pirate-themed nine-hole mini golf course, a basketball court, a rock climbing wall, a bungee trampoline, a Spider Web climbing cage and the largest ropes course at sea.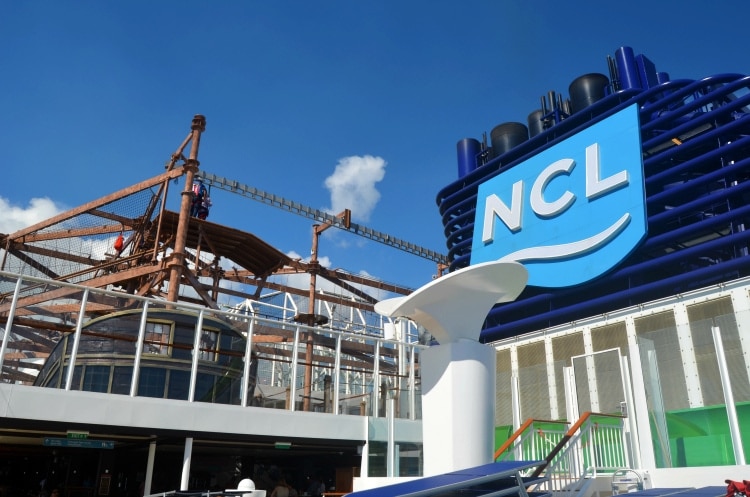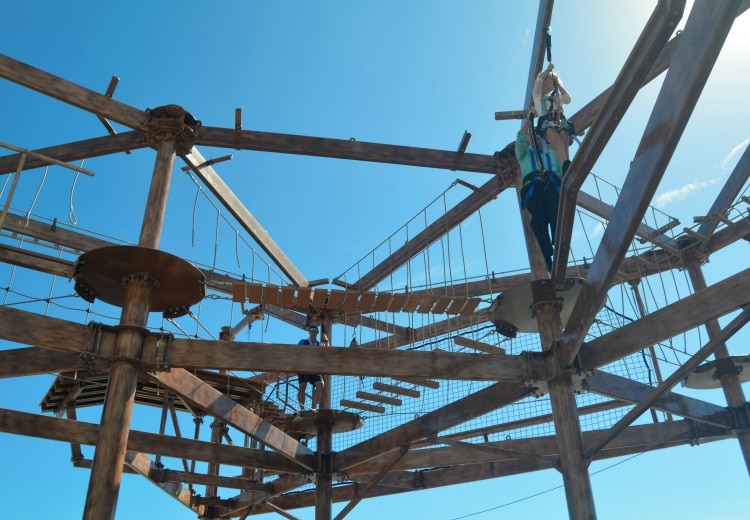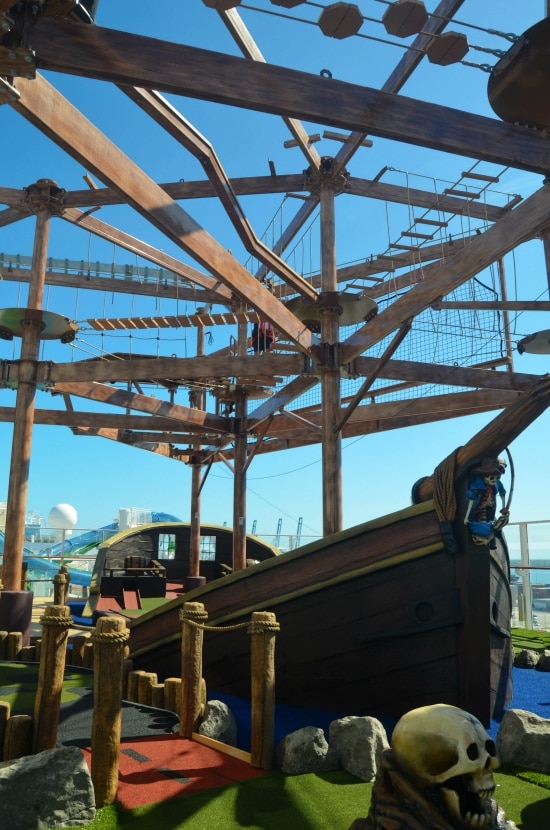 In addition to the spaces outside, Norwegian Getaway offers Splash Academy for kids 3-12 and Entourage for teens 13-17. These dedicated venues offer young guests the chance to meet new friends and play in an environment that's all their own. There's also a nursery for babies and toddlers 6 months to 2 years.
After some time on the upper decks, we made our way to deck 8 for some refreshments at the Sugarcane Mojito Bar. This bar turned out to be our favorite— its island theme, combined with a selection of yummy handcrafted mojitos (a staple in Miami!) had us coming back for more than our fair share of beverages. I sampled a Raspberry Guava Mojito, a Spicy Passion Mojito with Sriracha and a Porton Mate, which was essentially a Jalapeno Margarita. All were delish!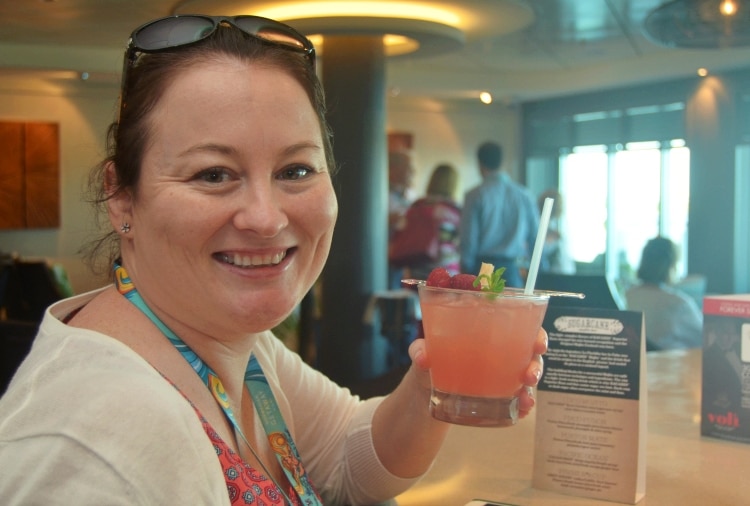 While we were at the Sugarcane Mojito Bar, my husband made reservations at the Svedka/Inniskillin Ice Bar for us later in the evening. I have been to a real ice bar, in Quebec City, so I was curious to see how it would compare. The experience was very cool — I'm saving the details for a later post 😉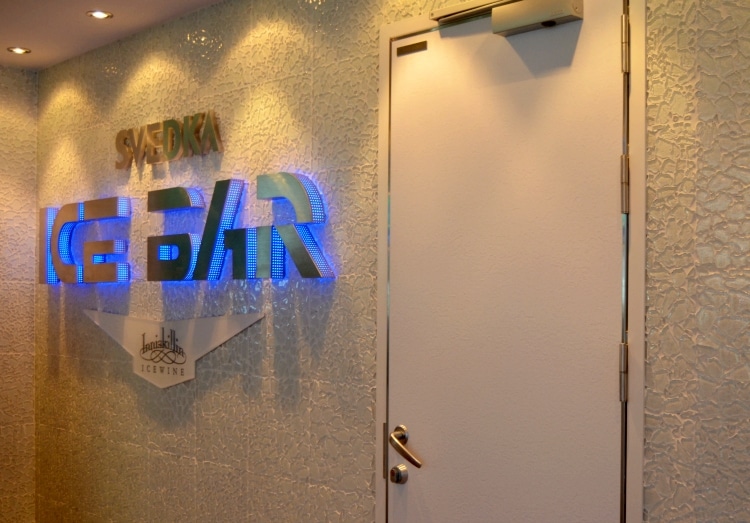 After the muster drill we got ready for the evenings entertainment, which included the official christening ceremony, led by Brooke Burke-Charvet, with the Miami Dolphin Cheerleaders as the godmothers of Norwegian Getaway. The headliner was Mr. 305, Pitbull — who was just amazing!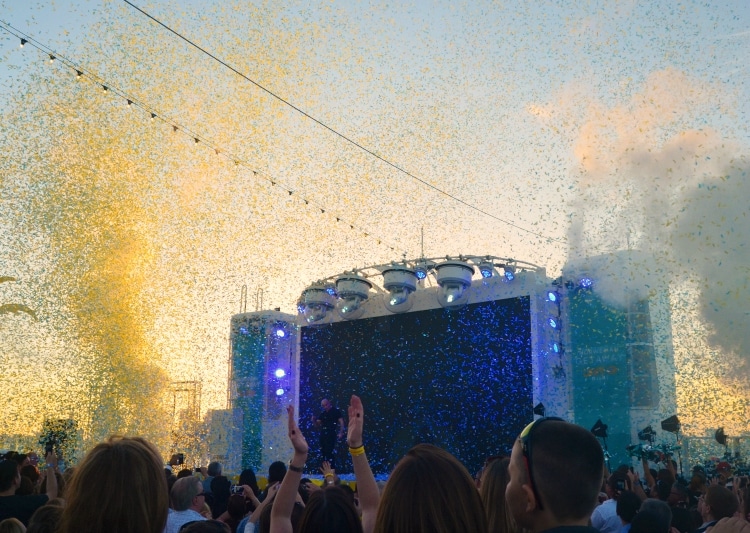 The festivities ran a little long, so after the entertainment we went straight to dinner at the Illusionarium — an intimate dining experience with magicians, illusions and special effects. The Illusionarium is unique to the Norwegian Getaway and, to be honest, it was unlike any dinner show that I have seen before— here's a full review of the Illusionarium.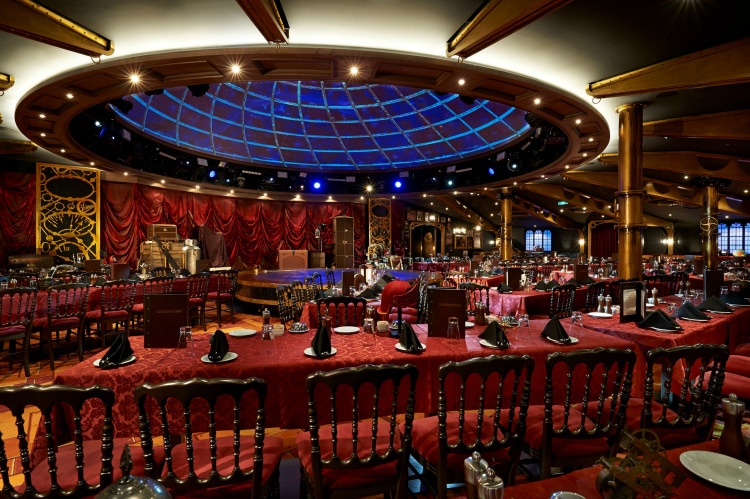 The ship is so massive that it was hard to take it all in, especially with the short amount of time we had on board. Cruises on Norwegian Getaway are seven days, and even then I think you'd have a hard time experiencing everything. It would be impossible to eat at every restaurant, that's for sure!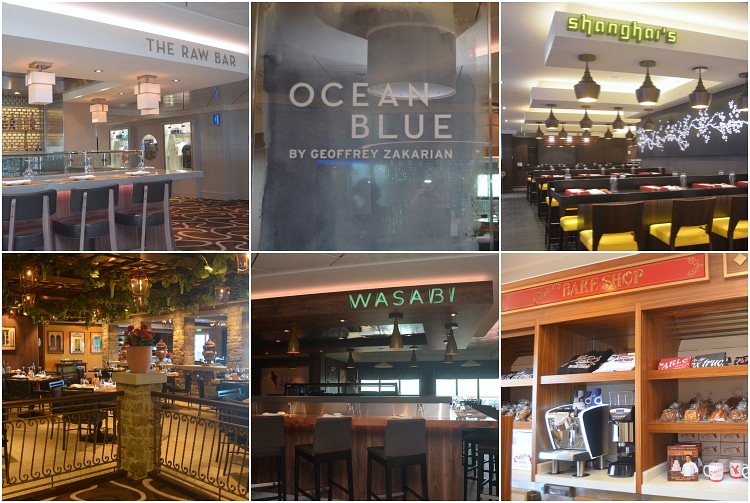 The ship is truly spectacular — from the layout and design, to all of the different venues, entertainment and experiences. The Norwegian Getaway is for couples, families, friends ... and everyone else in between. I can't imagine anyone not having a good time on this ship.
I know I cruised like a Norwegian ... and I can't wait to do it again!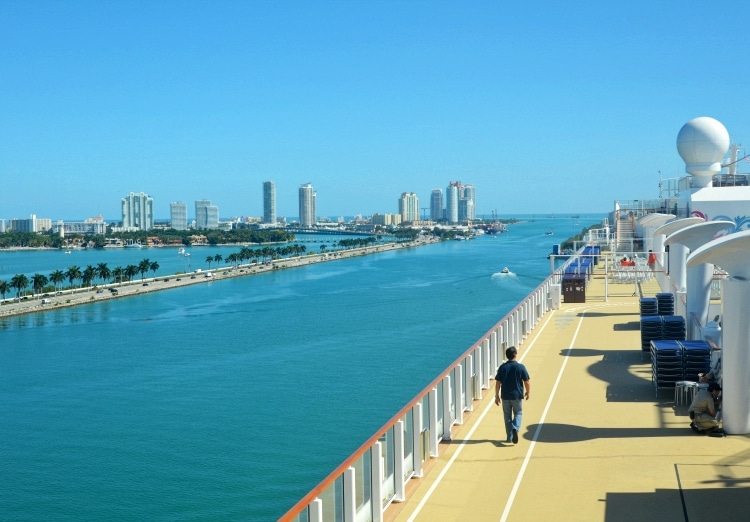 Special thanks to Norwegian Cruise Line for inviting me to attend the christening and preview cruise on Norwegian Getaway. All opinions are my own.