I love unique, handmade things. I also love to travel. Since I don't always have the opportunity (or the funds) to jet set all over the world, I browse online shopping sites like Novica.com in search of different pieces to decorate my home. I love how Novica--who is in association with National Geographic--connects artisans from all over the world and makes their treasures available online. Without this type of collaboration, these talented artists would be limited to only selling in each of their respected countries.
When I first stumbled upon Novica, I literally spent hours looking over the sterling silver jewelry, earrings and necklaces. There's Unique Gifts for just about everyone. From Gifts for Her to gifts for the home- I wanted just about everything.
I finally settled on these blown Glass Confetti Tumblers that were hand-blown in Mexico by Javier and Efren.
I placed my order expecting to wait many weeks, but was pleasantly surprised when my order arrived within a week and a half, strait from Mexico. When I opened the box, I was in love with my new glasses!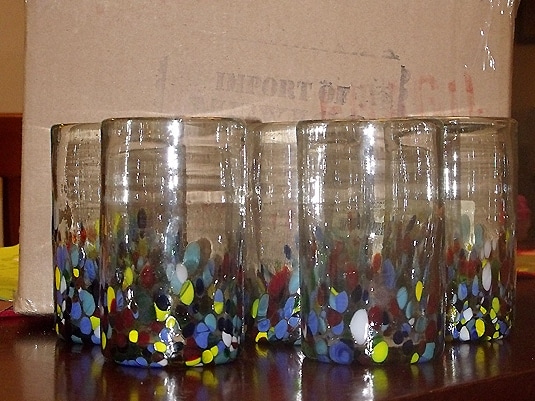 The glasses were very well packed are they were obviously well made. I love how each is glass is unique. My Novica glassware came with a postcard and info card about the artisans, Javier and Efren, and where they live.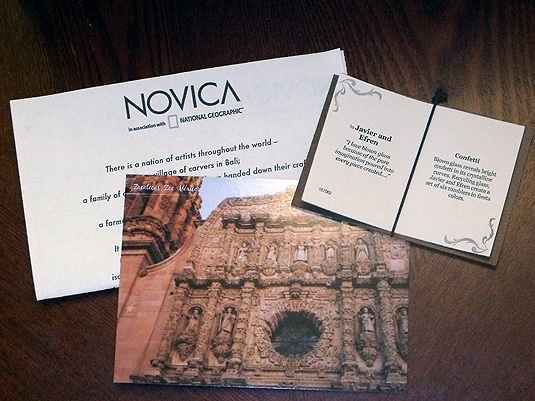 I'm so pleased with my first purchase, that I am ready to buy the matching Confetti Blown Glass Pitcher- I thought it would look cute on my counter with cooking utensils in it!
My transaction online was very smooth and I love that Novica accepts PayPal. Considering the weight of these glasses, I only paid $2.99 for shipping, which was on special. I have noticed many sales on shipping and coupon codes for money off your first Novica purchase- so be sure to check out their sidebar for ongoing sales.
I received a gift card to purchase a product to help facilitate this review. All opinions are my own.