I've driven past the ChampionsGate exit on my way to Orlando, what feels like a million times, never questioning what was beyond the perfectly placed arches. It wasn't until this summer, when I stayed at another Omni hotel, in NYC, that I discovered that there was a resort back there – hidden from the hustle and bustle of Walt Disney World and the surrounding theme parks.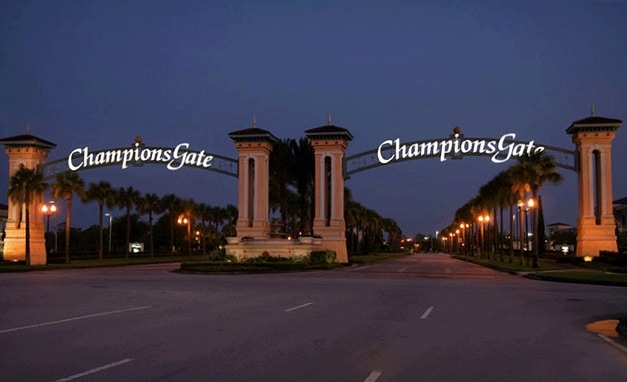 Recently, my daughter and I had plans to attend Mickey's Not So Scary Halloween Party at Magic Kingdom; it's an annual event for us that ends at midnight. Instead of driving back home late at night, we decided to make a mother/daughter weekend of it, staying at the Omni Orlando Resort … and we're very glad we did!
The Omni Orlando Resort at ChampionsGate is a quiet respite for families who actually want a little R&R on their vacation to the Orlando area.

First Impressions
I've stayed at dozens of hotels in the Orlando area, so I'm always surprised when I find something new, especially in the luxury category. When it comes to accommodations, as my daughter is getting older, my priorities have changed. Comfort and amenities take precedence, rather than location. While driving to the Omni Orlando may be a little out of the way for some visitors (in reality, it's only 6 miles from the Walt Disney World Resort area), it was a welcome change for me. I loved how we left the theme park crowds behind and within 20 minutes, we arrived at what felt like a sanctuary. The resort is gorgeous on the outside and even more spectacular inside.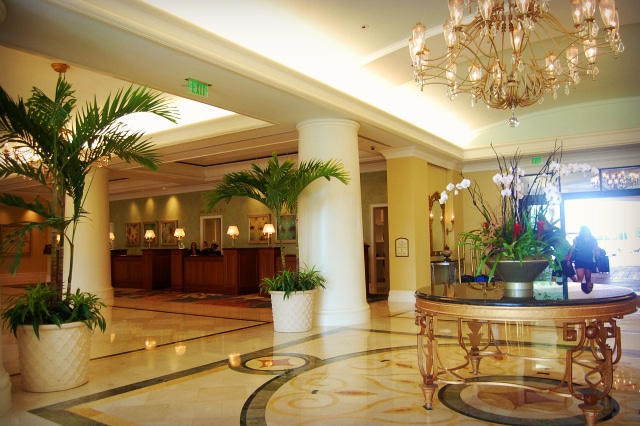 Check-in was seamless. One of the perks of staying at an Omni Resort with kids is that they receive a complimentary backpack filled with fun items from the Omni Sensational Kids program.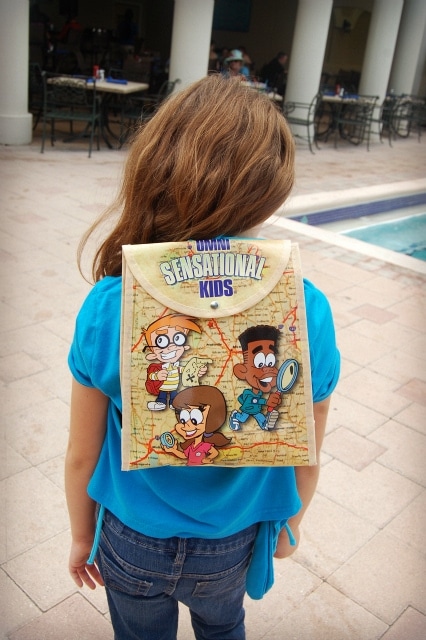 My daughter was elated – even asking me, "Is this mine to keep?" She immediately dug through the backpack and found a magnifying glass, which she used to identify small items throughout our stay.
It's the little things.
The Room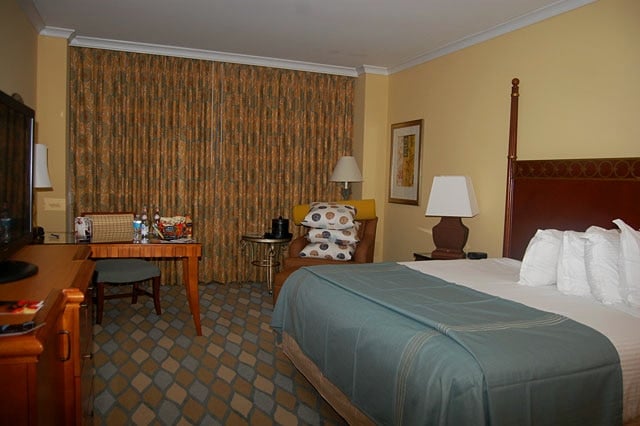 Since it was just the two of us, we shared a King room, which provided plenty of space. The room was pretty standard as far as they go – we had access to a mini-fridge, coffeemaker and flat screen TV, as well as an over-sized bathroom with a full length mirror -- a must!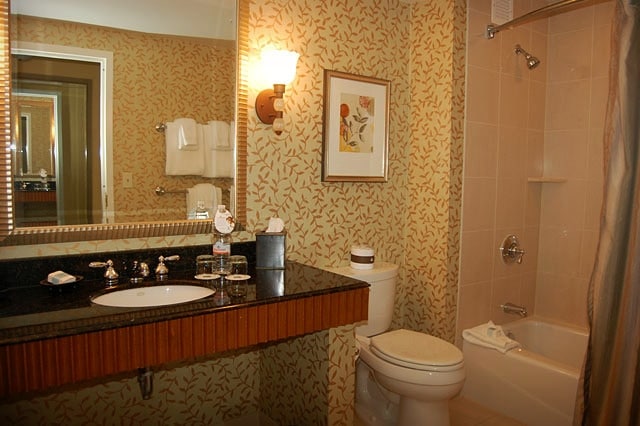 The bed had super plush linens with extra pillows. We both slept very well!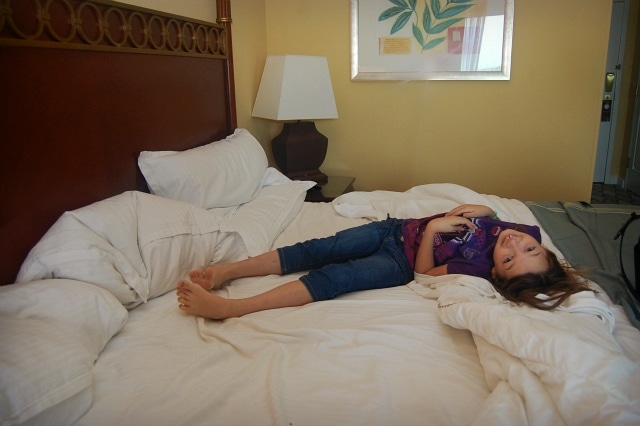 One of my favorite things about Omni Hotels is their loyalty program. While this was only my second stay at an Omni Resort, I was already reaping the benefits of the program. In fact, you receive perks DURING your first stay. For becoming a member (for free, by the way) I received complimentary morning beverage delivery and in-room Wi-Fi.
Pretty sweet, right? -- Which lends the question: why can't every resort be like this!?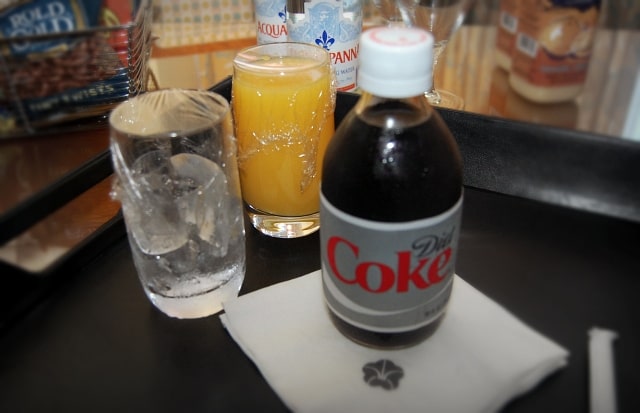 Resort Activities
The big draw for families at the Omni Orlando Resort has got to be the expansive pool area, complete with an 850 ft. Lazy River. Even on an overcast day with scattered showers, we weren't the only ones playing poolside. I think the lazy river was the highlight for my daughter, but the corkscrew water slide came in a close second.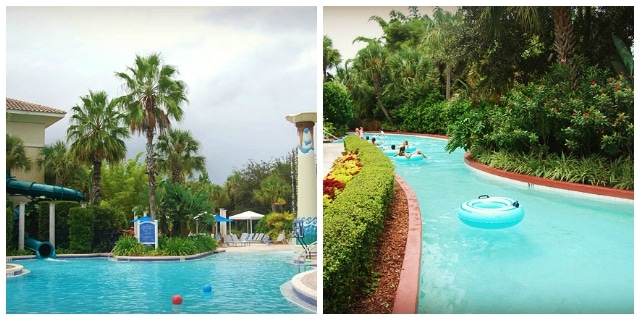 We had a great time visiting the different sections of recreation area. There's definitely a water activity suitable for every age group; Non-swimmers can run around the water sprays, beginners can splash around in the zero-entry family pool, and then there's that lazy river and water slide -- which we took serious advantage of.
There's also a schedule of daily activities, with both paid and free options, including a dive-in movie!
We mainly focused on the pool area, but the Omni Orlando Resort also features: The Mokara Spa, which offers a full range of treatments, including massages, facials & manicures; a full-service health club with 24 hour access; Camp Omni Kids Escape, a kids' program that operates on Friday and Saturday evenings from 5 - 10 p.m; two championship 18-hole golf courses, and a lighted 9-hole, par 3 golf course.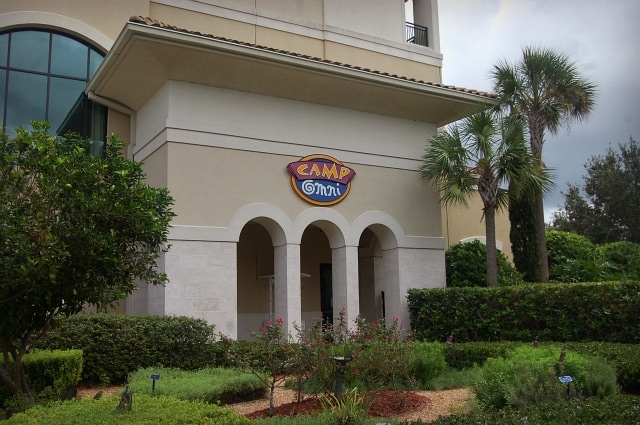 Other than families staying at the resort, I noticed mostly golfers. I don't know much about golf, but the course looked beautiful from my room window!
The Food
After a dip in the pool, my daughter and I took our lunch to-go from Croc's, a casual poolside bar/restaurant. I was really impressed with the prices. I believe her kids' grilled cheese was around $4, and my cheeseburger was $11. She devoured her meal and I thoroughly enjoyed my burger.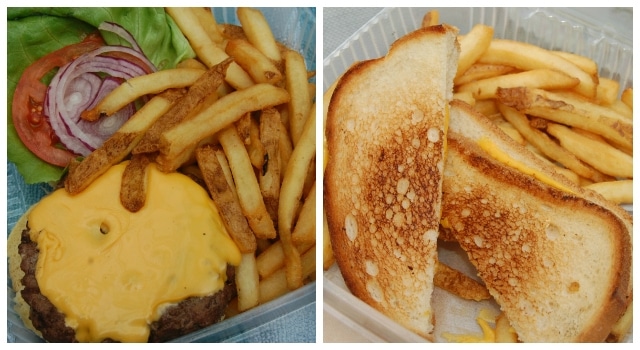 I wish we had planned to eat at one of the other restaurants at the resort. I imagine they're delicious, just based on that one meal we had.
Here's a look at the other restaurants at the Omni Orlando Resort, from the website:
Zen
Enjoy pan-Asian dishes, sake and an innovative sushi bar.  Open for dinner 6 pm – 10 pm.  Asian-themed privacy screens create separate dining areas.

Trevi's
Delight your senses with the sounds of Italian music and the aroma of fresh bread floating from a brick oven. Trevi's serves delicious meals throughout the day starting with a bountiful breakfast buffet. Diners enjoy indoor dining as well as the solace of outdoor dining in the Italian Herb garden where chefs collect fresh Basil, Thyme and Rosemary. Open for breakfast and lunch from 6:30 a.m. – 3 p.m.; Dinner is served from 5 - 10 p.m

David's Club
An upscale sports bar and grill serving mouthwatering steaks and spectacular resort views, David's Club is a spirited gathering place with a loose tie feel. While flat screen TV's air favorite sporting events, guests can enjoy the camaraderie of a game of pool, foosball or darts. David's Club opens at 3pm.

Piper's Grille and ChampionsGate Lounge
Guests can request golf cart shuttle at the main recreation fountain from 6:30 a.m. to the clubhouse. Piper's Grille is open for breakfast and lunch and features a selection of healthy and hearty sandwiches, salads and entrees. ChampionsGate Lounge is open throughout the afternoon for golfers to enjoy a refreshing break. Reminiscent of the British Isles, we celebrate the heritage of the championship International Course with a sunset tradition, offered seasonally fall through spring. 30 minutes before sunset, guests gather at the ChampionsGate Clubhouse to listen to the sounds of bag pipes and watch the last rays of sun set over the 10th hole.
Location
The Omni Orlando Resort at ChampionsGate is approximately 25 minutes from Orlando International Airport. If you're renting a car, getting there is a breeze. Shuttle, Taxi and Town Car service is available for a fee. The resort provides complimentary shuttle transportation to the Walt Disney World theme parks, with 3 hours advance notice. Self parking is $14 day.
Overall
My daughter and I really, really enjoyed our stay. I felt very comfortable at the Omni Orlando and after only a few hours at the resort, I called my husband, who was away on business, to let him know we'd have to return so he could stay there himself.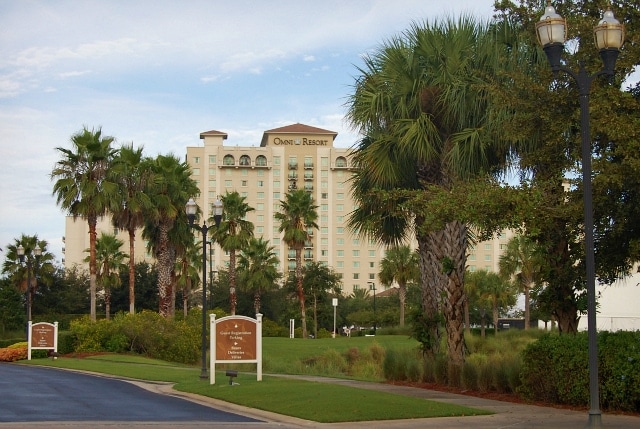 If you've spent any time in Orlando, you know how quickly a family vacation can wear you down -- the Omni Orlando Resort at ChampionsGate provides the perfect amount of calm after a long day -- we will be back!
Top photo credit: Omni Orlando
Special thanks to the Omni Orlando Resort for providing our stay. All opinions are my own.