This post is part of a sponsored campaign with Those Media Girls and pick UR gift. All opinions are my own. 

Have you ever received a gift that just wan't quite right for you, gifted by someone who (you thought) knew you well? I have! And I hate to say this, but it's usually my husband who gives me the most off the wall gifts. The worst present ever, which we can now laugh about, was a canvas print of a high heel shoe. What made it so odd was that I didn't realize what the picture was —it's kind of abstract— or why he thought I would like it (he later explained that it matched the Parisian look I was going for in my daughter's bedroom).  The canvas is currently collecting dust in our garage.
I truly believe the reason that some of my gifts have been lackluster is because he isn't as savvy of an online shopper as I am. I might tell him in passing something I like, but unless he physically sees it at the mall or in a store locally, I'm probably not going to get it. That's why I'm super excited about wishlists from pick UR gift.
So what's pick UR gift? It's an online wishlist builder where you can store bookmarks of gifts you want to give an receive. The site is powered by the "UR Button", which is basically a bookmarklet that's added to your browsers toolbar. When you sign up for a free account from pick UR gift, you're instantly directed to add the bookmarklet (just drag and drop!). As soon as it's added, you can start browsing and saving gift ideas from any website!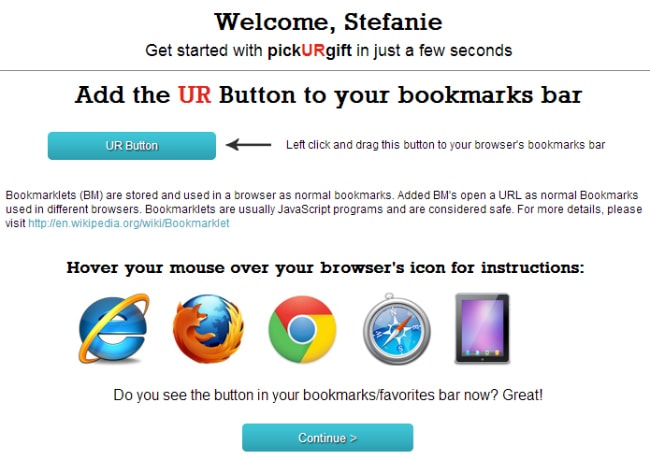 The first wishlist I started was my own, which I will email to my husband once completed for Christmas shopping. I really think this will change the way he shops for me because he can just click on the gifts he wants to purchase and be directed to the exact page of the item. From there it's as simple as adding the item to the cart and checking out (I know he can handle that!). pick UR gift takes ALL of guesswork out of shopping online for gifts.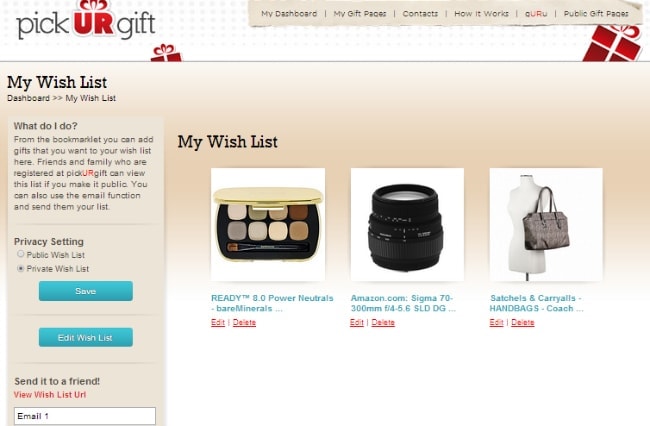 Alternatively, I can create reverse wishlists through pick UR gift for family and friends I want to buy gifts for. I started a new reverse wishlist for my daughter and added a few items I know she wants. As the season picks up I will add more items based on what gifts she requests and take off others that she no longer has interest in. Since I buy 90% of my holiday gifts online, the reverse wishlist is an essential tool for keeping track of what and where I want to buy things. I can also email the gift page to family members who ask what she wants for Christmas.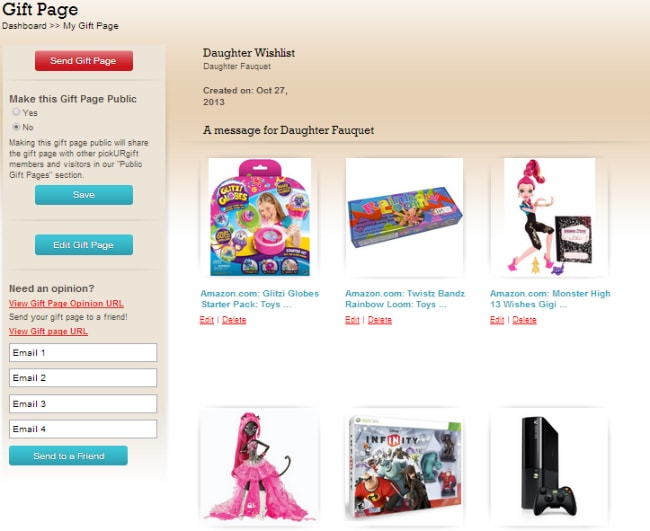 Could pick UR gift help you give and receive better gifts for the holidays (and beyond)? Check it out for yourself at pickurgift.com and don't forget to follow them on Facebook and Twitter.
Also, Eighty MPH Mom is hosting a $200 Visa Gift Card Giveaway courtesy of pick UR gift— enter today (ends 11/15) to get a jump start in your holiday shopping!