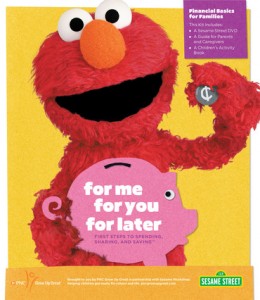 It's never too early to begin teaching your children about money. While they're busy counting coins and learning the value of a dollar in school, you can take the lesson even farther at home by opening a special account with PNC Bank -- geared especially for children 3-8 years old. The account is called "S" is for Savings, and it' an interactive tool to help kids learn how to properly save, spend and share money, featuring familiar characters from Sesame Street.
The account is free if you maintain a $400 minimum balance, with just a $25 minimum balance to open -- if the monthly balance is under $400 it's just $4 a month. Once enrolled, children and their parents have access to virtual jars, which represent how funds can be divided. Parents have full control of the actual money in the account, but the online "games" act as lessons in proper spending and saving. The goal is that when children are exposed to good spending/saving habits at a young age, they will continue into adulthood.
One of the features I like best about the savings account is the ability to transfer an allowance into the account on a regular basis. As my daughter is getting older and wants to earn money on her own for new toys and games, this is a great way to ensure that she receives the money she earns (assuming she does her chores) and has an account for it. We've tried giving her actual dollars, but over a  period of time, it's a lot of bills for a child to keep up with -- plus having the account emphasizes saving more than spending, which is what we really want for her.
Here are a few more of the features and benefits of PNC Bank's "S" is for Savings account:
Comes with an interactive online banking experience including a Learning Center with Sesame Street tips on learning financial basics
Earn interest on balances starting at $1.00
Set up Auto Savings that allows you to establish a recurring savings routine to help meet your child's savings goals
Make unlimited deposits (including transfers into the account)
No withdrawal fees if you are under age 18. Otherwise, get 3 free withdrawals per month (including transfers out of the account); then $3 for each additional withdrawal if the balance falls below $1,500.
To learn more about "S" is for Savings, or to apply for an account visit: www.PNC.com/SisforSavings.
This post is sponsored by PNC Bank. All opinions are my own.