This is a sponsored post written by me on behalf of Quilted Northern. All opinions are 100% mine.
Quilted Northern is made for those of us who would rather forget that the bathroom even exists. Last time I talked to you about Quilted Northern and their Designed to Be Forgotten campaign, I spun out a little tale about the ducky in the bathroom and its poor unblinking, ever-seeing eyes. I had so much fun with it, I thought I'd give you a little story time about our turtle today.
Quilted Northern Helps Us All Forget
Quilted Northern is all about the clean. A clean feeling is a great feeling. There's nothing worse than feeling less that spic and span, super sparkly, gleamingly clean. That's what Quilted Northern's Designed to Be Forgotten campaign focuses on. Clean. They want you to feel so clean that you never even think of the bathroom once you're out of there.
To really make that point, they've released some ultra adorable Designed to be Forgotten videos that perfectly illustrate the horror of seeing everything that happens in the bathroom. And I mean everything. I won't say any more than that, but I for one am glad I'm not a fly on the wall for all of my family's bathroom breaks!
A Tale of Woe and Horror
And now, this tale of the trials and tribulations of our plastic bathroom turtle brought to you by Quilted Northern.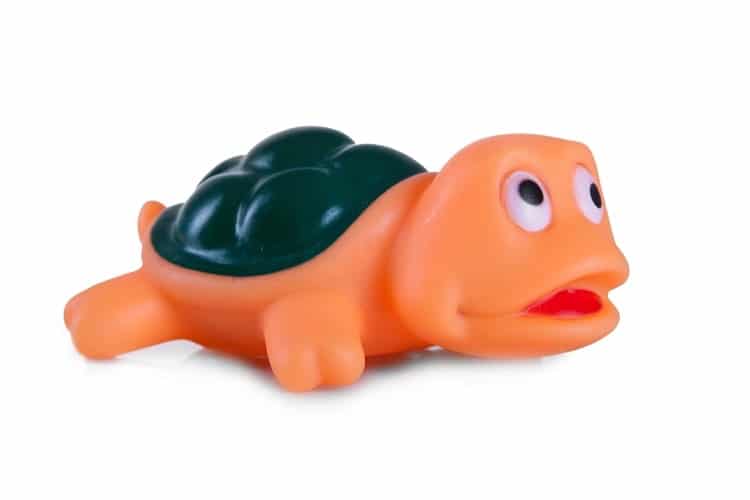 There was once a tiny, orange bathroom turtle named Tully. Tully was a good bathroom turtle. Tully loved his family, especially the kids, and he loved bath time. Bath time was the time when the kids played with him the most. In those moments, Tully was completely happy with his station in life. For, you see, bath time was the time that helped him forget.
While Tully loved bath time, the rest of his life in the bathroom was far less enjoyable. Poor Tully lived on the counter facing the toilet. Poor Tully had a straight line of sight to the toilet. Poor Tully had no eyelids. He was another bathroom toy doomed to see everything that ever happened in the bathroom.
On a normal day, Tully did reasonably well. He saw all the normal things that go on in a bathroom, and while not exactly pleasant, these times were at least bearable. Then came the day that changed Tully's life forever. The day that Dad got the stomach flu.
Oh Tully. Poor, pitiful, unblinking Tully. Dad had felt fine during the day. He had felt so fine, in fact, that he had decided to have five chili cheese dogs. They had been delicious. Then Dad came down with the stomach flu. If Tully could have talked, he would have told Dad that eating five chili cheese dogs while the stomach flu was raging through the house was a terrible idea.
But alas, poor Tully could not speak. And Tully. Poor, poor Tully saw it all.
Silently, with unblinking eyes, poor Tully screamed in terror. The screams of a thing destined to be scarred forever. But much like in space, in the bathroom, no one can hear plastic bath toys scream.
Tully was never quite the same after Dad's bout of stomach flu. He bobbed a little lower and slower in the water. He squeaker didn't squeak quite so cheerfully. He was only half a plastic turtle from that day forth.
Tully the Turtle wants to forget, too. #HelpMeForget #ad @QuiltedNorthern http://t.co/lS6wcxDVy9 pic.twitter.com/dZsMFv1nuQ

— Stefanie Fauquet (@MommyMusings) July 6, 2015
Quilted Northern - Because Nobody Wants to be Tully
Do you want to be Tully? I don't. That's why I love Quilted Northern. With it's quilted design, and absorbent texture, Quilted Northern the tissue that's Designed to Be Forgotten. Do yourself a favor and pick up some Quilted Northern. Because nobody wants to be Tully.
For more clever bathroom tales, make sure to follow the #HelpMeForget hashtag on Twitter and Facebook. Also be sure to watch the full Designed to be Forgotten series on YouTube.