This is a sponsored post written by me on behalf of Quilted Northern for IZEA. All opinions are 100% mine.
With all the exposure of some companies out there making the bathroom experience some sort of trip to an amusement park, I just need to say one thing. It's not. It's just not. Quilted Northern agrees with me. Let's be honest. There are exhaust fans in the bathroom for a reason (my husband!). Their new campaign is called "Designed to be Forgotten", and I couldn't agree with them more. So thank you, Quilted Northern, for keeping it real.
Quilted Northern - Because Bathroom Trips are Best Forgotten
I'm a mom. Which means, that I wholeheartedly embrace the "Designed to be Forgotten" campaign. If you're not a mom - or if those days are behind you - let me gently refresh your memory on the bathroom experiences that one can expect when children are involved.
AAAAAAAAAAUUUUUUUUUGGGGGGGGGGGHHHHHHHHHH!!!!!!  
And... breathe. That pretty much sums up the bathroom when you have kids. That's why I love Quilted Northern and their "Designed to be Forgotten" campaign. Because trips to the bathroom SHOULD be forgotten. No one wants a play by play. No one wants an uncomfortable experience. And absolutely NO ONE wants physical evidence that the bathroom is anything other than a rarely used room designed for tooth brushing and showering.
In honor of this fact, and to highlight their "Designed to be Forgotten" campaign, Quilted Northern has released a hilarious #HelpMeForget video series all about the unfortunate objects in our bathrooms that know only too well the phrase "What has been seen can never be unseen". These videos, directed by Academy Award nominee, Bennett Miller, are adorable and quite funny, so you should definitely take a few minutes to watch the Designed to be Forgotten videos.
The Poor Rubber Ducky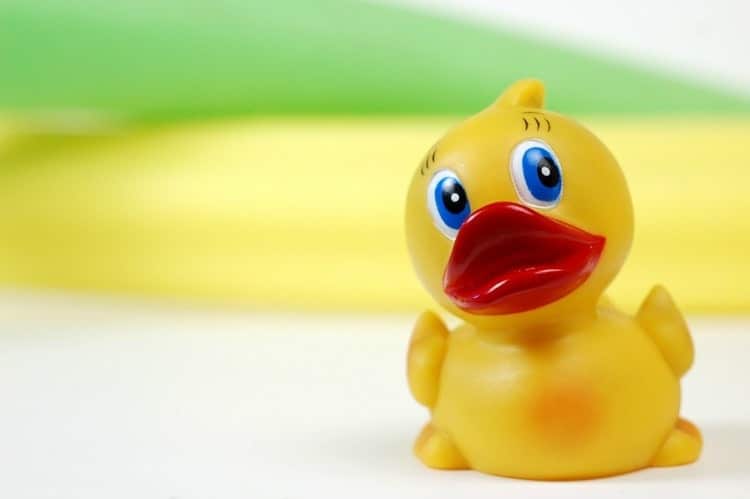 We have a rubber ducky in our bathroom that has the unfortunate fate of bearing witness to all things bathroom. Roger the Rubber Ducky has painted eyes, therefore he cannot close them or avert him. That poor rubber ducky has borne witness to everything that happens in the bathroom from potty training to stomach flues and all of the other wonderful things you get with kids. That poor duck...
Between potty training, sickness, and all manner of bathroom shenanigans, I'm positive that Roger needs to see a psychiatrist. Alas, he is, after all, an inanimate object, and as such he will never get the help he needs for his bathroom trauma. I feel for him. I do...
That's why we use Quilted Northern. Roger may be stuck with painted, all-seeing eyes, but the rest of the family doesn't need to go down that horrible, horrible path. With Quilted Northern potty time is easy, comfortable, and VERY easily forgotten. Which is great, if you ask me.
Roger the Rubber Ducky wants to forget. #HelpMeForget #ad @QuiltedNorthern http://t.co/VsYykTOPW8 pic.twitter.com/lcAedVnRmL

— Stefanie Fauquet (@MommyMusings) July 6, 2015
Quilted Northern - Because Nobody Wants to be Roger
We use Quilted Northern, and it's wonderful. Its three plies make it strong and soft. This strength and softness makes it "Designed to be Forgotten" and I appreciate it.
If you want to keep up with what Quilted Northern is doing, and their "Designed to be Forgotten" campaign, follow them on Facebook. If you want to stay entertained, you can follow them on YouTube, as well!