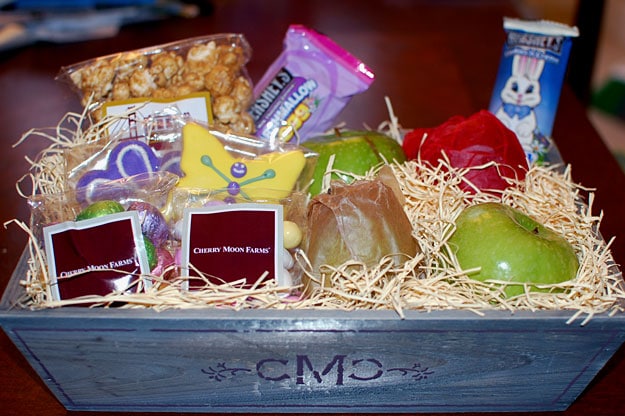 Easter is such a fun holiday for kids. There's the Easter bunny, hunting for eggs, and of course, Easter baskets. While the sweets are typically for the children to enjoy, I think everyone loves a treat on Easter. Red Envelope has an assortment of Easter Baskets perfect for both adults and kids-- making it hard decide who gets what!
Recently, I surprised my family with the One Sweet Easter Mix from Red Envelope. I thought it would make a great Easter basket since it was filled with a mixture of cookies, candies and fruit. My order arrived within days of it being placed (a seriously quick turnaround) and it was packed very nicely.
Here's how my gift looked once I took it out of the box: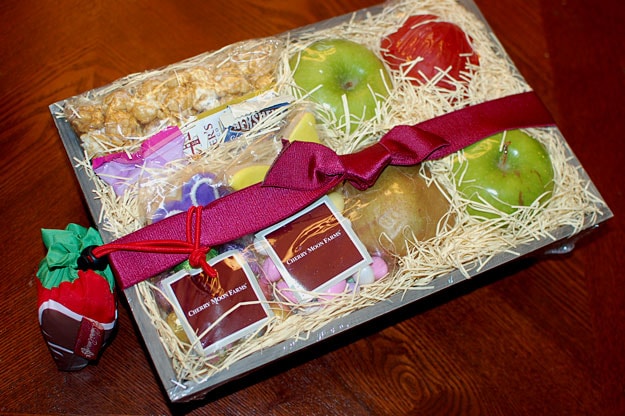 That little strawberry on the left is a reusable tote bag that I added on to my order for $4.95-- I couldn't resist the fact that it stores itself into a strawberry!! SO cute 🙂
I decided to unpack the basket and leave it on the table for a sweet surprise when my daughter came home from school. Once the wrapper is removed and the Easter grass fluffed up, it looks like this: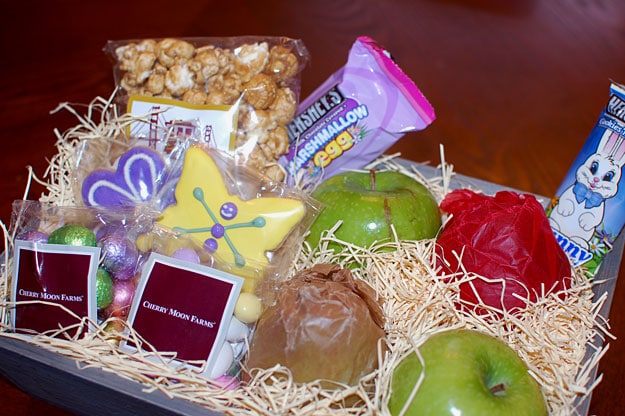 The two things I noticed (and liked): The fruit was fresh and firm and the crate the gift arrived in was super sturdy. On the website, the crate is described as a "Springtime Grass Crate"; while the look of the crate is the same, mine arrived in blue with a "Cherry Moon Farms" logo on each side. I would've rather had the grass crate, but I think covering the logo with some spray paint will be an easy fix. It is going to look great, re-purposed in white, on my bathroom counter.
I also just noticed that instead of "Bunny Candy Corn", we received Jordan Almonds. Not disappointing to me, but I won't be telling my daughter because she loves candy corn! Overall, this was a great gift and we are enjoying all the goodies in the One Sweet Mix Easter basket from Red Envelope. The basket was $39.99 and I used a 20% off coupon code from the website. I found the quality to be really great and I wouldn't hesitate for a second to send one of these baskets to a friend or family member this Easter!
I received a gift code to purchase my sample. All opinions are my own.