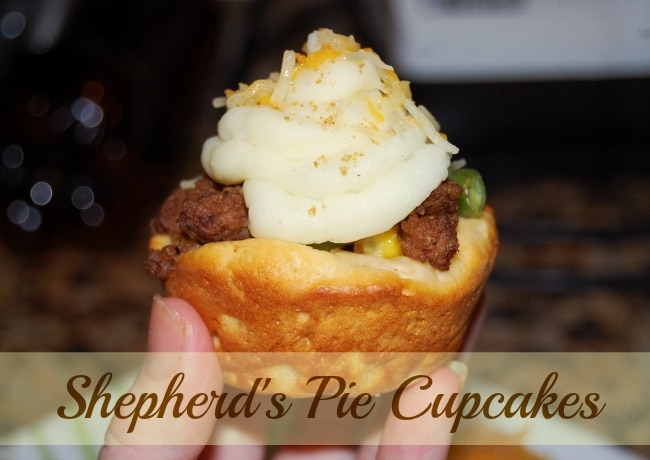 With football season here now, and the holidays right around the corner, there will no doubt be a ton of entertaining in our home. My absolute favorite part of get-togethers, whether they be formal or casual, is the food. I love to get creative with snack foods that can be served as either appetizers or as entrees if needed.
One of the ways that I mix up our usual spread is to use Kraft Fresh Take. The blend of seasoned breadcrumbs and fresh cheese can take almost any dish to the next level when added to chicken, pork, fish or beef.
For awhile now my husband has been craving Shepherd's Pie—  I've racked my brain a bit on how to make this dish without spending hours in the kitchen. Then it hit me! I can make a mini Shepherd's Pie Cupcakes with Kraft Fresh Take, ground beef, frozen veggies and biscuits! The recipe came out better than I imagined and I will now be serving these on Game Days and other occasions that call for yummy finger foods.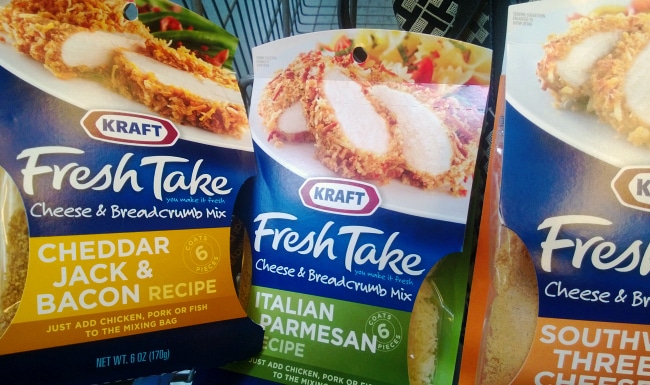 I started by shopping at Walmart for all of my ingredients. You can check out my Google+ album to see my entire shopping trip. Also, don't forget to print a coupon for $0.99 off 1 package of Kraft Fresh Take at http://coupons.walmart.com.
Shepherd's Pie Cupcakes Recipe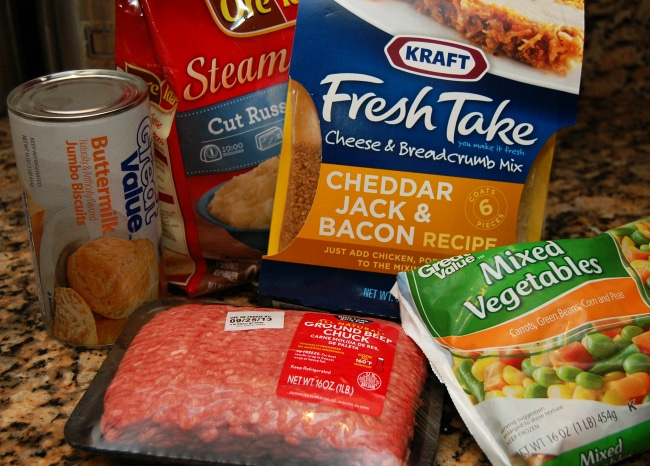 Ingredients (makes 16 Shepherd's Pie Cupcakes):

1 Package Kraft Fresh Take Cheddar Jack & Bacon
1 Pound Ground Beef
1 1/2 Cups Frozen Mixed Vegetables
4 Cups Mashed Potatoes (I used Ore-Ida Steam n' Mash)
1 Can Buttermilk Biscuits (Grands-style cut in half lengthwise to make 16 biscuits)
2 Tablespoons Milk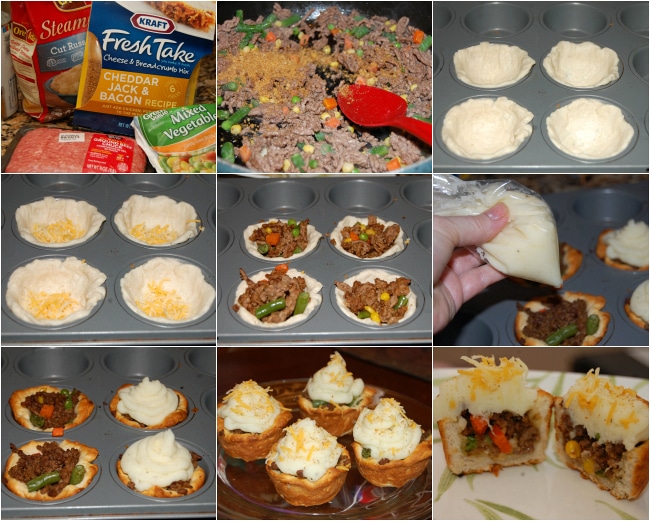 Directions:

Pre-heat oven to 375 degrees
In a large saucepan, cook 1 pound ground beef at medium-high heat until browned. Drain if necessary. Lower heat to medium-low and add 1.5 cups frozen mixed vegetables, 3/4 of the breadcrumbs from the package Cheddar Jack & Bacon Kraft Fresh Take and 2 Tablespoons milk. Stir until the breadcrumbs and veggies are even throughout and cook until meat is well done.
Mold biscuits into the shape of each cup in cupcake pan.
Sprinkle a little cheese from the package of Kraft Fresh Take into the bottom of the molded biscuit.
Add ground beef mixture into each cup until it is level with the pan (don't overfill).
Bake in oven for 10-12 minutes until biscuits are  browned.
Add mashed potatoes to a gallon sized bag with a corner cut off and pipe approximately 1/4 cup mashed potatoes on the top of each "cupcake".
Sprinkle each cupcake with extra cheese and breadcrumbs from Kraft Fresh Take.
My husband and daughter RAVED about my new version of Shepherd's Pie— the whole batch was gone in no time. We ended up eating the cupcakes for dinner, but I can't wait to make them again as snacks for a crowd!
Using Kraft Fresh Take is not only easy to use, but it saved me time and added a different  flavor element to the Shepherd's Pie Cupcakes. I decided to go with Kraft Fresh Take Cheddar Jack & Bacon because everyone in my family loves the smokey bacon flavor. Though, I think any of #FreshTake varieties could be used with great results.