This post is brought you by Cans Get You Cooking & Mom It Forward Blogger Network.  All opinions are my own.
Now that Back-to-school is officially here, things have gotten CRAZY! Just this past week I only cooked dinner one night at home because everyone was either too tired (including myself!) or we had somewhere we had to be. This left us eating dinner out, getting take-out or calling in delivery for every other night of the week!
None of these options are particularly healthy or inexpensive. I knew something had to change ... and fast ... so I looked to my Cantry for ideas.
I've written about my Cantry in the past, which is essentially a pantry stocked with enough canned goods to make an entire meal at a moments notice. It's nice to know you always have food on hand when you need it, and canned food provides a wide range of healthy options, including protein, veggies and fruit.
With school officially in session I knew I needed to come up with a list of weeknight meals that were either quick to cook, or easy to prepare in a slow cooker (my saving grace during the school year!).
One of my family's all time favorite dinners is chili — so naturally that made the short list. As I was looking through my Cantry to make sure I had the necessary ingredients, I realized I had at least three types of beans... which got me thinking.
Instead of using ground beef in chili, I could substitute the protein with additional cans of pinto and cannellini beans (Normally I just add a can of kidney beans to the chili mix!). This vegetarian option uses only pantry items and spices, so there's no meat to defrost!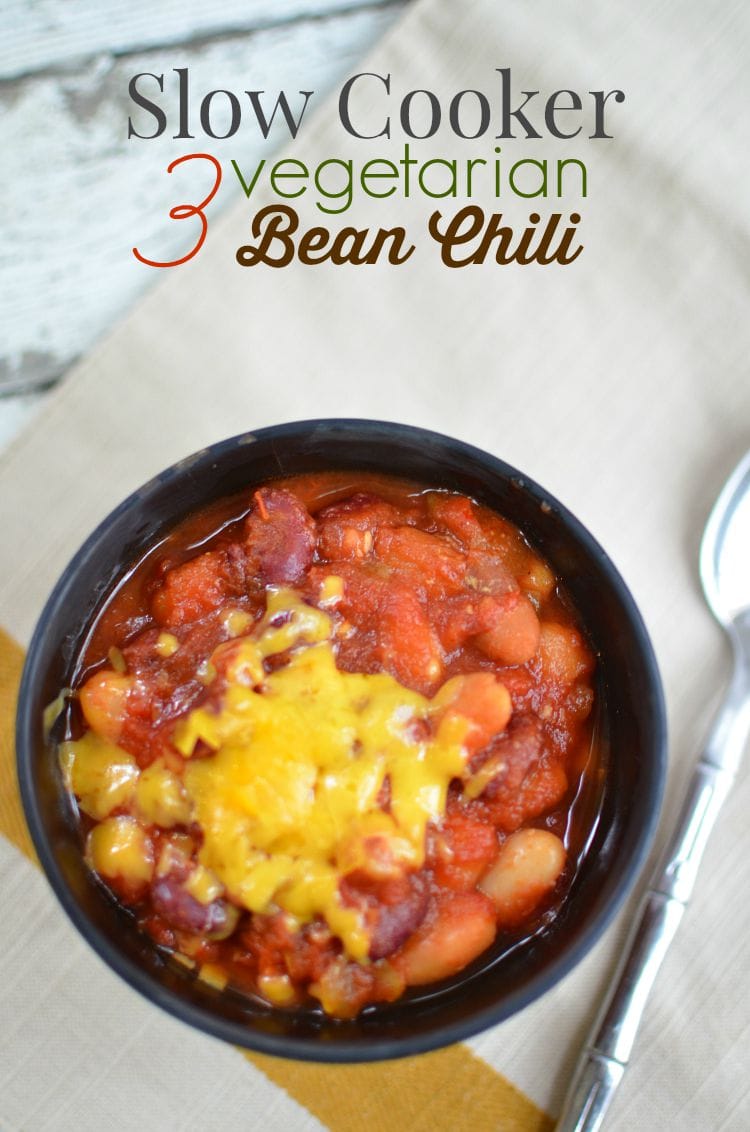 3 Bean Vegetarian Chili
If you need a meal ASAP, this 3 Bean Vegetarian Chili recipe can be made on the stovetop in a matter of minutes.
Since I'm a big fan of the slow cooker, I dump all of the ingredients in the morning and set it on low to simmer for the rest of the day. Just before serving, I add grated cheese to each portion ... this vegetarian three bean chili is always a hit ... and no one ever misses the meat!
Three Bean Vegetarian Chili Recipe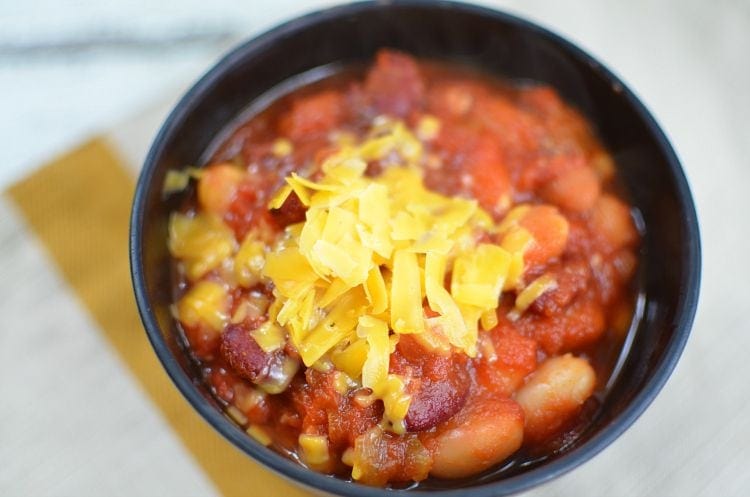 Slow Cooker Vegetarian Three-Bean Chili
Quick and Easy Slow Cooker Vegetarian Three-Bean Chili
Ingredients
1

large onion

diced

2

large garlic cloves

minced

1

tablespoon

chili powder

1

teaspoon

ground cumin

1

28-ounce can crushed tomatoes

1

16-ounce can diced tomatoes

1

15.5-ounce can pinto beans, drained and rinsed

1

15.5-ounce can white kidney beans, drained and rinsed

1

15.5-ounce can red kidney beans, drained and rinsed

1

4-ounce can chopped green chilies, drained

½

teaspoon

salt

¼

teaspoon

chipotle Tabasco pepper sauce
Instructions
In a slow cooker on low heat, add all ingredients. Stir.

Cover and let simmer for 4-6 hours.

Serve with shredded cheese or additional toppings, if desired.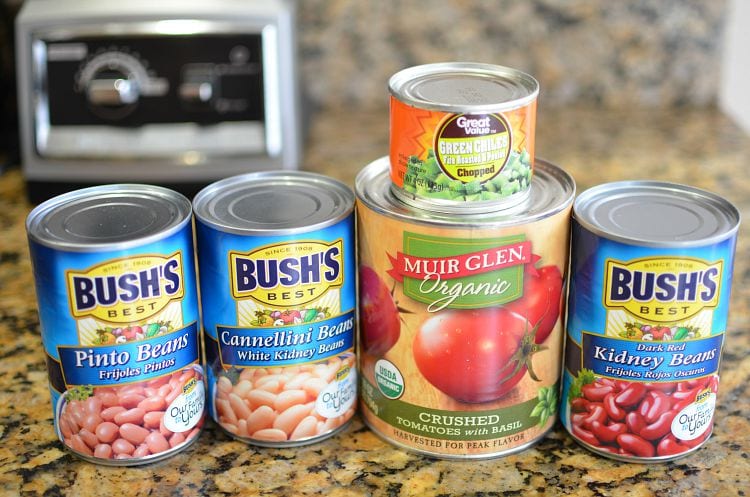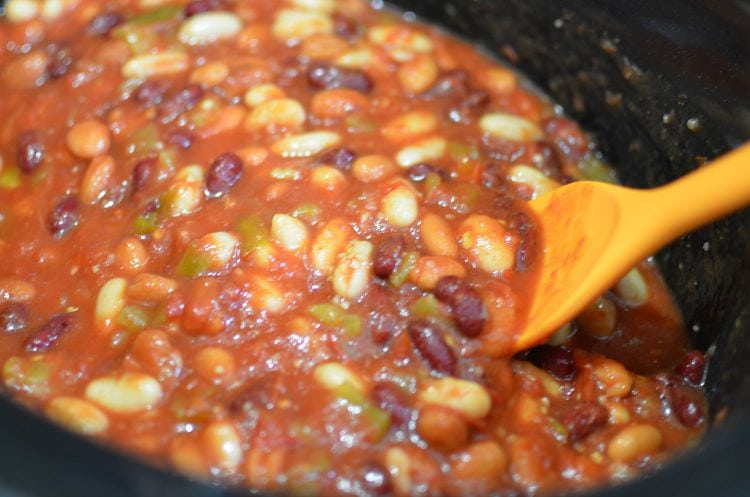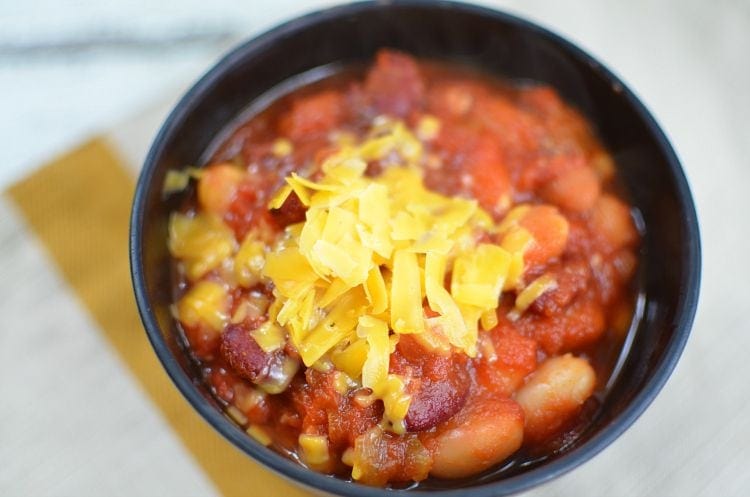 Tips for Healthy, Homemade Meals
Start with a well-stocked pantry – or Cantry® - More than two-thirds (67%) of moms surveyed claimed it was difficult to get their children to eat vegetables. After supplying these moms with canned foods and recipe ideas, this claim dropped to 17 percent.
Get creative! - All you need for an easy, healthy home-cooked meal is a can opener, a strainer and some imagination. A salad becomes a meal with some canned chicken or salmon; pasta paired with canned crushed tomatoes and some spices make a savory entrée or side dish.
Involve children in the meal preparation - Kids are more likely to eat healthy meals if they help make them. Younger kids can pour premeasured ingredients into a bowl or do the mixing, whereas older children can set the oven, serve as a sous chef and help carry finished foods to the table. Even babies and toddlers can play with plastic mixing bowls and spoons on the floor while mom or dad gets dinner ready.
Have some go-to recipes - A well-stocked Cantry can offer a treasure trove of creative and nutritious meals to keep you cooking throughout the week. Keep a handful of tried-and-true, easy recipes using Cantry essentials on hand when time is tight.
Assign a day as meal preparation - Take a weekend day – or whenever you have a chunk of time – and get cookin'! Whip up several days' worth of meals to pull out later. Soups, stews and casseroles are easy and freeze well.
Honor thy slow cooker - The slow cooker is a busy parent's dream come true. This magical appliance just plugs in and does all the work during the day so everyone can come home to a house full of savory smells and a nutritious, easy homemade meal. And when the recipe calls for canned foods, it's even easier.
What's your favorite quick & easy weeknight meal?