My family recently underwent a major downsizing. We moved from an almost 2000 sq ft, 3 bedroom, 2 bath condo to a 1000 sq ft home with 2 bedrooms and 1 bath. It's been an adjustment, but we ultimately thought it was the best decision, and we're now living very comfortably. But I do miss that second bathroom as the one we have now is super tiny.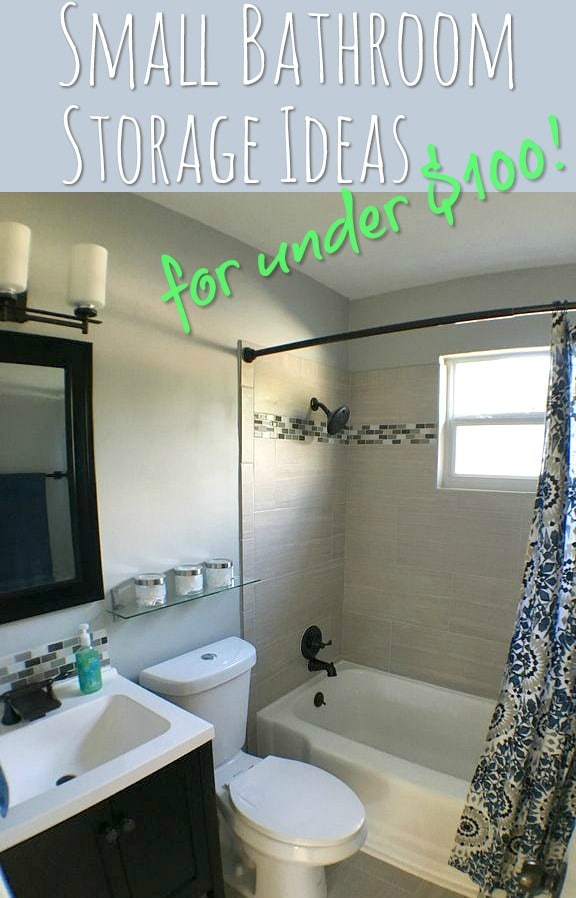 This post was sponsored by Charmin as part of an Influencer Activation for Influence Central.
With only three people in our household, the small bathroom is workable— especially with some clever storage solutions. After we moved in, this was the first space that I tackled, but because we were on a budget, I had to keep it under $100. Here are some of my tips.
Small Bathroom Storage Ideas for Under $100
Get a Large Cabinet — When we first bought the house, we never stopped to think about where everyday items like toothbrushes and deodorant would be stored in the bathroom. Our solution was a long, thin cabinet from IKEA (GODMORGON - $69.99) over the toilet. We installed the door to open from the left, so we can grab what we need at the sink. I will be further organizing its contents with acrylic trays.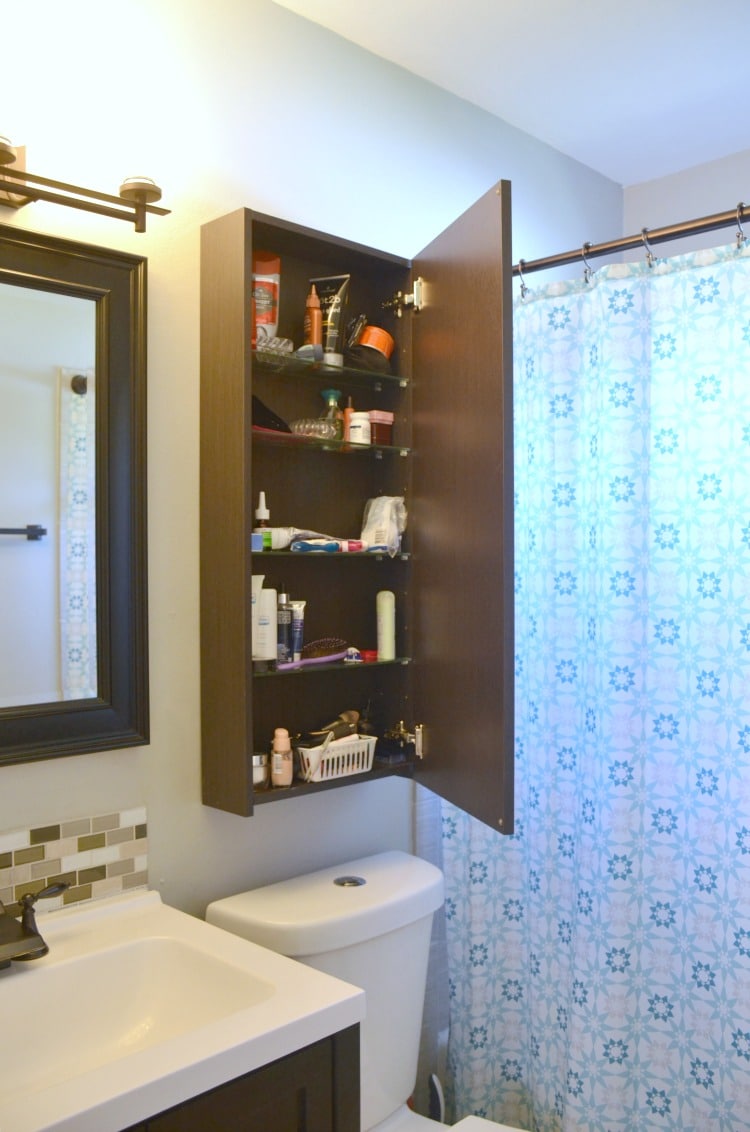 Install Shelves — Once we installed the cabinet, we had an extra IKEA glass shelf (GRUNDTAL - $12.99) to reuse somewhere else in the bathroom. This inexpensive little piece worked perfectly in our tub/shower. Shampoo & conditioner and body wash are now out of the way, yet are still easy to access.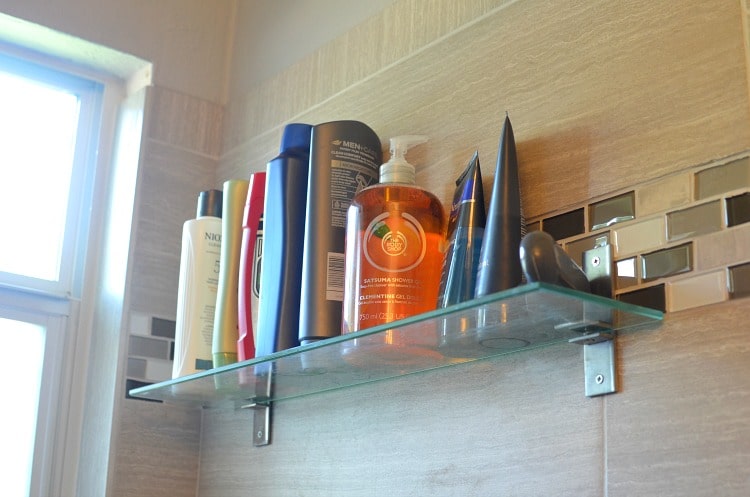 Find a Tiny Trashcan — I was seriously worried about where our trash was going to go in our small bathroom, but after a lot of searching I found a super tiny trashcan at Home Depot for $2.50. It fits perfectly in between our sink and toilet and since it's out of sight, it keeps the floor clear.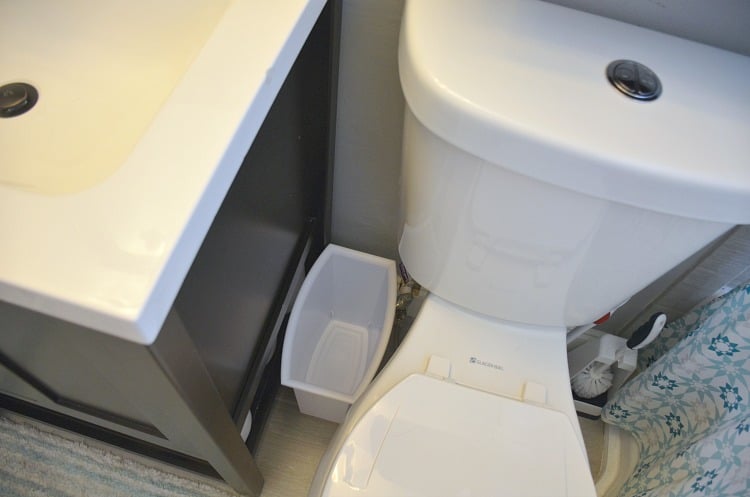 Use the walls — Having a hanging towel rack for both bath and hand towels is a must in a small bathroom as you probably don't have space for folded bath linens. Don't forget to install a hook behind the door for a bathrobe or extra towels.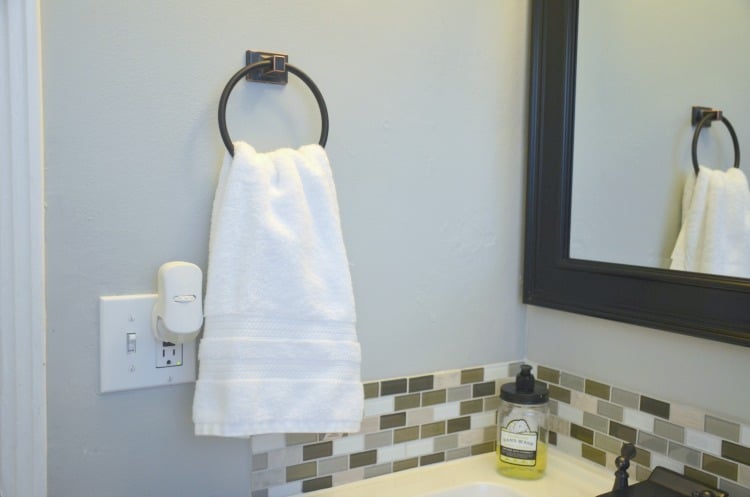 Don't let any free space go to waste — Another dilemma we had when we first moved in was storage for items like toilet paper. We have a small linen closet, but it was already in use— and it's never fun when you have to leave the bathroom to restock TP! We solved this problem by using the space under the sink, which would normally be empty in a larger bathroom.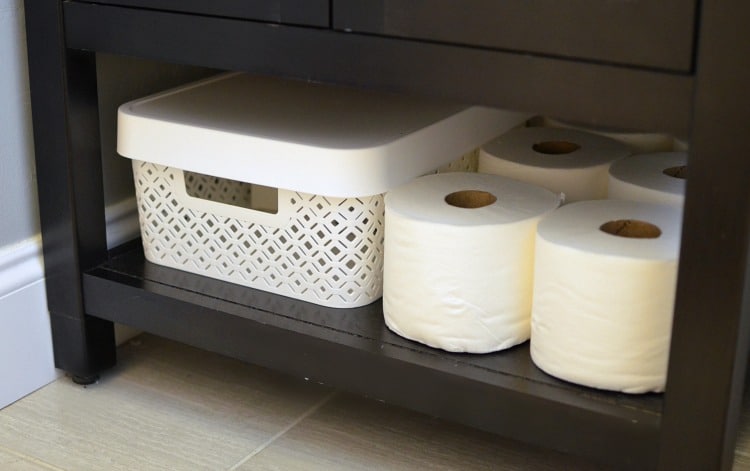 We also switched our toilet paper to Charmin® Essentials Strong. The reasoning was pretty simple— since we don't have a lot of space to store extra rolls, we want to get the most bang for our buck by using toilet paper that's STRONG and made to last long. Six rolls of Charmin Essentials Strong Mega Roll is comparable to 24 regular rolls! And even though I'm getting more quality and performance per roll, the price is in line with my previous brand.