Earlier this month, I attended the SmartMoms Solutions Roadshow hosted by Maria Bailey in Tampa, Fl. I had a great time! I met new local bloggers, chatted with current blogging friends and discovered some great new products (some of which I got to keep) 🙂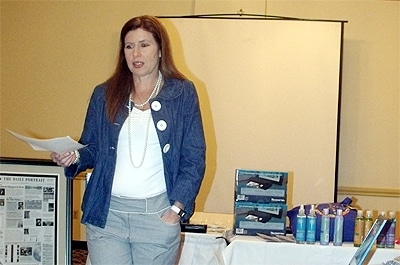 Here are just a few of my favorites:
Zippity Doo's -  zippitydoos.com
IF only I knew about this product before my daughter got head lice! If you've ever experienced head lice you know my pain. Those little suckers are a hassle to get rid of. Zippity Doo's is a line of children's daily use hair care products that prevent head lice. My daughter has since used all of the products in the line and so far, so good. For a head lice preventative, this product smells great.
Milson Road - milsonroad.com
When I saw "The Daily Portrait" from Milson Road, I knew it was something I had to own. The Daily Portrait is a Personalized, Commemorative, framed print that captures and celebrates a milestone or special occasion within the context of the news of the day. I'm dying to get one for the birth of my daughter.
LikeWear - likewear.com
I had never heard of LikeWear until the SmartMoms Solutions Roadshow. This clever clothing company takes your child's favorite candies and cereals (among other things) and puts them on high quality clothing pieces. I received the Tootsie Roll tank for my daughter and she absolutely loves it!  LikeWear also has a career opportunity for moms to make extra money.
All in all, the day was a success. If the SmartMoms Solution Roadshow comes to your area don't even think twice about attending. Maria Bailey hosts an informative, fun get-together that you won't want to miss.