This post is brought to you by Global Influence. All opinions are my own.
I have been using Suave products for years and years and years. The brand has always been an inexpensive option for getting clean and smelling fresh, from their fragrant hair products to body washes and deodorants. And I'm not the only one in my household who enjoys using Suave— my daughter is a big fan of their kids line, and my husband frequently uses Suave for Men.
We each have our own favorite scents, and because the price is right, we're always up for trying new ones. Right now my favorite line is Suave Professionals® Natural Infusion, with no parabens or dyes. It's just like the salon brands, but at a fraction of the price!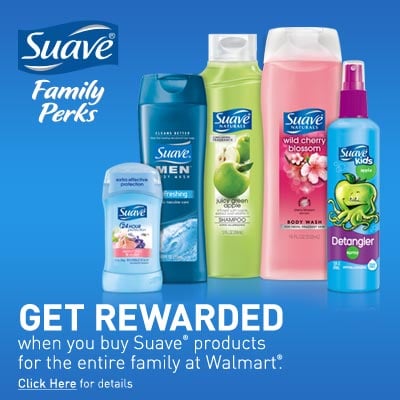 As if Suave wasn't already a great value, there's an even greater incentive for us to start picking up Suave products the next time we're at Walmart with the new Suave Family Perks program.
Now, exclusively at Walmart, you can get rewarded for buying the Suave products that your family knows and loves! Sign up for Suave Family Rewards at Suave Family Perks and every time you purchase a Suave product at Walmart & scan your receipt, you will earn points that are redeemable for a $5 Walmart gift card!
Want to win a $50 Walmart gift card? Sign up for Suave Family Perks and enter the form below!
Good Luck!