Everyone has their favorite summer drink. For some, it's a  classic margarita, for others, it's a Corona with lime -- this summer, we're kicking things off right with a super simple Sangria, made with a sweet Moscato and fresh tropical fruit.
Trust me-- once you try this recipe you'll be making batches for every backyard pool party and barbeque.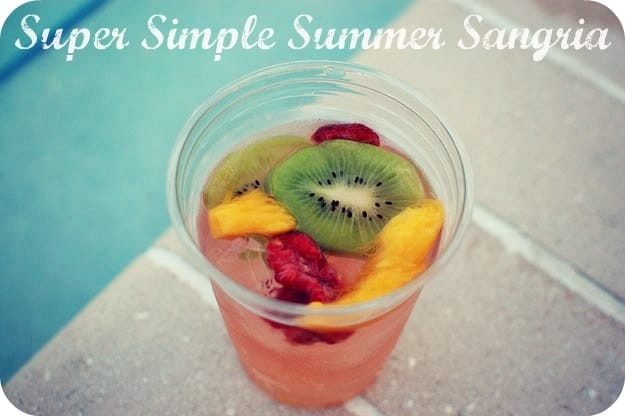 Ingredients:
2 bottles of Pink Moscato (or brand of choice)
6 oz Bacardi Peach Red Rum (or fruit flavored rum of choice)
2 Mangoes (peeled & cut)
3 Kiwi Fruit (peeled & cut)
8oz Raspberries
12 oz (1 can) soda water
Directions:
1. Place cut fruit in the bottom of large jug or pitcher.
2. Add wine and rum on top of the fruit.
3. Stir.
4. Cover and place in the refrigerator for 4-24 hours.
5. Serve over ice, and top each glass with a splash of soda water.
6. Garnish with fruit from the pitcher.
7. Enjoy!