The product, information, and gift card have been provided by thinkThin. All opinions are my own.
To supplement my summer days when I'm home or on the go, I look for healthy snacks that are full of energy without a ton of calories. One of the snacks I came across recently was thinkThin Lean Protein & Fiber™.  At only 150 calories with 10g of protein, 5g of fiber and 5g of sugar, thinkThin Lean Protein & Fiber bars are just what I need when I'm crazing something sweet but don't want to go overboard.

The bars are gluten-free and made with 100% non-GMO ingredients in five decadent flavors: Cinnamon Bun White Chocolate, Chunky Chocolate Peanut, Chocolate Almond Brownie, Honey Drizzle Peanut Butter and Salted Caramel.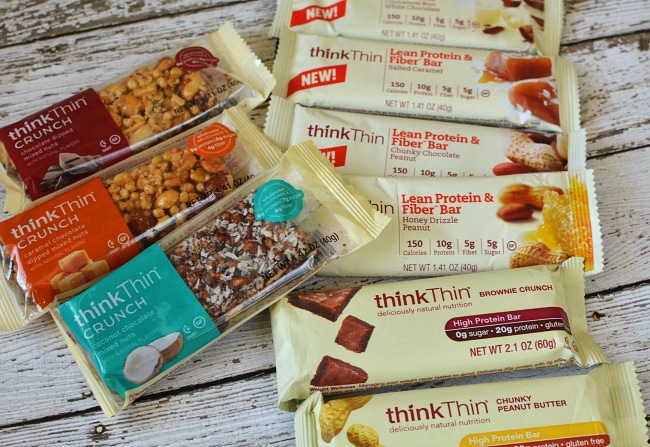 I've tried each of the thinkThin Lean Protein & Fiber bars and love the taste of Cinnamon Bun White Chocolate and Chocolate Almond Brownie. I couldn't believe the entire bar was only 150 calories with such big flavors. I love that the bars are easy to travel with, too— I recently took a couple with me to munch on while flying to/from Michigan. It sure beat the lousy airplane snacks! At home it's just as easy to grab a bar when I need something to carry me over from lunch and dinner. The added protein really gives me an energy boost and I'll take all the extra fiber I can get.
In addition to thinkThin Lean Protein & Fiber, I also tried thinkThin Crunch Mixed Nuts and High Protein Bars. I'm kind of obsessed with the Coconut Chocolate Mixed Nuts bar for when I'm really craving chocolate. These bars are a little higher in calories so I have to watch how many I eat! I also enjoy the High Protein Bars for times when I miss a meal and need something quickly.
I love the taste and nutrition of thinkThin and how they fit so easily into my lifestyle ... which flavor bar would you like to try?