Ahhh... Rice Krispies Treats. Who doesn't love them? As a kid, they were my favorite recipe to make with my mom. Melting the butter, stirring in the marshmallows and then finally combining the cereal before smooshing the treats in a pan to cool. I've got the recipe down.
But I've always wanted to make chocolate-dipped Rice Krispies treats that look like the ones you can buy at Disney World. That little extra step seems so simple (just dip in melting chocolate, right!?); though I've failed miserably on multiple occasions. Of course even my failures were edible, but I could never get the chocolate quite smooth enough— despite following directions perfectly.
This time was different. This time I made the perfect Valentine's Day Rice Krispies Treats, dipped in chocolate, colored pink and sprinkled. And the results were extra yummy, thanks to my new secret ingredient.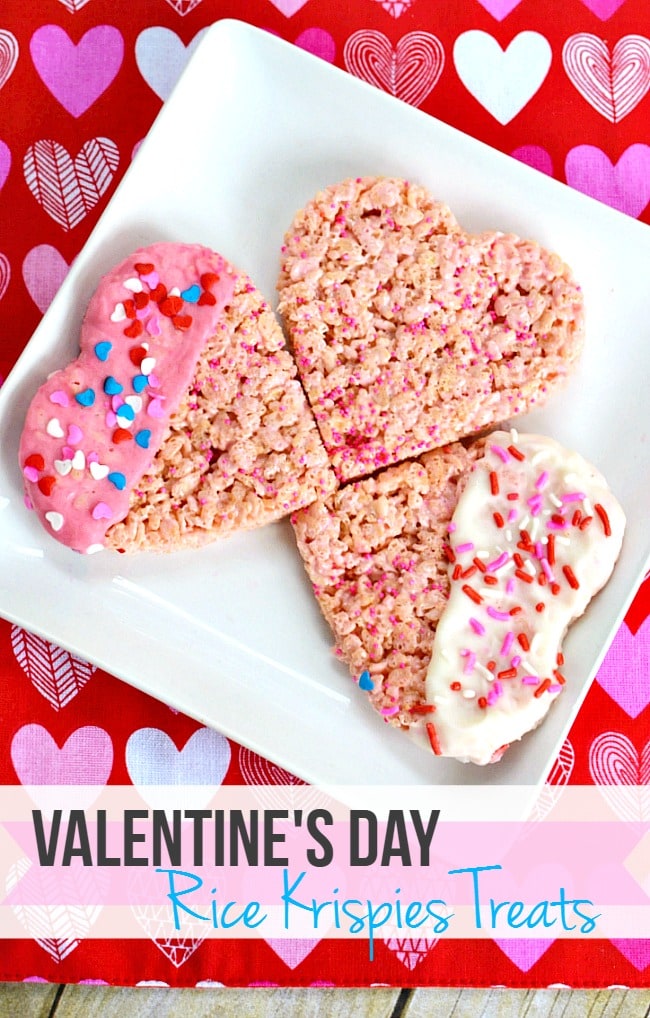 Valentine's Day Rice Krispies Treats Recipe
Ingredients:
6 cups Rice Krispies cereal
10oz marshmallows (regular or mini)
3 tablespoons butter
1 bag white Wilton Candy Melts
Red or pink food coloring
2 tablespoons coconut oil
Valentine's Day sprinkles
Also needed:
Heart shaped cookie cutter (I used Wilton Comfort Grip Heart Cutter)
Parchment paper
Directions:
For Rice Krispies Treats.
In large saucepan or stockpot, melt butter over low heat. Add marshmallows and stir until completely melted. Add a few drops of red or pink food coloring and stir until desired color is achieved.  Remove from heat.
Add Rice Krispies cereal and sprinkles (if desired). Stir until well coated.
Using oiled spatula or wax paper, evenly press mixture into 1"-2" pan coated with cooking spray.  Let cool. (This would be a good time to prep candy melts).
Cut out heart shapes with cookie cutter.
For Candy Melts.
Melt one bag of Wilton Candy Melts in a double boiler. If you don't have a double boiler, the microwave method can be used. I tried both and the double boiler is superior. You can easily make your own double boiler with a saucepan and a heatproof bowl (glass, metal, Pyrex). Fill the saucepan with 2 inches of water and bring to a boil. Place heatproof bowl with melting chocolate on top on saucepan, making sure the bowl fits snugly.

Add 2 tablespoons coconut oil to melted chocolate. Stir.

The coconut oil is my secret ingredient for the perfect melting chocolate. The oil adds a slight coconut flavor, which I found to be very yummy! 
Dip heart-shaped Rice Krispies Treats, one by one, into the melted chocolate. Set on parchment paper and add sprinkles. If you want to add a few drops of red or pink food coloring to the chocolate, do this after you have dipped all of your white hearts.
Let set to harden or transfer to fridge for quick set. ENJOY!!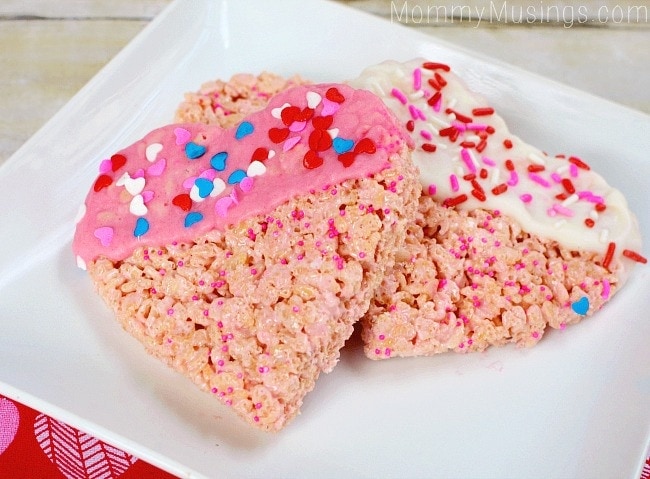 ---> More Valentine's Day Recipes