This is a sponsored post for SheSpeaks/P&G. All opinions are my own.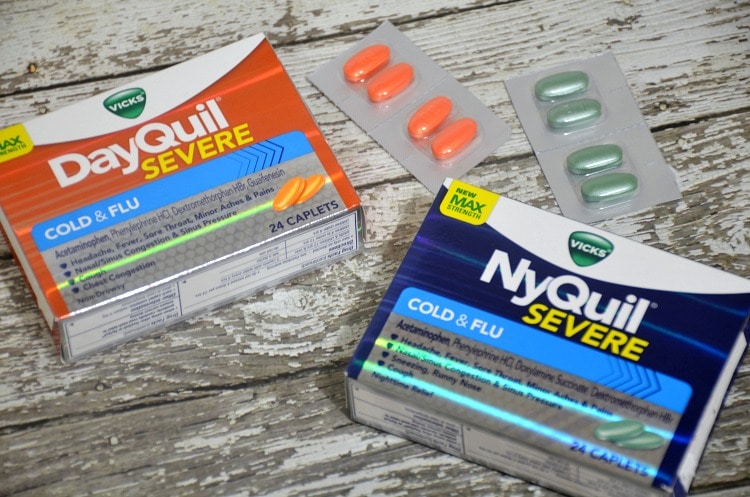 It can be tough to stay well when you're traveling. In the last month I've been to Galveston, Las Vegas and New York City (twice!). When you go back and forth between different climates and time zones during the height of cold and flu season, it's not a question of "if" you're going to get sick, it's "when".
I started to feel under the weather after my first trip to NYC-- where it was practically freezing. This Florida girl doesn't do well in cold weather, and as soon as I returned home I felt a tickle in my throat. I could sense that things were going to go downhill fast if I didn't take care of myself ASAP.
I went to my local Walmart to pick up something that would relieve some of my symptoms before I got a full blown cold or the flu. Nyquil has always been my go-to when I'm under the weather, and while browsing the aisle for my favorite daytime/nighttime capsule formulation, I found a new product that looked like it would do the trick -- Vicks Dayquil and Nyquil Severe.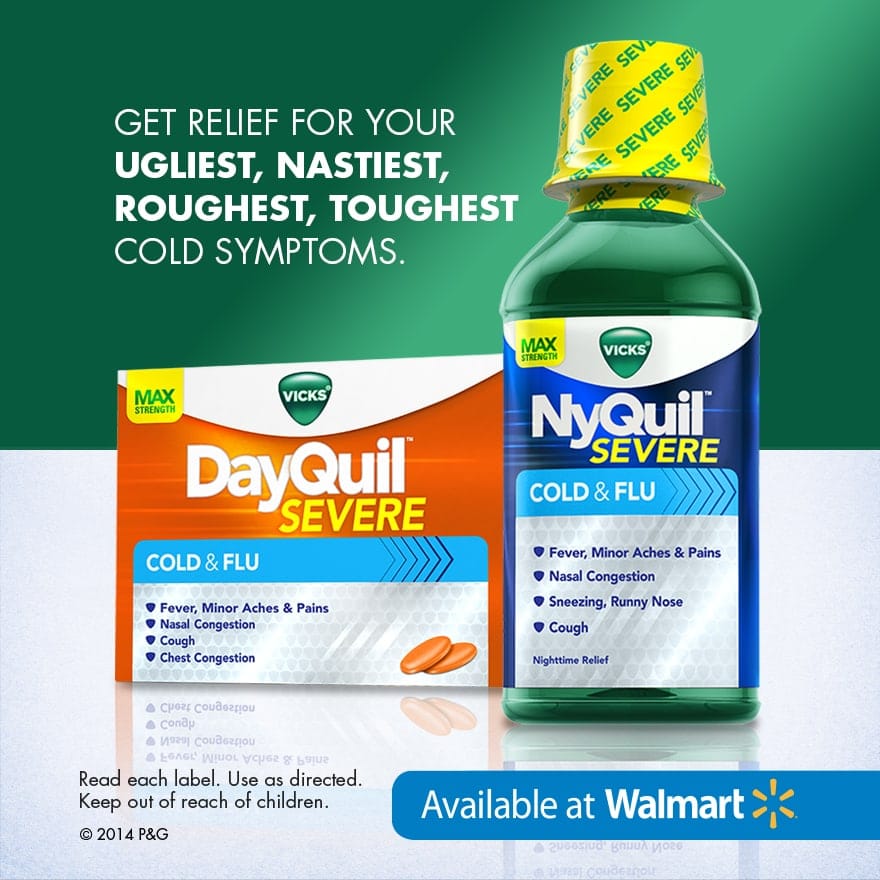 Vicks DayQuil and NyQuil Severe looked like it would be perfect to stop my flu-like symptoms, so I grabbed a box of each.
Vicks NyQuil/Dayquil Severe Cold & Flu
Maximum symptom-fighting ingredients to relieve your worst cold and flu symptoms.
Maximum strength nighttime cold and flu relief, so you can take back your night.
The powerful NyQuil relief you trust now with a decongestant.
Available in caplets or liquid.
Temporarily relieves common cold/flu symptoms including:
Nasal congestion
Sinus congestion and pressure
Cough due to minor throat and bronchial irritation
Cough to help you sleep (Nyquil Severe)
Minor aches and pains
Headache
Fever
Sore throat
Runny nose and sneezing
Reduces swelling of nasal passages
Temporarily restores freer breathing through the nose
Promotes nasal and/or sinus drainage
Helps loos mucus and thin bronchial secretions to rid the bronchial passageways of bothersome mucus and make coughs more productive (Dayquil Severe)
When I got home I took some of the DayQuil Severe because I still had a lot of things to do around the house and I didn't want to be drowsy. It worked like a charm. My throat irritation practically vanished and my headache went away. That night, before I went to bed, I took Nyquil Severe and had an amazing night's sleep. When I woke up, I felt 100% better!
Now I know all cold and flu symptoms won't always go away as easy, but I definitely think Vicks DayQuil and NyQuil Severe did what it needed and I will be using it in the future. I actually have some packed away in my carry-on in case I ever need it when I'm on the road -- I have a feeling it's going to come in handy in cold & flu season and beyond!
Vicks DayQuil and NyQuil Severe are available at Walmart.com and in stores. Be sure to stock up to prepare for cough, cold and flu season.
How Do You Combat Cold & Flu Season?