There's nothing more unsettling than an auto accident. When I was 19, I was in a collision with a street sweeper. Sounds crazy, I know. It was late at night. I assume the guy was en route back to wherever street sweepers go, and thought the roads were empty. He ran a red light.  I slammed on my brakes, and the next thing I knew, I was sitting in my car with the airbag deployed. I was in total shock. I remember thanking God that I was still alive, and then I got out of my car and looked at the damage. My vehicle was totaled. His street sweeper looked perfect. Thankfully, there were no major injuries. At such a young age, I hadn't a clue what to do next.
Even at 30, I'm not sure I know exactly what to do, or what information is needed...The National Association of Insurance Commissioners (NAIC) offers a free app called WreckCheck that helps you calmly walk through the steps to take following an auto accident. WreckCheck will guide you though the details of what information is important to collect for an auto insurance claim, and then allows you to email the info directly to yourself and your insurance agent.
The WreckCheck app collects the time and location of the accident, as well as photos and recordings. You can document exactly what happened on the spot, and include names of witnesses and police that were on the scene. There's even a 911 button if the need arises.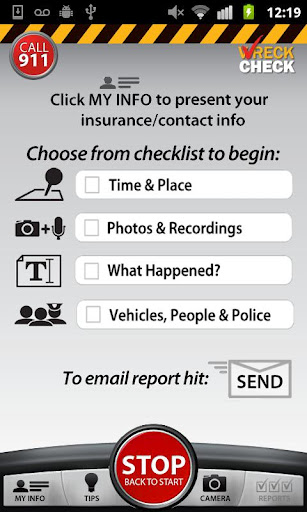 Recent research from NAIC suggests that after an auto accident, many Americans do not know the steps to take or information to share with the other driver involved. Oftentimes, drivers over share personal information that could put them and their families at risk. Downloading the WreckCheck app is a good way to ensure your privacy and the safety of your family. The app can be found online at iTunes and Google Play or by searching "NAIC" at the iTunes store or Android market. Since the app is free, you have nothing to lose.
If you don't have access to a smartphone, NAIC offers a downloadable accident checklist, along with tips for staying safe on the road at www.auto.insureuonline.org. The WreckCheck app is one of those things that you never want to have to use, but if an accident occurs, it will only help you in an already stressful situation.