Craving s'mores? Then you must try one of these Ooey, Gooey S'mores Dessert Recipes.
S'mores might be one of the easiest and most delicious desserts on the planet. If for nothing else than their simplicity. The flavor of toasted marshmallow, melted chocolate, and graham cracker is too good to resist. But why wait until the next bonfire or camping trip to get a taste of this delightful combination? You can make your own s'mores inspired desserts at home— any time of the year, rain or shine, without a flame or set of roasting sticks!
Here's a list of 20 of the most decadent s'mores dessert recipes that you can make in the kitchen whenever you're craving a campfire treat.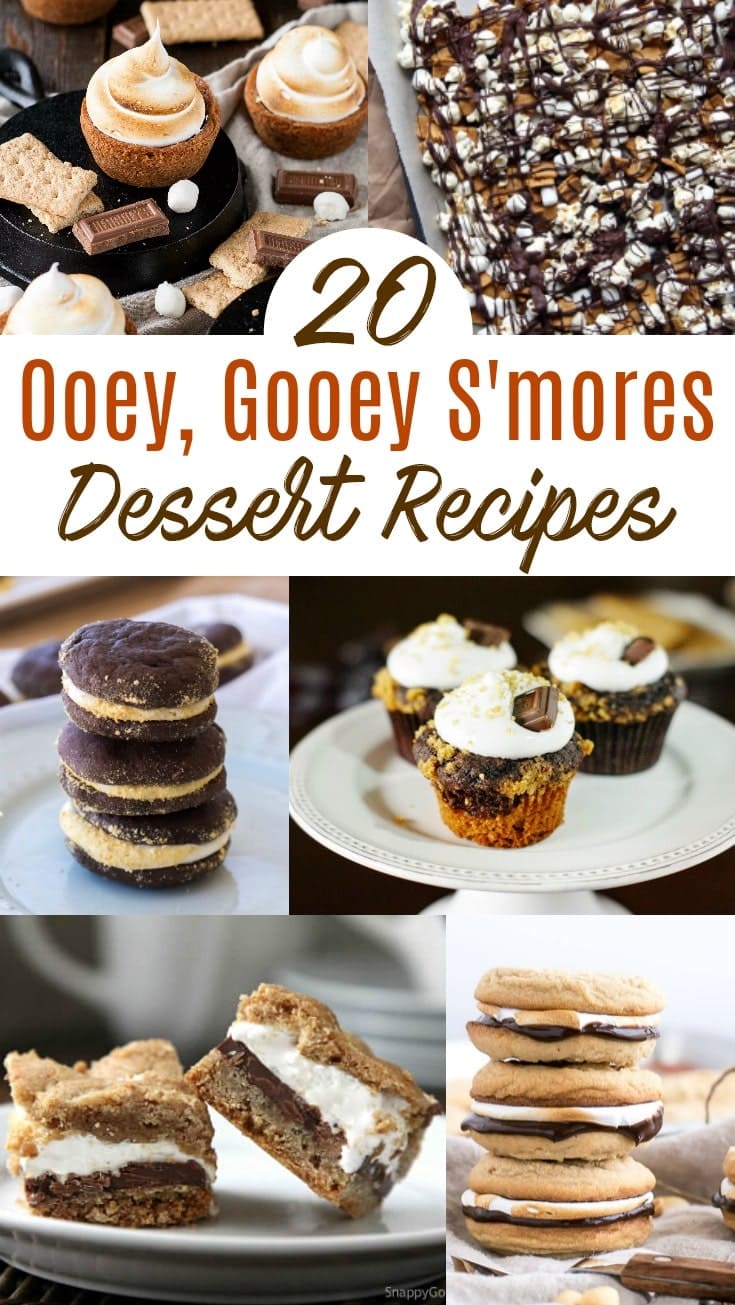 20 Ooey, Gooey S'mores Dessert Recipes
S'mores Rice Krispies Treats - Leelalicious
S'mores Whoopie Pies - A Latte Food
S'mores Cookie Cups - Liv for Cake
S'mores Bundt Cake - Baking with Mom
Peanut Butter S'mores Cookies - Liv for Cake
Easy S'mores Bar Cookie - Snappy Gourmet
S'mores Cupcakes - The Kitchen is my Playground
Hershey Kisses S'mores Cookies - Rick on the Rocks
S'mores Crescent Bombs - Savvy Saving Couple
Quick & Easy S'mores Cookies - Sizzling Eats
S'mores Popcorn Munch - Leelalicious
No-Bake S'mores Pudding Pie - Mommy Musings
S'mores Puppy Chow - Lil' Luna
Indoor S'mores Cups - Rick on the Rocks
S'mores Crepes - Cake Whiz
Chocolate Donut S'mores - The Gold Lining Girl
Frozen S'mores - Delish
S'mores Cheesecake - Will Cook for Smiles
S'mores Pizza - The Gracious Wife
Homemade S'mores Frozen Yogurt - Joyful Healthy Eats
Want to make ooey, gooey s'mores? You might find these useful:
HERSHEY'S Milk Chocolate Candy Bar (Pack of 36)
Jet-Puffed Marshmallows, 16 Ounce Bag
Honey Maid Graham Crackers (4-Pack)
Hershey's S'mores Kit, 3 LB 9.1 Oz
S'more to Love STL-611 Six-S'more Maker
Electric S'More Maker, Stainless Steel
MalloMe 10-Piece Marshmallow Roasting Stick
Microwavable S'Mores Maker