I am so excited about the upcoming Social Media Moms Conference at Walt Disney World in February. It looks like over 100 social media moms and their families will be attending the 3 day Celebration!
I know for me this is not my 1st, 5th or even 20th visit to the most magical place on Earth, but for many moms attending this is their first time.
With that, I want to share just a little bit of info to get you started on planning your vacation, because really, that's what it is!
In this post, I am going to give some basic information about the resort. Please ask any questions in the comments section, and if you would like any other in-depth information in another post please let me know.
The Resort and Transportation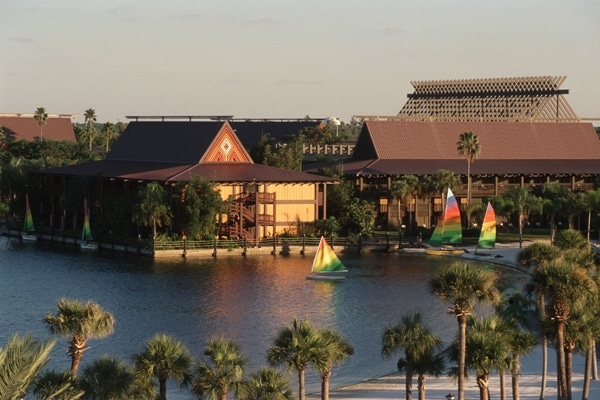 Lucky for us, Disney's Polynesian Resort is one of the most family-friendly resorts Disney offers. This deluxe resort (the highest class of accommodations at Disney) is known for it's awesome South Pacific/tropical theme and great location, which is right next to the Magic Kingdom.
The Polynesian also sits directly on the monorail line, which is great for families. The monorail can quickly and easily take you to and from the hotel to both the Magic Kingdom and Epcot theme parks, in addition to Disney's Grand Floridian and Contemporary Resorts. This is great for when the kids get tired and need to get back to the resort for quick a nap.
The resort bus will take you to Disney's Animal Kingdom and Hollywood Studios theme parks as well as Downtown Disney.
The great thing about Disney World is that you never even need a car. If flying in, the Magical Express will take you directly to your hotel and Disney Transportation will take you everywhere else.
The Food
The Polynesian has 2 main restaurants, 'Ohana and Kona Cafe. There is also a live entertainment dinner show called the Spirit of Aloha. Kona serves breakfast, lunch and dinner, while 'Ohana serves breakfast and dinner. The Ohana breakfast is a character meal with Lilo and Stitch. The 'Ohana Dinner is a fun, all-you-can-eat family style meal with music, dancing and coconut races.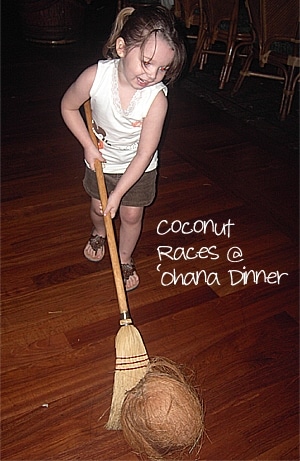 There is also a quick service food court called Captain Cook's that serves food all day long. Here is a sampling of prices and what they offer. Highly recommend is the Tonga Toast (Kona also serves this as a meal) and the Dole Whip (Dole Whip Floats available at the Magic Kingdom).
Also available for purchase at the food court is the resort refillable mug for $12.99. This reusable mug (you get to keep it) can be used for unlimited drink refills for the length of your stay. The mug only works at the resort, not the parks. Drink choices include sodas, coffee, tea, hot chocolate , nd apple juice.
If you just want to grab a drink the best place is the Tambu Lounge which serves a few house specialties, including the Lapu Lapu (served in a pineapple) and the Backscratcher. There is also a little sushi bar nexzt to Kona Cafe called Kona Island.
All this is in addition to room service which is served 6:30am-midnight.
A Note About Dining
If you decide you want to eat at any table service restaurants on Disney property I advise you to book now! You can do so online at disneyworld.disney.go.com/dining or by calling 407-WDW-DINE. More than likely 'Ohana is full, but you should be able to get a breakfast or lunch at Kona Cafe.
Keep in mind there are 2 family dinners included with the conference, and 1 breakfast just for the moms. All other dining arrangements for your family will need to be made in advance if they want a sit down meal. There are no reservations for quick service options in the parks or resort areas.
A quick look at the Restaurants at Disney World will give you an idea of all the food offerings, including menus and locations. I also think the AllEars Menus & Prices is a great resource when deciding on food options.
Disney is AWESOME with those who have food allergies. Just mention to your server at the beginning of your meal and the chef will come out and speak with you.
The Room
Besides normal hotel room amenities, standard rooms at the Polynesian include 2 Queen Beds, daybed, small table and chair, mini fridge, coffee maker, iron/ironing board and hair dryer. Pack n' play and bed rails are available on request.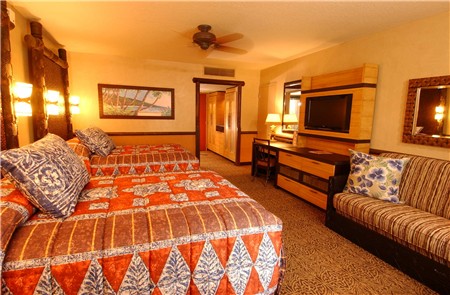 If you are flying in you might want to make arrangements with a service like the Garden Grocer to have bottled water and other snacks or necessities delivered to your room. If you are driving don't forget to pack it with you. You can bring food and beverages with you in to the parks...no need to try to sneak it in!
The Pool
Depending on the weather, which in Florida is unpredictable, the pool at the Polynesian is one of the best on Disney property. The pool area is shaped like a volcano and includes a water slide, water fall and  zero-entry pool feature. There is even a white sand beach on the Seven Seas Lagoon where you can view fireworks or the electrical water pageant at 9:00pm (There is no swimming in "beach" water). Life vest for children (or adults) are provided.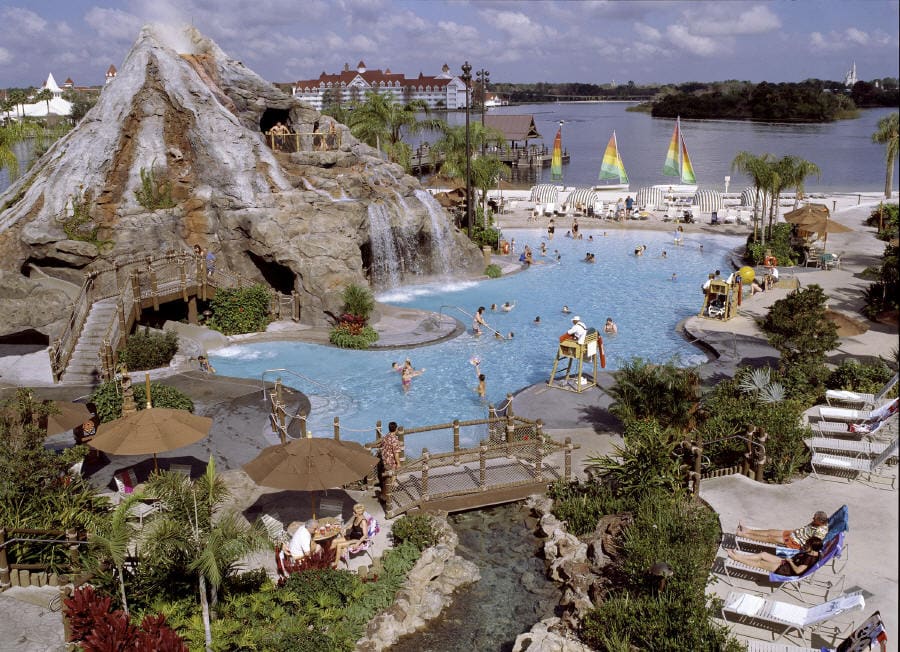 Oh and don't forget to have a tropical drink at the Barefoot Pool Bar!
Babysitting & Childcare
The Polynesian is one of the few Disney resorts that have on-site childcare available if you want to go for a night out. For potty-trained children ages 4-12 The Neverland Club has a children's activity program which includes supervised games, toys and dinner. Hours are 4pm-midnight. Call 407-WDW-DINE to make a reservation. I believe it is $11 an hour with a 2-hour minimum.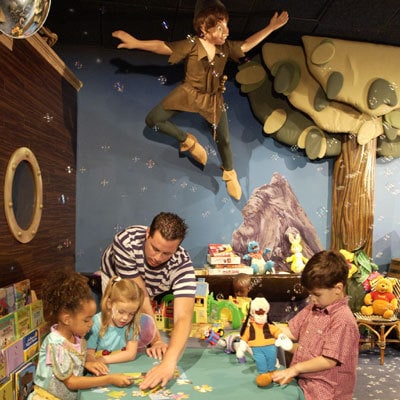 For even more Disney Polynesian info, here is a great thread on the DIS Boards with photos.