Did you tune into the premiere of Agent Carter last Tuesday night on ABC? Wasn't it AWESOME!? Besides being a general Marvel fan, I'm really digging the rise of Peggy Carter, who's calling her own shots (as both a women and secret agent) in post-war New York.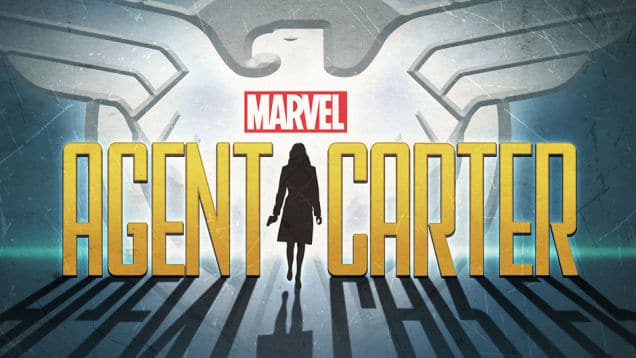 I was able to get a sneak peek of the new series while I was out in Los Angeles a few months back— but seeing how everything came together in the first two episodes made me love the show even more. I'm really into the time period and all of the amazing settings and fashion from the 1940s ... the era seems so glamorous, and as far as the clothing, so put together.
Last week I hinted that I was able to go behind the scenes on the set of Agent Carter, and here's the most awesome part— I was able to meet Agent Carter herself, Hayley Atwell, tour some of the set with Executive Producers and Showrunners Tara Butters & Michele Fazekas, and meet with show costume designer Gigi Melton. This was my first time on an active show set, and I'd have to rank it as one of the coolest things I've ever been able to experience!
First, let's get to some of the fashion on "Agent Carter" with the Emmy award winning costume designer, Giovanna "Gigi" Ottobre-Melton.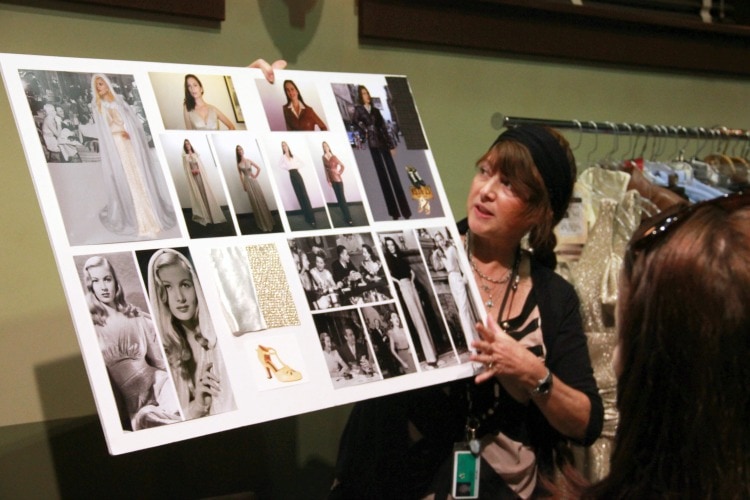 What was interesting to me was just how many costumes there were for each episode, and as many as 4 duplicates are made of each ... with only weeks to put the costumes for the whole show together! The designers source articles from vintage stores and rental warehouses, as well as design and sew their own new pieces.
Peggy Carter's trademark look includes a red custom Stetson Stratoliner hat.  Throughout the series we'll see her in a variety of form-fitting and fabulous outfits— from glamourous gowns to pant suits.
The men wear typical suits for the time period. Though the pieces may look similar, each character has their own distinct style.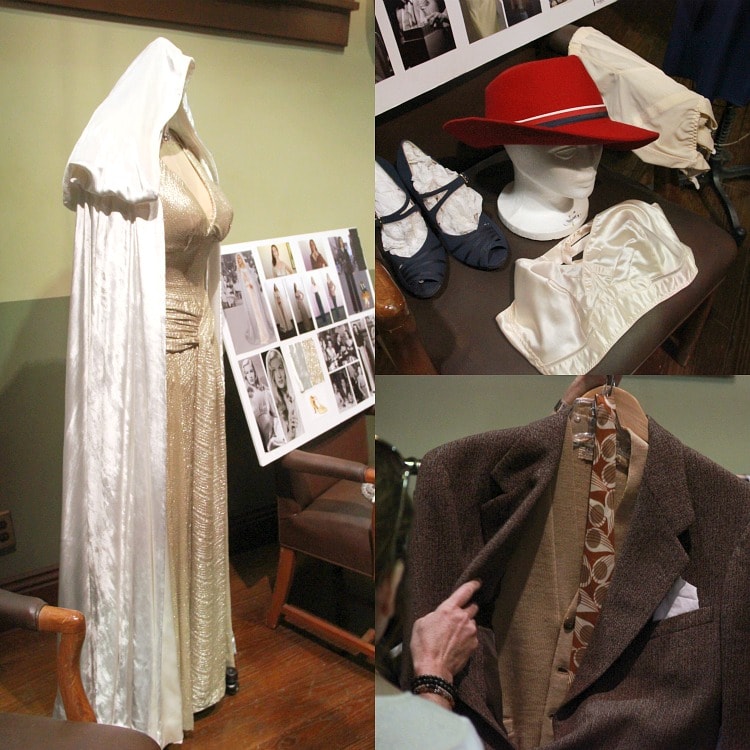 The second half of our set visit of "Agent Carter" was a real treat— Executive Producers and Showrunners Tara Butters & Michele Fazekas took us on the set of the SSR (Strategic Scientific Reserve), where Peggy Carter works as an agent ... and yes, we even got pictures at Agent Carter's desk!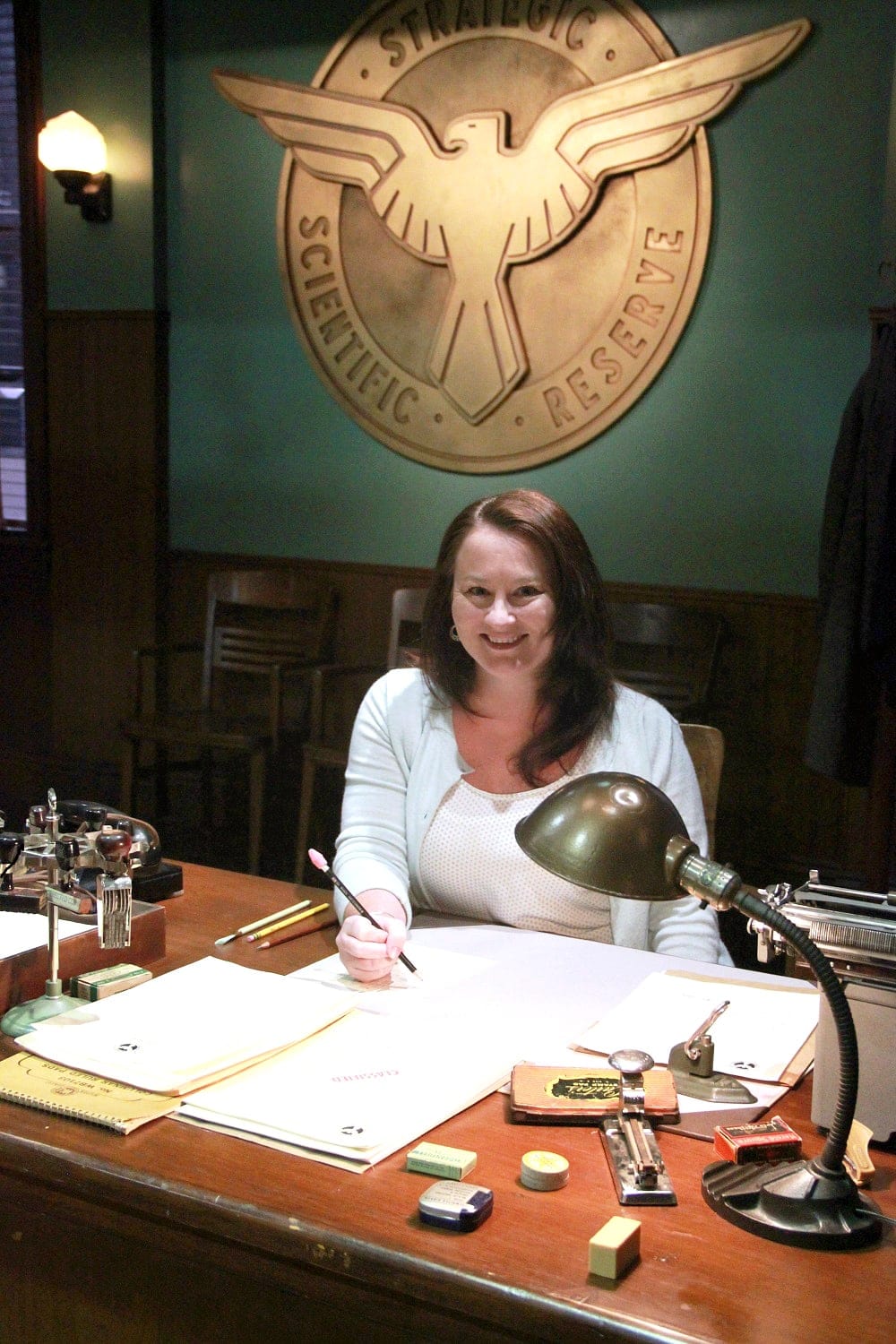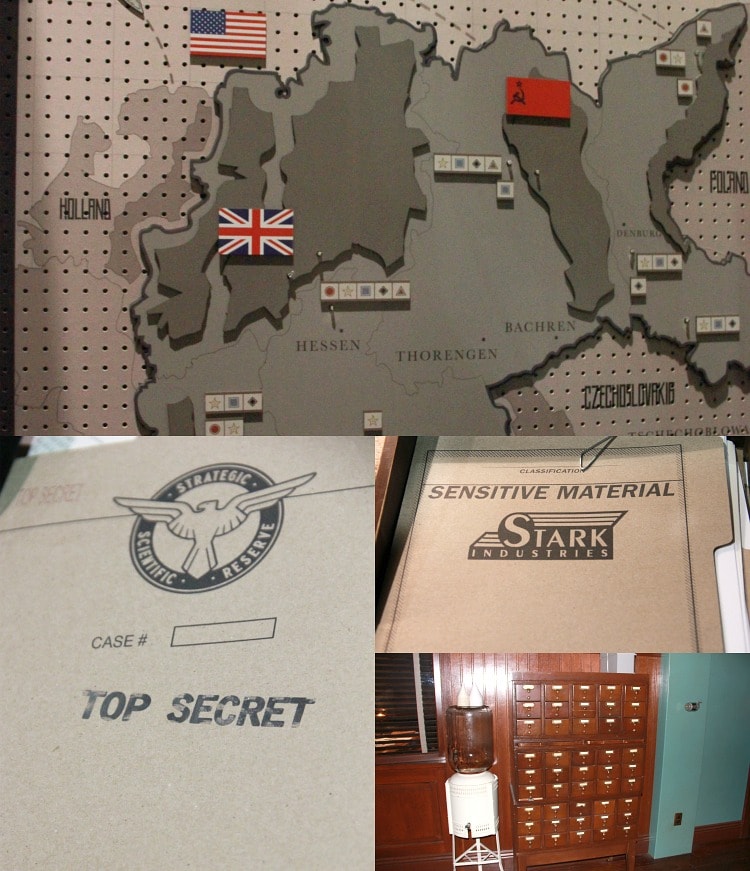 AND THEN... HAYLEY ATWELL STOPPED BY (As Agent Carter)!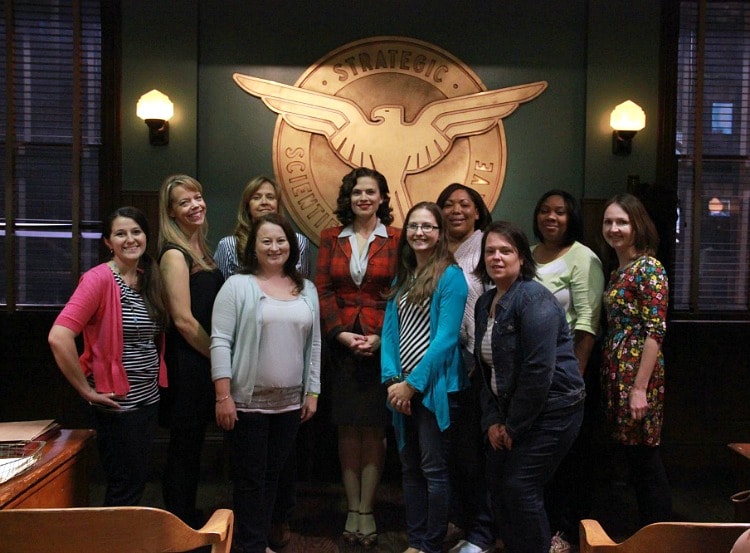 Hayley was absolutely delightful and extremely poised. I can't think of another actress who could play Peggy Carter so well. I can't recall who said it, but it was either Louis D'Esposito (Co-President of Marvel Studios) or Jeph Loeb (Marvel's Head of TV), but "Hayley is the show". ... I can't wait to see what adventures are in store this week!
Make sure you're watching AGENT CARTER Tonight at 9:00pm EST on ABC!
Agent Carter airs Tuesday nights at 9:00pm on ABC.
https://www.facebook.com/AgentCarterTV
https://twitter.com/AgentCarterTV(#AgentCarter)
http://agentcarterabc.tumblr.com
http://www.pinterest.com/agentcarterabc
https://plus.google.com/+AgentCarter
http://abc.go.com/shows/marvels-agent-carter
Special thanks to ABC Television for inviting me on the set of AGENT CARTER. All opinions are my own.