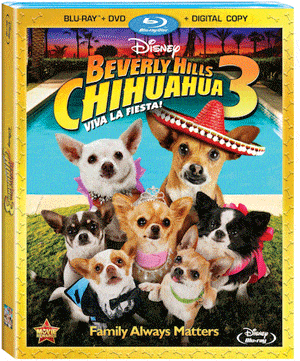 I have to admit, both my daughter and I are suckers for pet movies ... even more so when the animals talk!
We're both fans of the Disney's Buddies movies, as well as the Beverly Hills Chihuahua releases, which is why we were super excited when Beverly Hills Chihuahua 3: Viva La Fiesta! came out on DVD/Blu-ray last week.
Everyone's favorite talking Chihuahuas Papi (voice of George Lopez) and Chloe (voice of Odette Annable) are back, joined by their five playful pups in an all-new family comedy.
It's canine chaos as Papi's family (dog and human) move into the posh Langham Hotel, complete with a luxurious doggy spa. But there's trouble in puppy paradise when Rosa, the littlest member of the pack, feels smaller and less special than ever.
Now it's up to Papi to help Rosa find – and celebrate – her inner strength, which turns out to be bigger than she ever dreamed and reminds humans and canines alike of the importance of family, friends and teamwork
My daughter and I received a copy of Beverly Hills Chihuahua 3: Viva La Fiesta! to watch together and we thoroughly enjoyed it. It's a great family film, and to get in the Viva La Fiesta! spirit, I had a taco night to celebrate its release.
My daughter especially loves Chloe as she wishes she had her own little diva dog, and I love the human character, Amelia James, who is a travel writer -- while we're not alike in any way, I love watching movies with travel writers 🙂
The pups, of course, steal the movie and Beverly Hills Chihuahua 3, Viva La Fiesta! is easy to watch and FUN! This film is suitable for all ages.
Beverly Hills Chihuahua 3: Viva la Fiesta! is available in stores now on DVD/Blu-ray!
I received a copy for review. All opinions are my own.