My daughter is officially a BIG HERO 6 fanatic. Once she saw the movie she requested a stuffed Baymax, and about 100 other related games and toys. Luckily, there's no shortage of BIG HERO 6 gifts for the holiday season. While I was out in Los Angeles for the BIG HERO 6 press day, I was invited by Disney Consumer Products to take a sneak peek at some of the hottest Christmas gift ideas featuring Hiro, Baymax, Go Go, Honey Lemon, Wasabi and Fred. Here are my favorites.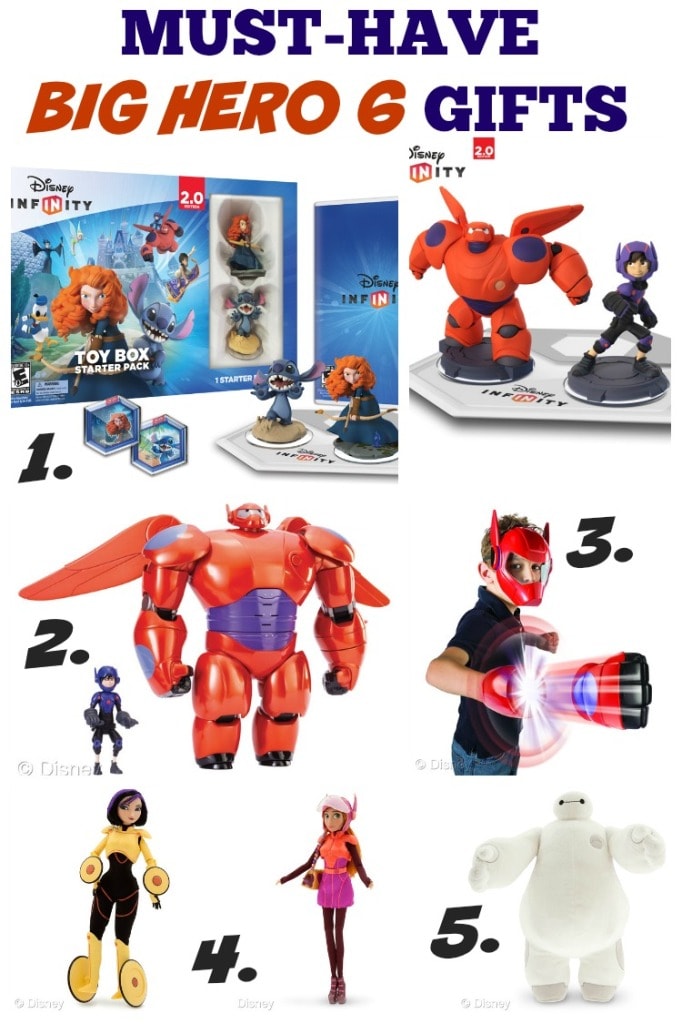 1. Disney Infinity 2.0 Starter Pack + Hiro & Baymax Figures - Enter the new Toy Box 2.0 where you can mix match and mash up characters and worlds to create any adventure you can imagine! Team up as Merida and Stitch or purchase additional Disney Infinity (2.0 Edition) characters like Hiro & Baymax to power up your play! Use the new Creator tool to quickly build your worlds with ease. Create and share Toy Boxes online. Connect your Toy Box creations with friends and play without limits! Available on PS3.PS4, Wii U, Xbox 60 and Xbox One.
2. Deluxe Flying Baymax - Towering at 11" inches with a soaring 18-inch wingspan, the Deluxe Flying Baymax features 20 points of articulation and a 4.5" Hiro Hamada figure, which when attached to Baymax's back unlocks additional flying sounds.
3. Baymax Rocket Fist & Mask Combo - Put the power of Baymax in your hands with the Baymax Rocket Fist. Easy reloading and fun launching up to 10 feet in distance with soft material on the fist makes it safe and fun to play. The mask features comfortable padding with an adjustable strap.
4. GoGo Tamago and Honey Lemon 11" Dolls - These fully poseable character dolls feature their accessories from the film, including GoGo Tomago's spinning ''mag-lev discs'' and high-speed armor and Honey Lemon's messenger bag.
5. Baymax Plush-Medium-15" - Cuddle up to soft stuffed Baymax for compassionate care and comfort throughout the daily adventure of life. This big plush robot is sure to cure any dull day. 
Which BIG HERO 6 product is your favorite?
Special thanks to Walt Disney Pictures for inviting me to attend the Disney BIG HERO 6 Event. All opinions are my own.