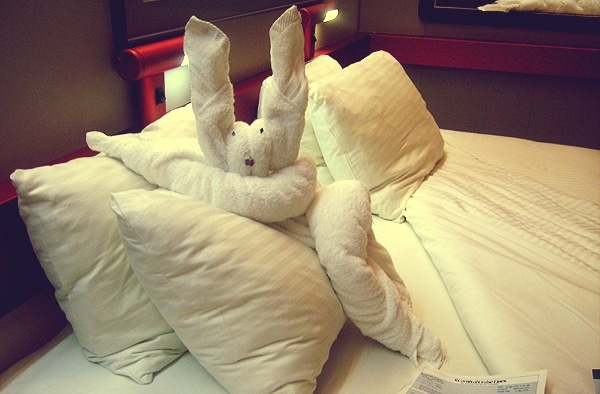 Towel Animals are just one of the many things we love about cruising. On our last Carnival Cruise, my daughter and I played "guess the towel animal" every night before entering our room. From monkeys to elephants and bunnies, it was a fun way to end the evening.
While every major cruise line replicates the towel animal, it actually first debuted on Carnival Cruise Lines 20 years ago.
As you can imagine, these whimsical towel creations have a following all their own, and with their extreme popularity, Carnival has published the fourth edition of Towel Creations-- a step-by-step guide for creating your own zoo of towel origami at home.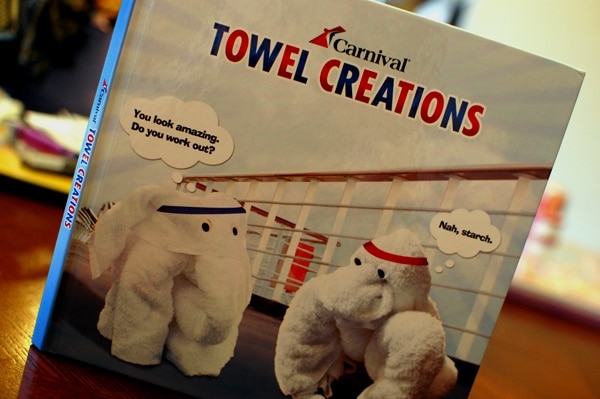 We received a copy of the new book to preview and I'm already testing out a few of the animals. After failing miserably on my first attempt at the swan, I am determined to get the hang of it. I have a new found respect for the stateroom stewards who craft these terry cloth creatures on a nightly basis! With a little practice, I'm sure to become a towel animal pro. Once I perfect my animals, I think I might start placing them in the guest bathroom for a fun surprise.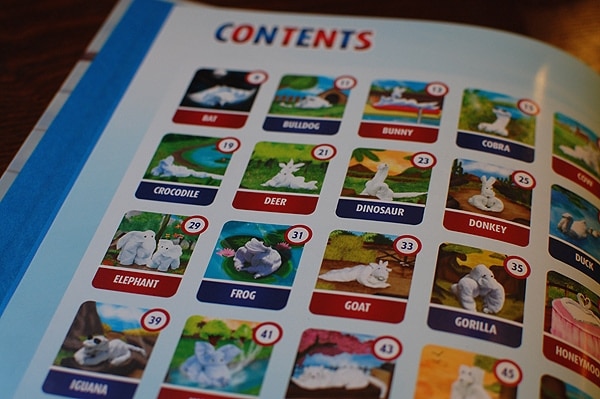 The new book features 40 towel creations with step-by-step instructions-- all you need is a few clean towels to bring the "Fun Ship" experience home with you!
And with the purchase of the latest edition of Towel Creations, Carnival fans will help some very special children at St. Jude Children's Research Hospital, one of the world's premier centers for the research and treatment of pediatric cancer and other catastrophic diseases. One dollar from the sale of each book will be donated to St. Jude through Carnival's Care to Play program, whose goal it is to raise $3 million over a three-year period.
Towel Creations is available in the gift shops aboard all Carnival ships, as well as from the line's stateroom stewards. The book can also be ordered via the Gifts & Services section of carnival.com and delivered to guests' staterooms. The cost is $14.95.
WIN IT!
Currently, Towel Creations is only available on board Carnival Cruise ships. BUT, I have a new copy to giveaway to one lucky reader!
To enter, tell me in the comments below-- What animal would you love to see in towel form, or what is your favorite Carnival towel creation? (required)
Bonus Entries:
1. Subscribe to my feed (1 entry)
2. Follow me on twitter @MommyMusings (1 entry)
3. Follow Carnival Cruise Lines on twitter @CarnivalCruise (1 entry)
4. Tweet about the contest (just click on the twitter bird below this post- May be done 1x daily)
5. Post contest on facebook (just click on the facebook symbol below this post, 1 entry)
6. Stumble any other post (1 entry per stumble)
7. Blog about the contest, leave comment with a link to your post. (10 extra entries)
8. Add my button (can be found at right —>) to your blog sidebar or blogroll. Leave a comment with your website. You may also add just a text link if you do not want to add the button. (10 extra entries)
Contest ends Wednesday, July 6, 2011. 1 winner will be chosen at random.
**Valid comments will be rescued from SPAM**