Travel and accommodations to attend A Bad Moms Christmas press junket were provided by STX Entertainment.
It's here! A Bad Moms Christmas opens in theaters TODAY, November 1st, and I guarantee that this is going to be the best holiday movie of 2017! I attended A Bad Moms Christmas press junket last week with my fellow Bad Moms friends, and we had a blast at the screening, so I can speak from experience!
A BAD MOMS CHRISTMAS follows our three under-appreciated and over-burdened women as they rebel against the challenges and expectations of the Super Bowl for moms: Christmas. And if creating a more perfect holiday for their families wasn't hard enough, they have to do all of that while hosting and entertaining their own mothers. By the end of the journey, our moms will redefine how to make the holidays special for all and discover a closer relationship with their mothers.
I sat down with the cast of A Bad Moms Christmas the day after the screening to get the inside scoop on their characters, thoughts about the movie and what their real lives as moms are like. These women are such an inspiration!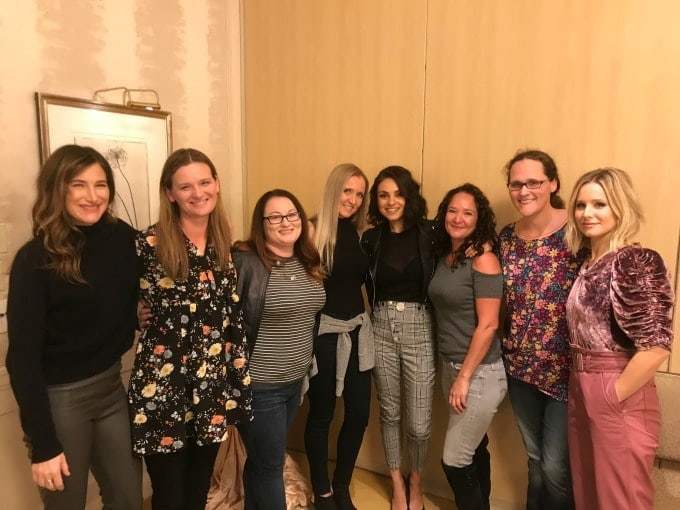 We began talking about the way the cast surprised the people at the press screening by showing up on stage right before the movie began, then quickly began talking about the experience of Kathryn Hahn shooting a scene with Justin Hartley…I won't spoil the surprise, but let's just that you have to watch this movie!
We told the cast about the audience's experience watching them pop onto stage: Seeing the response from last night, like literally after you guys left like people were still going crazy. Like all throughout the movie it was like moms unleashed, mom's gone wild kind of thing.
Mila Kunis: Yes, it was nice. Moms gone wild!
I was just wondering how do you guys feel about the project that seemingly kind of gives you this freedom to moms to just go wild? What does that feel like to be a part of – it's sort of this movement, you know, and moms are like YES, we're going to go out and we're going to party.
Kristen Bell: It makes me feel so proud!
I love how you guys have kind of like lit the fire for a group of women who generally are like just take it and we do whatever we have to do to get by, and now you've kind of given us the okay to go, let's have fun and like be women, girls and friends.
Mila Kunis: Nothing makes me happier than to hear that. I've got to tell you.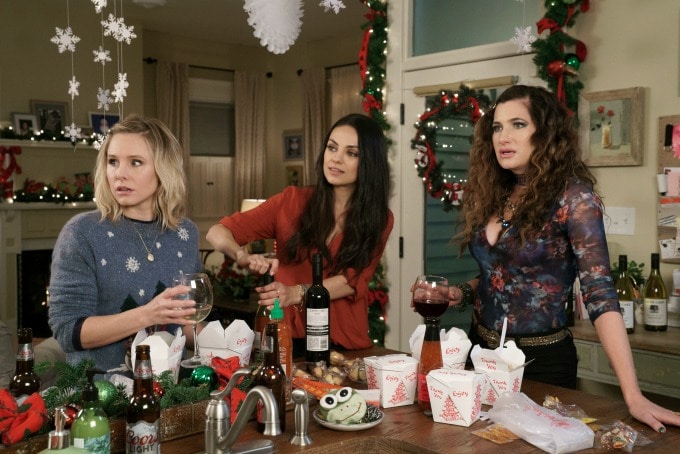 Kristen Bell: Self-care, and forgiveness and not feeling ashamed for anything and just being confident in your decisions is a really important part of life that no one talks about. And for me that's what this movie is about. It is okay to want to get a massage. It is okay to say to your husband I need seven hours off tonight, point blank period.
Kathryn Hahn: It really does feel like such a tribe, too, coming together, doesn't it? Just like to have, to just feel like you're part of a community, it really is comforting to know that we have each other's backs. I also think one of the important messages of both movies is just like the lack of judgement and self-criticism, to try to let that go because, like Kristen was saying, it's like we only are mommies to these little people for a very short time, and you don't want to spend like any excess nonsense worrying about crap.
Mila, you said it in Marie Claire this month that you don't feel bad going out with friends…
Mila Kunis: I do it, but I just say out loud I actually do feel bad about it. Like I'm not going to pretend like I have no problem going out my girlfriends. I absolutely have guilt over it. I have an amazing partner who is like get over it. Get out. So I do have somebody that's constantly like pushing me to like, you know, be my own human being. That doesn't stop me from having guilt.
Kristen Bell: It is okay to be a paradox sometimes. So you can feel guilty, and you can also know that you need a night out with your girlfriends.

See? These women are real moms, just like you and I…and even they struggle with letting it all go and making time for themselves now and then. We should all strive to be more like them, knowing the importance of time away to relax and bond with our friends. We come home fresher and ready to dive headfirst into parenting!
A great way for YOU to get that ladies night out this holiday season is by going to see A Bad Moms Christmas with your friends!
Get Your Tickets for A Bad Moms Christmas Now!
Take a tip from the Bad Moms and take a break to treat yourself this holiday season. Get your tickets here: BadMomsTickets.com
A Bad Moms Christmas arrives in theaters November 1!
Like the Bad Moms Facebook page   | Follow @BadMoms on Twitter and @BadMoms on Instagram!