Leigh Caldwell of MidwestTravelMom.com attended the Embassy Suites #300 More Press Trip to Chicago on behalf of Mommy Musings. This is the first of several posts she will be sharing about the hotel and the attractions she visited.
On our recent trip to Chicago, my daughter and I were invited to stay at the Embassy Suites Chicago Downtown. I have stayed in Embassy Suites hotels in several other locations before, but I had never stayed in one in Downtown Chicago. In fact, the first time I stayed at an Embassy Suites was in suburban Chicago when I was in high school. But that was, ahem, a few years ago.
Embassy Suites in general offer so much for families. All of the rooms are two-room suites, with a living room that includes a pull-out bed, sink, refrigerator and extra space in addition to a roomy bedroom and bathroom. I have never felt like the space in the bedroom was squeezed any to accommodate the extra room, as I have encountered in other "all-suite" hotels. Besides the extra sleeping space, having the two rooms can provide privacy for adults.
And one of the biggest bonuses I have found is that there is a TV in each room so that I am not subjected to one more repeat of the "Good Luck, Charlie" episode where PJ takes Charlie with him to his delivery job to get bigger tips. But, I digress...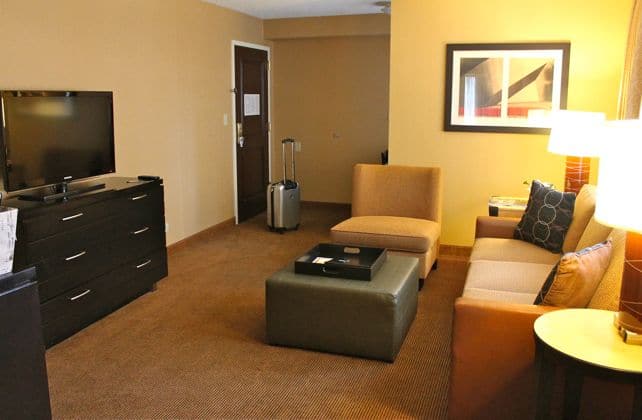 The Embassy Suites Chicago Downtown is located on State Street at Ohio. The first thing that struck me about the hotel was how well situated it was for families vacationing in the city. The hotel is an easy walk (1 mile or less) to all kinds of Chicago attractions, from shopping on the Magnificent Mile to the Chicago Children's Museum and other fun at Navy Pier to Millenium Park to the Theater District.
Other attractions, like the Field Museum, Lincoln Park Zoo and Shedd Aquarium are about 3 miles away, and can be easily reached by public transit or a quick $10 cab ride if you prefer not to cover the distance on foot.
In addition, State Street and the neighborhood around the Embassy Suites Chicago Downtown have all kinds of family friendly eateries, from fast food to familiar chain restaurants to casual, locally-owned dining.
We found our accommodations clean and comfortable. The service at the hotel was friendly and warm, from the moment a bellman greeted us on the curb.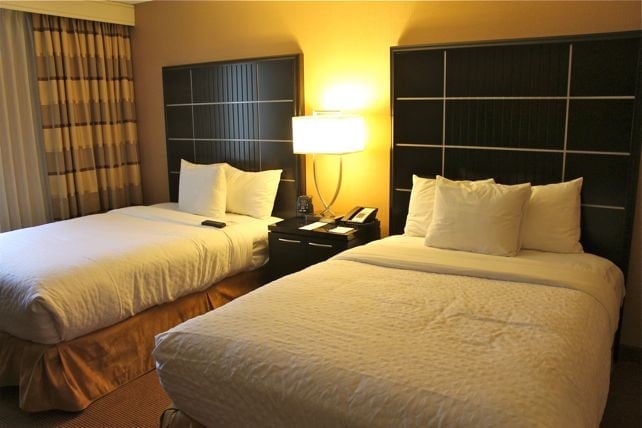 Embassy Suites hotels are distinguished by their atriums indoors, and this one had a lovely fountain in the lobby. In addition, the hotel had an indoor pool my daughter enjoyed, and a comfortable place to work nearby in the open plan business center.
Embassy Suites offers a free cooked-to-order breakfast, along with traditional breakfast buffet items like pastries, juices, yogurt and cereal. We enjoyed the made-to-order omelets both mornings of our stay. The hotel also offers a complimentary evening reception with snacks, soft drinks and cocktails. One thing to note about the breakfast: The later in the morning it gets, the breakfast lines can grow. I appreciate the way Embassy Suites warns you of this in your room. We beat the morning rush by going down to breakfast shortly after we woke up each day, and then going back to the room to get ready for the day's activities. (And no, that doesn't mean we went in our pajamas - we did get dressed first!)
Chicago is an easy Amtrak trip for my daughter and I, and we are fairly frequent visitors. We have stayed in several downtown hotels, and I have to say the location of the Embassy Suites Chicago Downtown is the best of any we have experienced. I highly recommend it for families vacationing in the city.
Embassy Suites paid for transportation, accommodations and some meals and attractions we visited on our Chicago trip.