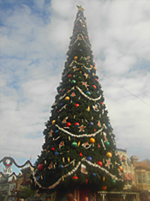 Christmas time at Disney World is quite possibly one of the most magical experiences anyone can have.
I am lucky enough to be spending 3 days at Disney World with my family to take in all the decorations, events, and magic that Disney creates during this special time.
I will be live blogging/twittering and posting pictures and video of our entire trip. If you ever wanted to experience what Disney World is like around the Holidays, this is your chance!
We will be staying at All Star Music Resort (first time staying here) since we got an awesome passholder rate of $54 a night!
Monday the 15th we are checking in and then visiting the Epcot World Showcase to see all the countries decorated for Christmas.
Monday evening hopefully I will have a special surprise thanks to @leannej who helped me out through twitter.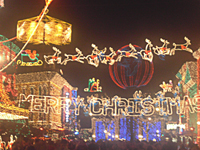 Tuesday will be a day at the Magic Kingdom where we will finally meet Tinkerbell and shop the shops on Main Street. That evening will end with a viewing of the Osborne Family Spectacle of Dancing Lights at Disney's Hollywood Studios.
Our final day will be at Downtown Disney where we will get pictures taken with Santa!
I can't wait!