This week I attended, Cruise Shipping Miami, the cruise industry's largest exhibition and conference which brings together cruise suppliers and buyers from around the world. As a blogger, it was a great learning experience and I really enjoyed finding out what was in store for the cruise industry throughout 2012, including 14 new ships debuting this year. It was also interesting to mingle with representatives from 120 countries; each port destination had information, and some offered a little snack or beverage unique to their stop ... it was hard not to get wanderlust and my bucket list has officially doubled!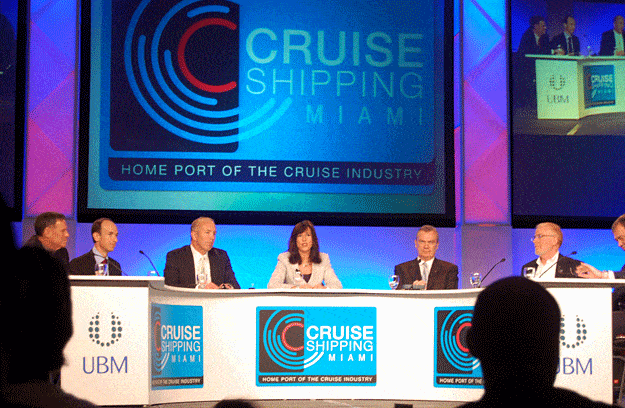 One of the event highlights was the annual State of the Industry, where Christine Duffy, President of CLIA (Cruise Lines International Association), moderated the president's roundtable discussion, featuring Gerry Cahill, President & CEO of Carnival Cruise Lines; Adam Goldstein, President & CEO of Royal Caribbean International; Daniel Hanrahan, President & CEO of Celebrity Cruises; Stein Kruse, President & CEO of Holland America Line, Inc; Kevin Sheehan, President & CEO of Norwegian Cruise Line; and Pierfrancesco Vago, CEO of MSC Cruises.
As expected, the panel focused on cruise safety and how the industry is moving forward after the Concordia accident in January. Since the tragedy, CLIA has implemented a new passenger muster policy where the lifeboat safety drill is performed before a cruise ship leaves port (before the initial sail away).
Additionally, individual cruise lines are raising the bar to make cruising safer: Royal Caribbean has built a new simulator training center in Fort Lauderdale to prepare officers and crew for emergencies and MSC, which caters primarily to a European market, is providing additional materials, including in-cabin videos and booklets in several languages, so all guests can be prepared. The training of officers and crew is an ongoing process for all of the lines and placing experienced seafarers at the helm has always been a priority-- Norwegian's captains have been at sea an average of 33 years. In the rare event of an accident, Carnival Cruise Lines has a group of 1200 volunteers that make up a "Care Team", which is dispersed after a crisis to help with the emotional needs of guests.
It was noted that even though Concordia impacted everyone in the industry, past cruisers recognize that there is safety in cruising and bookings are up with no change in cancellations.
Having sailed on multiple cruise lines more than a handful of times, I am confident that the industry is doing everything they can to make cruising as safe as possible -- statistically, it is still one of the safest methods of travel ... and still one of my favorite ways to see the world 😉
Special thanks to Newman PR for providing me with press passes to Cruise Shipping Miami.