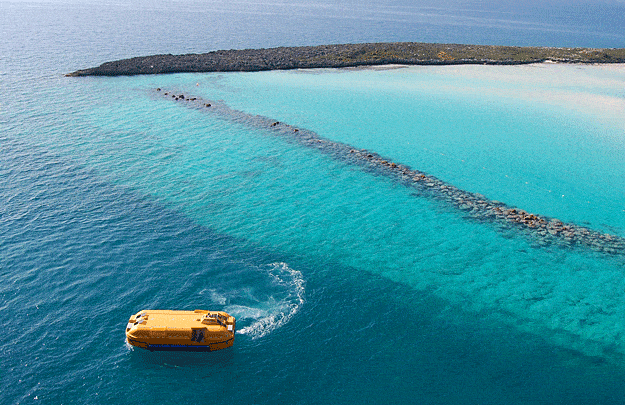 In light of recent events, I think it's important to go over some safety tips for cruisers. Whether it's your first time sailing or your 20th, knowing what to do in the rare event of an emergency is essential. I believe cruising is one of the safest methods of travel, especially if you are comparing it to a land vacation where any type of driving is involved.
Muster Drill (AKA Lifeboat Drill)
First and foremost, it's important to participate and pay attention during the Muster Drill, which is performed within a few hours of the start of your cruise (International Maritime Law is within 24 hours). The Muster drill is kind of like a pre-flight safety demonstration and as much as you want to ignore it, it's crucial for your safety. As of now, life vests are not required for the drill and they remain in the closet of your cabin for the duration of your cruise. If you are traveling with children, the room steward should bring child's sized life vests to your stateroom the first day. If for some reason you do not remember your Muster Station or how to get there, there is a map with the location and directions on the back your cabin door.
Attendance during the Lifeboat Drill is especially important for families as children will receive a wristband (which they must wear the entire cruise) with their Muster Station. In the case of an emergency when children are separated from their parents (ex. Kids Club), they will be brought to the Muster Station designated on the band. As much as you may want to do otherwise, parents should go directly to their station to meet with their children. Also know: Families are not split up on lifeboats.
Fire
Fire is the biggest threat to any cruise ship. This is why it is EXTREMELY IMPORTANT to not smoke in your cabin or bring irons, electric blankets, candles or other fire hazards on-board. In the rare case of this type of emergency, it's good to know that the average cruise ship has the following:
• Five firefighting teams on board
• Over 170 trained personnel to support the fire fighting teams
• Approximately twenty crew members with advanced firefighting training (The average town's fire department usually has an average of six firefighters per station.)
• Over 6 miles of firefighting hose
• Over 16 miles of sprinkler piping
• Over 5,000 sprinkler heads onboard in every cabin and room
• Over 500 fire extinguishers
• Over 4,000 smoke detectors
• Local sounding alarms in all cabins
• Over 400 fire stations or hydrants
• Sufficient lifeboats and life rafts for everyone onboard
Source
Passports
In the event of an emergency, you should not spend extra time looking for your passport. If you are out of the United States, the U.S. Embassy will assist you in getting a temporary one for travel back home. Before you leave for your cruise (or any travel outside the United States) scan your family's passports into a PDF file and send as an attachment to yourself. This little step could make the process with the Embassy a little smoother.
Injury & Illness
It's important to know that if anyone in your family incurs an injury or illness on board, there is a doctor available 24/7. My daughter came down with a little bug (I actually think it was due to dehydration after a long day) on the Disney Dream and I took her down to the medical center. Even though we only needed a few Pedialyte Popsicles, the doctor was extremely helpful and let me tour the facilities, which put me at ease if there ever was a true medical emergency. The medical center is like a mini hospital and I was told there was enough equipment on board to perform surgery. Here's a great overview of the medical care on the Carnival Magic -- All major cruise lines have something similar.
Valuables
When I travel, I just bring the essentials. I do this to fit everything in a carry-on, but it's probably a good idea to just bring what you need and leave expensive jewelry or excess cash at home. I always take advantage of the safe inside my stateroom and store my passport, credit cards, cash and ID in there once I arrive. When I go into port, I take just what I need and leave my passport behind-- I ALWAYS bring my ID as it is usually required to reenter the ship terminal.
Of course, this is not the end-all and be-all of cruise ship safety. Common sense is important no matter what your surroundings. Know that the cruise lines' highest priority is the security and safety of its passengers and the staff on-board is trained to handle any situation.
Special thanks to Maryland solar services for supporting this blog.