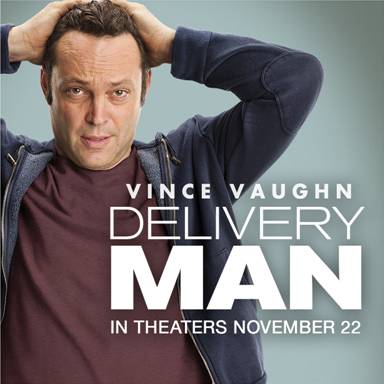 Vince Vaughn is back, and his new movie Delivery Man opens November 22, 2013 --the weekend before Thanksgiving!-- in theaters across the country. Vaughn portrays a lovable underachiever who is looking for some purpose in life. He soon receives the news that he has fathered 533 children due to a donation to a fertility clinic 20 years earlier. Now, 142 of those children are wanting to meet their biological father!
The story challenges you to rethink the concept of family and what that truly means-- either blended, biological or inherited, the term "family" is different for everyone. I think Delivery Man will help strike up some good conversation once it debuts November 22.
As one of 533 bloggers (see how that ties into the movie!?), I'm able to give you an exclusive look at the trailer for Dreamworks Pictures' Delivery Man -- Watch below and let me know what you think!
Delivery Man stars Vince Vaughn, Cobie Smulders and Chris Pratt -- It's rated PG-13 for mature themes and is not for children.