This post is in partnership with Universal Pictures Home Entertainment.
The #1 animated comedy of the year, Despicable Me 3, is now available on Special Edition Blu-ray & DVD— just in time for the holidays!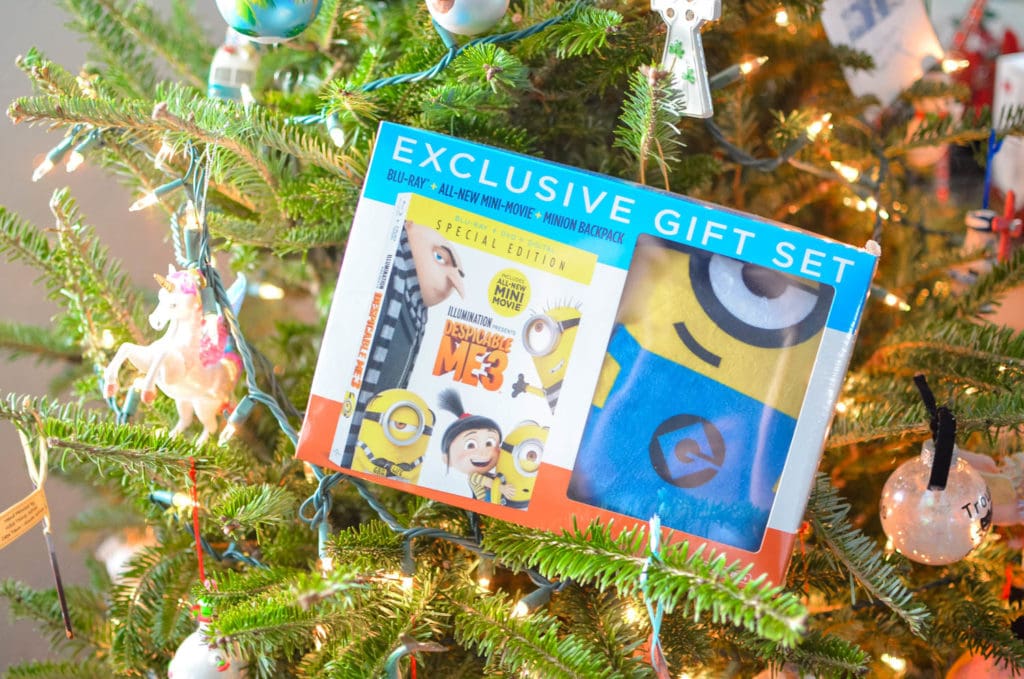 To celebrate the release, my family put together a Minions Gingerbread House before settling in for family movie night to watch Gru, his wife Lucy, their three adorable daughters—Margo, Edith and Agnes—and the lovable Minions.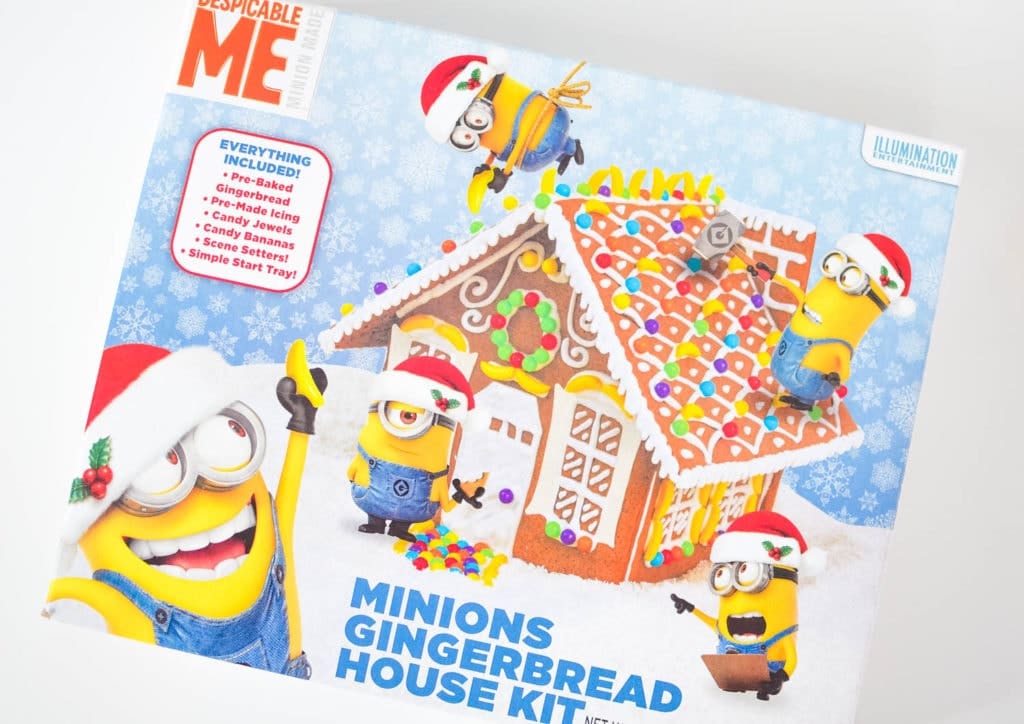 With the season already being so busy, this was the perfect no-prep activity to get us into the holiday spirit. Gingerbread houses are synonymous with the holidays and this one is even better because there are adorable Minions running around it...and you can't not love the candy BANANAS!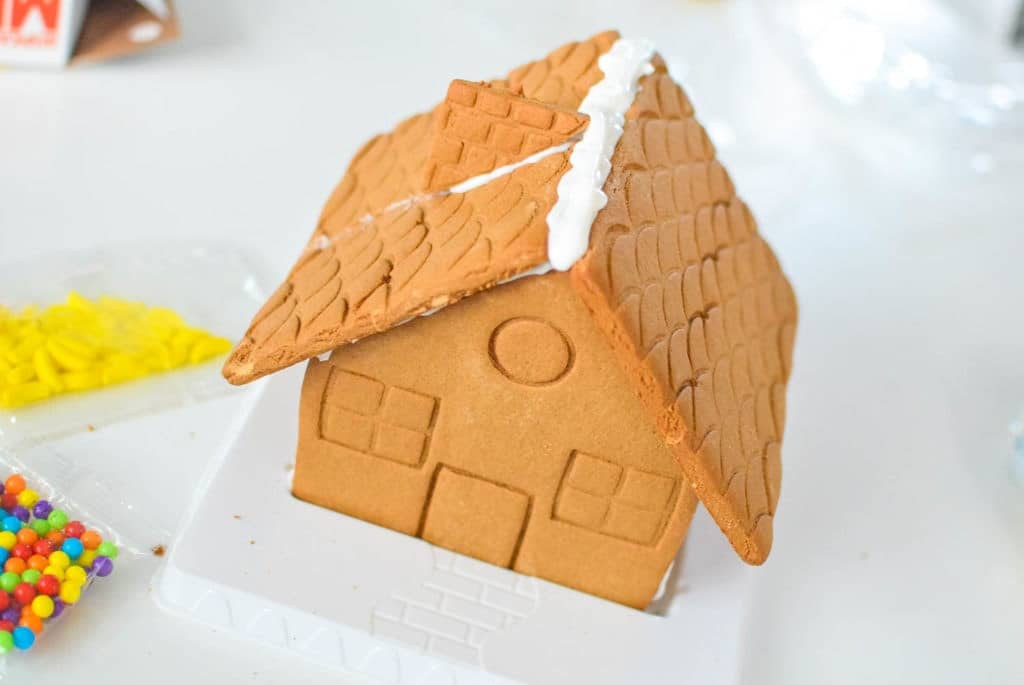 Everyone in my family had a hand at decorating the Minions Gingerbread House. We had so much fun putting the candy on with the icing!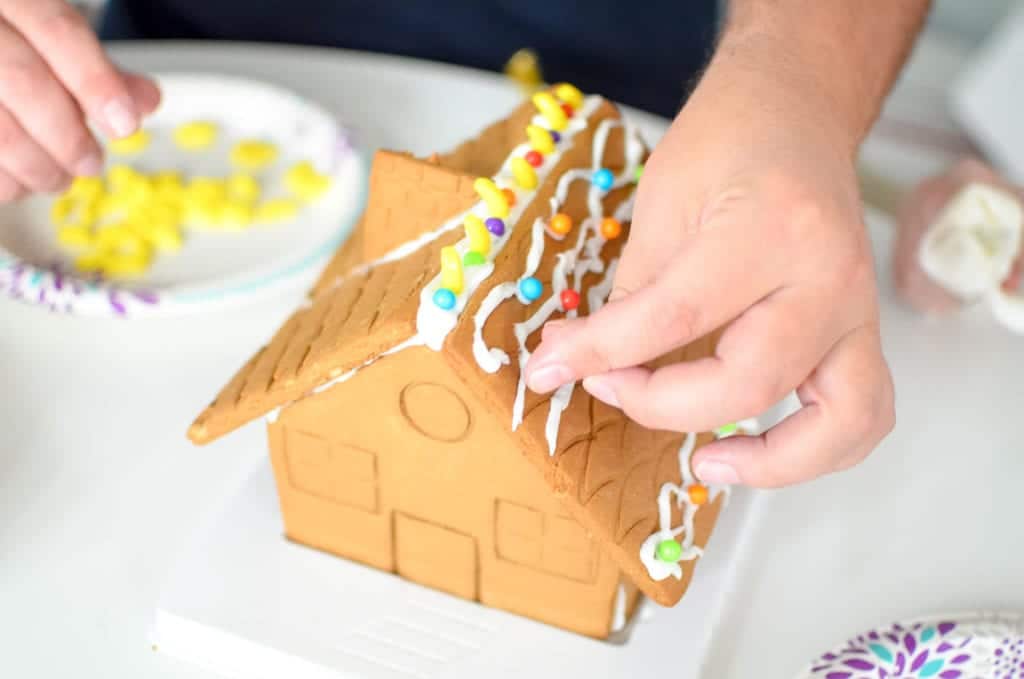 Adorable, right!? You can pick up your own Minions Gingerbread House Kit on Amazon.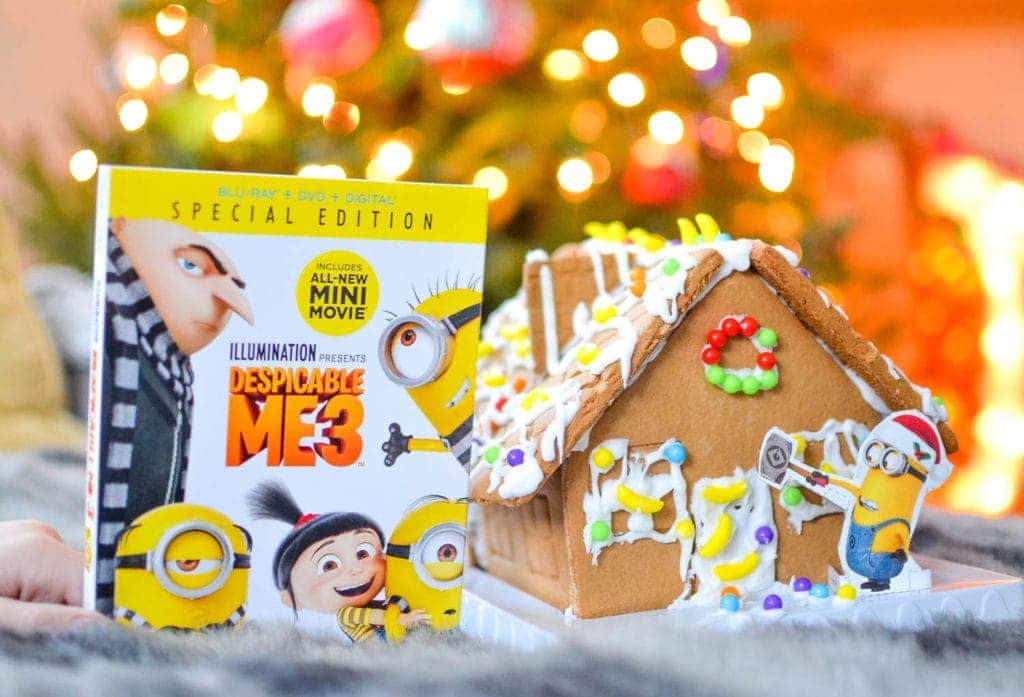 Of course, movie night wouldn't be complete without Despicable Me 3 Special Edition on Blu-ray & DVD with an All-New Mini Movie, Minion Moments and more! For the true Minions fan, Walmart has an exclusive, limited time Despicable Me 3 Special Edition gift set with a super soft, PLUSH Minion backpack. It's the ultimate holiday gift!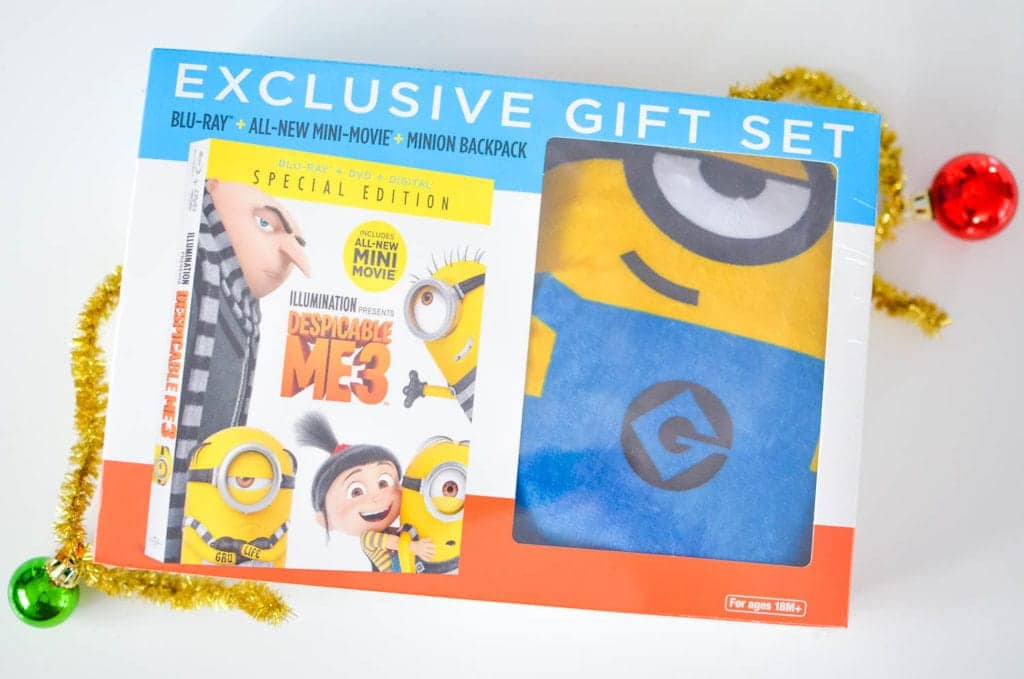 If you're didn't catch Despicable Me 3 in theaters, the animated movie continues the adventures of Gru and his family. After he is fired from the Anti-Villain League for failing to take down Balthazar Bratt, the latest evil mastermind to threaten humanity, Gru finds himself in the midst of a major identity crisis. But when a mysterious stranger shows up to inform Gru that he has a long-lost twin brother — a brother who desperately wishes to follow in his twin's despicable footsteps — the former super-villain rediscovers just how good it feels to be bad.
Want an easy snack for your Despicable Me 3 family movie night? Try these adorable (and delicious!) Minions Chocolate Pretzels!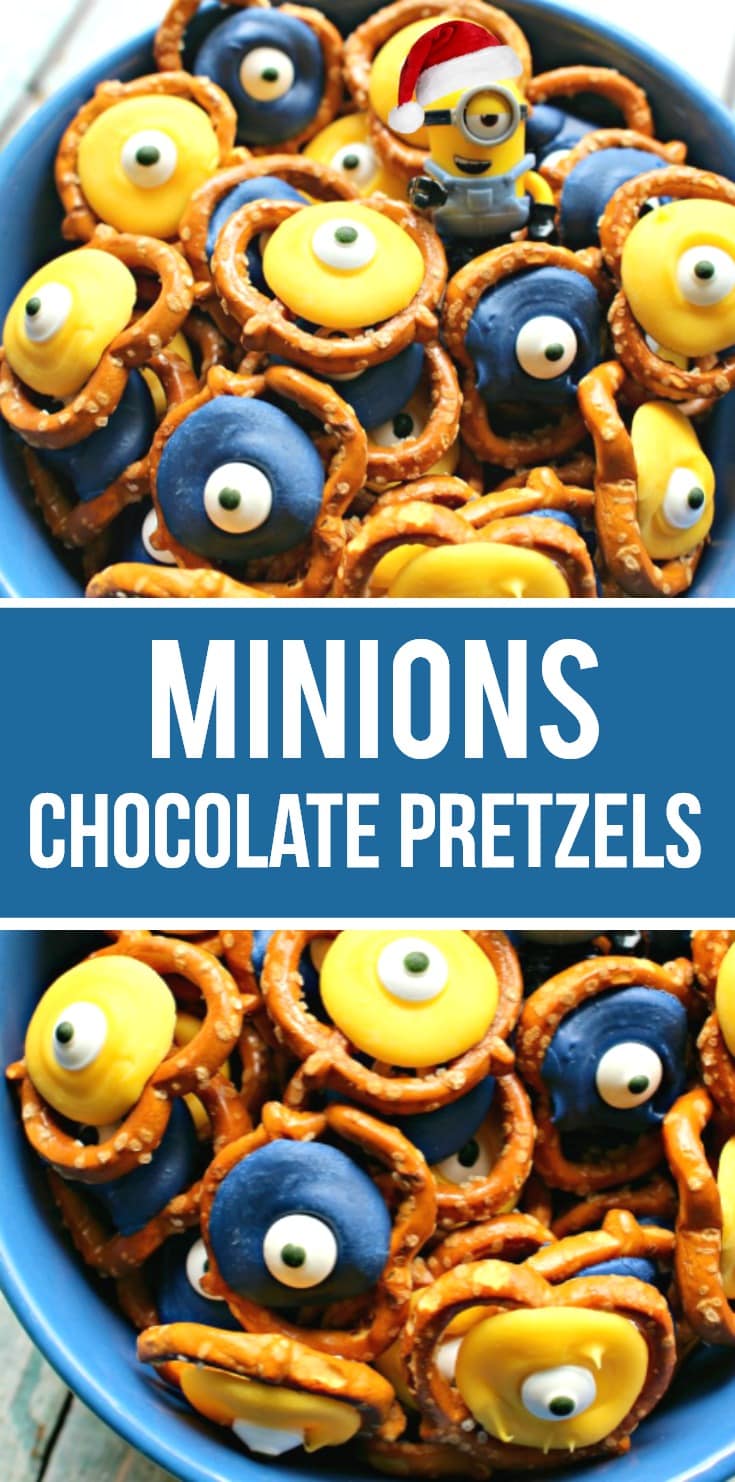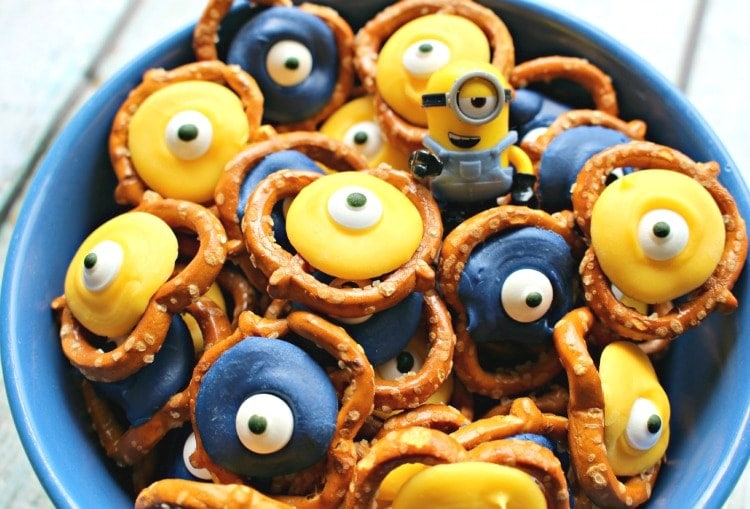 Minions Chocolate Pretzels
Ingredients
Small Tiny Twists Pretzels

Wilton yellow candy melts

Wilton dark blue candy melts

Wilton candy eyes - small size
Instructions
On a microwave-safe plate, place pretzels face up.

Place a candy melt in the middle of each pretzel.

Microwave for 45-50 seconds and remove from the microwave oven.

Immediately add a candy eye to each pretzel. Do this while the candy melts are still hot and melted.

Let cool completely. Enjoy!
Bring home Despicable Me 3 Special Edition with an All-New Mini Movie, Minion Moments and more!
Now available on Digital, Blu-ray & DVD