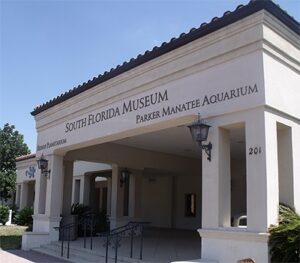 With September just around the corner bringing a new year of education and learning, Sarasota and Her Islands is encouraging travelers to add the Southwest Florida destination to their syllabus with "30 Days of Discovery". The month-long promotion includes some of the destination's most sought after attractions available at discounted admission rates of two for the price of one. Visitors to Sarasota throughout September can plan trips to eight of the top museums, aquariums and sites to learn about the rich history, culture and environmental offerings of the destination without the threat of a pop-quiz at the end of the month.
This year's "30 DAYS OF DISCOVERY" participants offering 2-for-1 admission include:
The Sarasota Classic Car Museum – The second oldest antique car museum in the country, the museum showcases a rare collection of vintage automobiles, including restored vehicles over 100 years old. Hours are 9:00 a.m.-6:00 p.m. daily and admission is $8.50 for adults, $7.50 for seniors and $6.50 for children (ages five and under are free). For more information, call 941-355-6228 or visit www.sarasotacarmuseum.org.
G.WIZ – The interactive, hands-on science museum provides programs for people of all ages. The center features science, technology, engineering and math displays and activities to educate youth through experiential learning. Hours are 10:00 a.m.-5:00 p.m. Tuesday-Saturday (open Mondays on school holidays) and 12:00 p.m.-5:00 p.m. Sunday. Admission is $10 for adults, $9 for children 3-16, $7 for children under 3. Special discounts for seniors, students, military and local Florida residents are available. For more information, call 941-309-4949 or visit www.gwiz.org.
Historic Spanish Point – Provides a look at 5,000 years of Florida's cultural history from archaeological exhibits like prehistoric Indian mounds to areas to reflect on the pioneer homestead life. Outdoor trails and boardwalks offer glimpses into natural habitats. Situated across 30 acres on Little Sarasota Bay, Spanish Point is accredited by the American Association of Museums and was the first site in Sarasota County named to the National Register of Historic Places. Hours are 9:00 a.m.-5:00 p.m. Monday – Saturday and 12:00 p.m.-5:00 p.m. on Sundays. Admission is $10 for adults, $9 for seniors and Sarasota County residents, $5 for children ages 5-12 and children under 5 and members are free. For more information, call 941-966-5214, or visit www.historicspanishpoint.org.
Mote Aquarium – Explores the depths of the sea, from shark, dolphin, manatee and marine life exhibits to viewable working laboratories and displays showing off the world-renowned research of the Mote Marine Laboratory. New exhibits include Fossil Creek, Seahorse Conservation Lab, and Sea Turtles: Ancient Survivors. Hours are 10:00 a.m. -5:00 p.m. daily. Admission is $17 for adults (over 12), $16 for seniors (over 65) and $12 for children 4-12. Children under 4 and Mote members are free. For more information, call 941-388-4441 or visit www.mote.org.
The John and Mable Ringling Museum of Art – The museum is the lasting legacy of John Ringling of the Ringling circus and his wife, Mable. It also includes Ca' d'Zan mansion, the winter home of the Ringlings, the Historic Asolo Theater and the Circus Museum, which houses the world's largest miniature circus. Hours are 10:00 a.m.-5:30 p.m. daily. Admission for adults is $25, $20 for seniors, $10 for active US military, students, children 6-17 and Florida teachers (must have ID). Museum members and children under 6 are free. For more information, call 941-359-5700 or visit www.ringling.org.
Marie Selby Botanical Gardens – This tropical oasis sprawling 9.5 acres along Sarasota Bay boasts the world's most impressive living collection of rare tropical plants, as well as a conservatory, outdoor butterfly garden, banyan grove, bonsai, bamboo and tropical fruit gardens and art exhibitions. Selby's collection is comprised of plants from over 150 scientific expeditions to rainforests across the globe. Hours are 10:00 a.m.-5:00 p.m. daily. Admission is $17 for adults and $6 for children 6-11. Members and children under 5 are free. For more information, call 941-366-5731 or visit www.selby.org.
The South Florida Museum – This is the largest natural and cultural history museum along the Gulf Coast of Florida, featuring galleries highlighting archaeology and paleontology. The museum's galleries highlight pieces of Florida's history, such as marine and mammal life. Hours are 10:00 a.m. -5:00 p.m Tuesday-Saturday and noon-5:00 p.m. Sunday. Admission is $15.95 for adults, $13.95 for seniors (60 & older) and $11.95 for children 4-12 years of age. For more information, call 941-746-4131 or visit www.southfloridamuseum.org.
Warm Mineral Springs – The spring produces 9 million gallons of mineral-rich water daily, resulting in a fresh body of water every two hours. The water's mineral content is ranked as the richest of any spring in the U.S. The warm waters, which are consistently 87 degrees, provide a soothing atmosphere for swimming and soaking. Hours are Monday-Sunday, 9:00 a.m.-5:00 p.m. Admission is $20 for adults, $14 for students, and $8 for children 12 and under. For more information, call 941-426-1692 or visit www.warmmineralsprings.com.
About Sarasota
Sarasota and her string of eight islands are located along Southwest Florida's Gulf Coast between Tampa and Ft. Myers. Sarasota and Her Islands is comprised of Sarasota, Longboat Key, Lido Key, St. Armands Key, Manasota Key, Siesta Key, Casey Key, Englewood, Nokomis, North Port, Osprey and Venice. In addition to sandy beaches, Sarasota and Her Islands also offer numerous cultural and ecological attractions and fabulous food. To find out more on savoring Sarasota, please call 800 522-9799 or visit www.sarasotafl.org.