We're back from vacation and had the most wonderful time! One of my favorite things about Disney World is it is so "magical". I know Disney fans toss that term around, but it is so true, and its hard to pinpoint exactly what makes it that way.
At the start of every vacation I like to add a bit of my own magic. It is usually what I call a "treat from Tinkerbell" and varies from year to year. This year I worked with Edible Arrangements and had one of the best treats EVER delivered to our room at the start of vacation.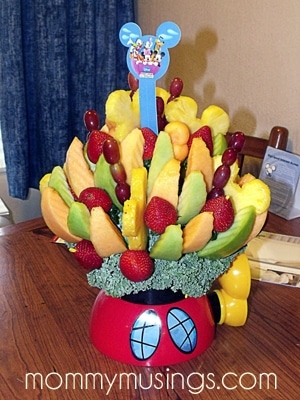 Edible Arrangements has 2 fresh fruit arrangements that are JUST PERFECTLY themed for a Disney vacation. The first is what we received, Mickey Mouse Clubhouse Party Bouquet and also the Disney Princess Enchanted Bouquet. Each is $59 and worth every penny!
I had arranged for the edible arrangement to arrive at the hotel during our arrival day and everything went perfectly. The arrangement was stored in refrigeration until I went to pick it up, or have it delivered to our room. We stayed at a Walt Disney Resort Hotel, Port Orleans Riverside, and even though Edible Arrangements is an outside vendor, it was handled as professionally as something ordered from the Disney Florist.
It was really nice to have this healthy fresh fruit option to snack on for the first few days of vacation. The arrangement fit in our in room mini fridge, and lasted about 3 days with 5 of us snacking on it.
We all loved the fruit, which was fresh and juicy! I really can't say enough about how perfect these edible arrangement bouquets are for vacations. My daughter loved it, and as far as she knew it was a gift from Tinkerbell* 😉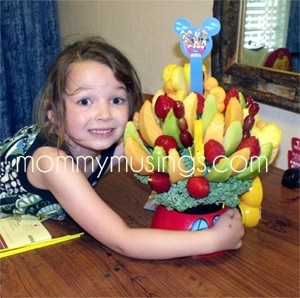 If you are planning a Disney vacation and are thinking about having an edible arrangement delivered to your hotel simply call your resort ahead of time to get the delivery address and an instructions they may have for you to add to the delivery notes. Go online to EdibleArrangements.com and pick out and pay for your arrangement. The whole process is hassle free and makes a wonderful surprise for the start of your vacation!
* Special thanks to our Tinkerbell Deanna and Edible Arrangements for providing us with a sample to review